Amazon Workers on Staten Island Clinch a Historic Victory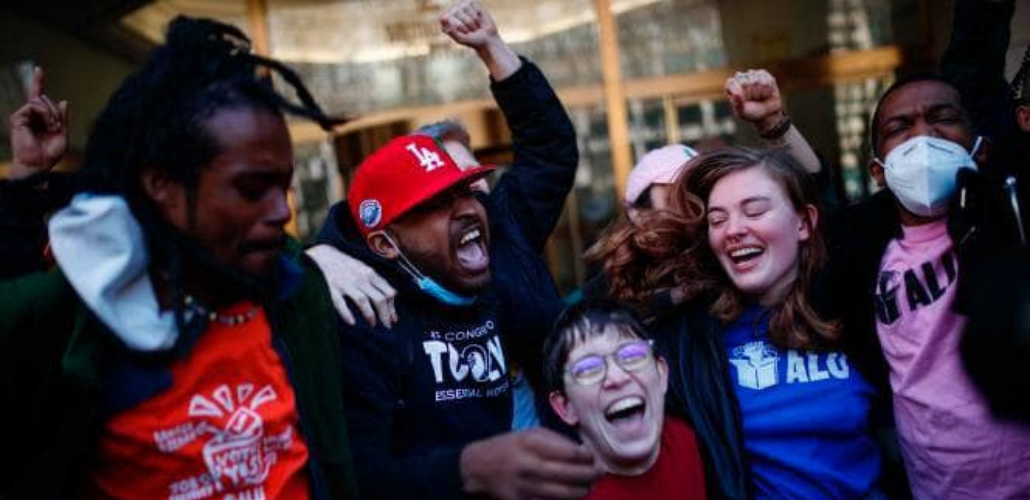 It's the magical stuff of Disney movies. But yesterday, the improbable became the most probable when the scrappy band of workers who make up the Amazon Labor Union took the lead in a union election at a warehouse in Staten Island, New York, putting within reach a historic labor win at the corporate behemoth.
Before the vote count most reporters had dismissed the independent union's chances, treating the organizing as a curiosity at best. "I think we have been overlooked," said ALU Treasurer Madeline Wesley Thursday night. "And I think that that ends tomorrow when we are victorious."
The ALU clinched a decisive victory today, winning by a wide margin to create the first unionized workplace in Amazon's extensive network of fulfillment, delivery, and sortation centers across the U.S. The company's facilities are concentrated in metropolitan areas like New York, Chicago, and Los Angeles, opening a path for more organizing.
How We Did It
by Justine Medina
My quick-and-dirty analysis of the Amazon Labor Union's successes so far is pretty simple. We just did the thing you're supposed to do: we had a worker-led movement.
We studied the history of how the first major unions were built. We learned from the Industrial Workers of the World, and even more from the building of the Congress of Industrial Organizations. We read William Z. Foster's Organizing Methods in the Steel Industry (a must-read, seriously).
But here's the basic thing: you have an actual worker-led project—a Black- and Brown-led, multi-racial, multi-national, multi-gender, multi-ability organizing team. You get some salts with some organizing experience, but make sure they're prepared to put in the work and to follow the lead of workers who have been around the shop longer. You get the Communists involved, you get some socialists and anarcho-syndicalists, you bring together a broad progressive coalition. You bring in sympathetic comrades from other unions, in a supporting role.
Really, you just follow the classic playbook. Do not be afraid to fight, to get as dirty as the bosses will, to match or beat the energy they're bringing. Do not be afraid to agitate and to antagonize the bosses, as a union should. Use every tool in your toolbox; file those unfair labor practice charges, every chance you get. Protest and do collective action. Keep building.
It's the hard work, every day: workers talking to workers. Not just media games, but solidarity, daily analysis, and adjusting as needed. It's working as a collective, learning together, and teaching each other. Get back to fighting form. That's how we won.
What I'm describing wasn't my plan, but the efforts of Amazon workers who got fed up with their mistreatment. I was lucky to be recruited into this effort as a salt by the organizing committee because of my organizing experience with the Young Communist League. I was welcomed with open arms, and it has changed the path of my life completely, but I've always understood my role to be following the lead of the workers who were there before me.
This was a truly collective effort, led by some brilliant Amazon workers thrust into organizing by the pandemic and the conditions of their lives; Chris Smalls and Derrick Palmer in particular have been tremendous leaders. I think this union shows the true possibility of what is before us, as a labor movement—if we just remember how to do it.
Justine Medina is a member of the ALU organizing committee and a packer at the JFK8 Amazon warehouse.
The vote at the Staten Island warehouse was 2,654 in favor of forming a union to 2,131 against. There were 67 challenged ballots, and 17 voided; 8,325 workers were eligible to vote.
"We want to thank Jeff Bezos for going to space, because while he was up there we were organizing a union," said ALU President Chris Smalls after official results were announced.
Another warehouse at the same complex on Staten Island, LDJ5, will begin a vote to unionize with the ALU on April 25.
MAPPED OUT THE LEADERS
Thursday night in Brooklyn, after the first six of the 10 boxes of ballots had been counted, workers were giddy with excitement and disbelief, dancing to hip-hop and laughing.
"It seemed like a long shot," said ALU Vice President Derrick Palmer outside the building in Bushwick, weighting each word for emphasis. "But we just went out there and did it—workers, unionizing the second-largest private employer in the country."
The more Palmer spoke about what exactly they had done to accomplish the impressive feat, the clearer it became that neither magic nor luck had anything to do with the union's victory; it was hardscrabble worker-to-worker organizing that got the goods.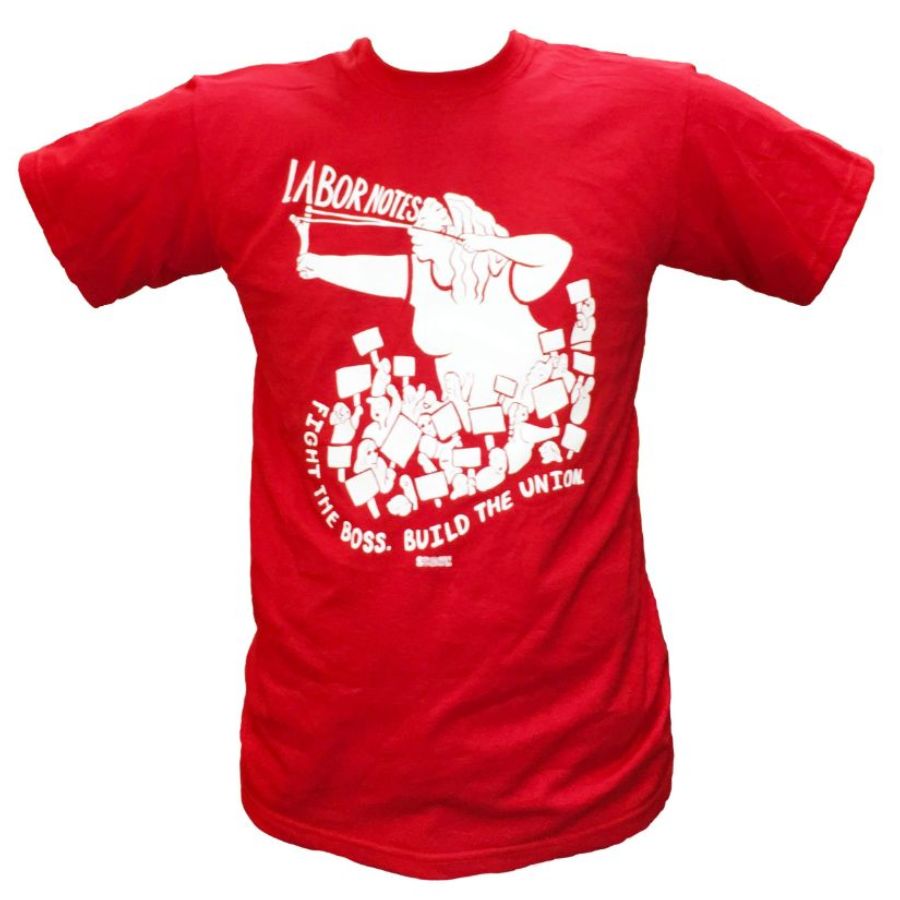 Palmer has worked as a packer at Amazon's sprawling warehouse complex for three years. He estimates that out of 100 people in his department, 70 percent were solid yes voters.
"I pretty much flipped my whole department," he said. "What I'll do is study a group of friends and go to the leader of the pack. Whatever the leader says, the rest of the group is going to do."
Fellow ALU organizer Michael Aguilar agreed about the approach. For example, "Cassio [Mendoza] talks to all the Latino workers in the building," he said.
"I knew that we would win because of Maddie [Wesley]," Aguilar added. "She's so empathetic, so she can connect with a lot of people in the building. She was one of the key leaders."
The independent union enlisted the support of volunteers from various unions and community groups to run a phone banking operation. Wesley tallied union support on the phones and in tabling outside the facility; it was during one such tabling that she recruited Aguilar to the organizing effort.
"Our data had about 65 percent support, which obviously has some margin of error because the people who are most likely to talk to us are most likely to be supporters," said Wesley.
Most of the workers I spoke to didn't use organizing lingo, but they had clearly mapped the warehouse. "We know in which departments, and on which shifts, we have strong support because of where our organizers are," Wesley said.
ALU member Justine Medina credited Communist organizer William Z. Foster's Organizing Methods in the Steel Industry for the group's organizational acumen and bottom-up organizing approach. She and others on the organizing committee read and discussed it, giving it out to workers to read. (See sidebar.)
AN INSIDE JOB
The worker-led character of the organizing drive gave it credibility. When Amazon tried to portray the union as an outside "third party," its highly paid consultants' arguments would fall flat, because workers would take their questions to their ALU co-workers.
Meetings in the break room were decisive, Palmer said: "I was organizing in the break room on my days off like 10 hours a day, giving out food, talking to workers, and giving out information."
Smalls said he urged co-workers, "Come have a conversation with me. Don't just go off what you're hearing from Amazon and the rumors."
But collective actions were crucial too. "We showed them that we're fearless," said Smalls. "We did rallies in front of the building. We showed them, better than we can talk about it."
Smalls led a walkout in March 2020 to protest the company's failure to keep workers safe from the pandemic. Amazon fired him afterwards, supposedly for violating Covid protocols. Vice reported that the company's general counsel insulted Smalls in a meeting with top brass, calling him "not smart or articulate."
These remarks have elevated the charismatic Smalls as the face of the union drive. But asked about the media attention, he points to the collective struggle and emphasizes that the ALU operates on democratic principles, with all decisions voted on. "I'm just the interim president," he said. "I'm temporary. It's not my union; it's the people's union."
PLENTY MORE WAREHOUSES
Standing outside in a drizzle of rain Thursday night, he lifted his hand and pointed towards the Brooklyn apartment they've turned into their homebase: "That's all I had was 20 core committee members, and a workers' committee of over 100 people. We started with about four."
Asked if ALU would consider affiliating with another union, he said, "I got to be with the people that was with me from day one. We want to stay independent, and it's better that way. That's how we got here."
But, he adds, "whatever anybody is doing against Amazon, shiiiit, they got my support! There's plenty of [Amazon] buildings. Pick one!"
He compared ALU's culture to Money Heist, the Spanish Netflix series where a criminal mastermind known as "The Professor" brings a band of criminals together to take on the state and steal billions of euros from the Royal Mint. "Call me The Professor," he jokes.
Smalls went from hip-hop hopeful to labor leader. "Life is crazy," he said. "That's all I can say. Who would have thought?"