Taiwanese Flight Attendant Strike Cancels 2,250 Flights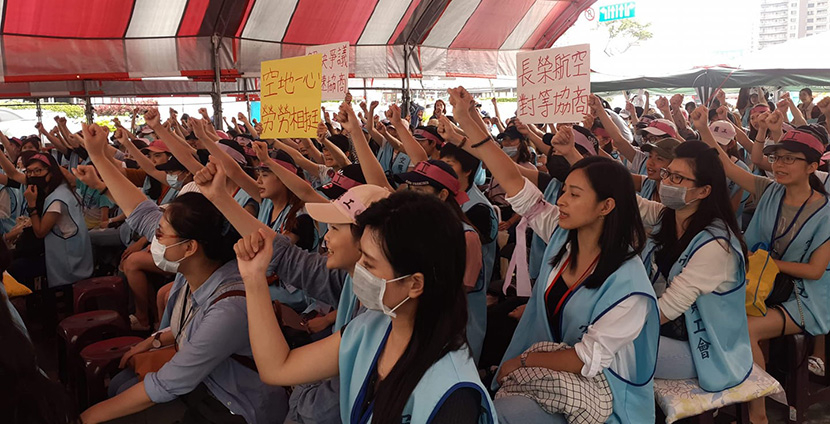 Flight attendants at EVA Air have concluded the largest and longest strike in the history of Taiwan's airline industry, from June 20 through July 10.
Strikers notched a partial victory against a notoriously anti-union company. Now they will have to consolidate their gains and fend off repression.
The strikers were all women—EVA does not hire male flight attendants, though it announced in the middle of the strike that it plans to. According to the Taoyuan Flight Attendants Union (TFAU), 2,949 of the airline's 4,600 cabin crew members participated.
Flight attendants set up a giant tent and rallied for 17 straight days outside EVA's headquarters in the working-class city of Taoyuan, home to Taiwan's main international airport. They also marched 35 kilometers from their encampment to rally in front of the Taiwan president's office.
It has been only three years since the first-ever strike in the Taiwan aviation sector, by China Airlines flight attendants, who are also members of the TFAU. Since then there's been an uptick in organizing, including at EVA Air, Taiwan's second-biggest carrier, even though EVA has historically forbidden unions. Pilots at China Airlines, Taiwan's biggest airline, also struck this year, winning an agreement to alleviate dangerous fatigue by hiring more pilots.
Unions are historically weak in Taiwan, as a result of suppression by the Kuomintang party-state during the decades-long martial law period.
EVA flight attendants previously struck in January 2018, though that walkout was only 57 hours long.
As in previous flight attendants strikes in Taiwan, strikers turned in their passports and travel permits to the union as a sign of their determination. Management later attacked the union in the media for this practice, claiming that it was deliberately slow in returning passports to workers who wished to stop striking.
HIGH-STRESS JOB
Flight attendants say they face long shifts, inflexible work arrangements, and management bullying while they deal with large numbers of passengers. It's a high-stress job.
Flight attendants often have to work on public holidays, and management is highly controlling of their schedules. The all-women crews are held to rigorous standards of dress, make-up, and appearance.
In the run-up to the strike, flight attendants called on management to address longstanding abuses on the job, including sexual harassment. In one prominent incident, an EVA flight attendant was forced to clean up a male passenger who defecated on himself during a flight. The man had a history of deliberately forcing flight attendants to clean up after him, but management refused to remove him from an upcoming flight.
In another incident, EVA management aggressively questioned a flight attendant for over three hours about an anonymous letter accusing her of moonlighting as a porn star. Reports of management prying into flight attendants' personal lives, claiming that they represent the company even when off the job, are not uncommon.
MIXED RESULTS
The strike forced the cancellation of 2,250 flights, affecting 400,000 passengers. As of July 9 it had cost the company 3.24 billion NT ($104 million).
The outcomes of the strike were mixed. On the one hand, workers won their demands for bonuses of 300 NT ($10) for short flights and 500 NT ($17) for transoceanic flights. They secured the right to take overnight rests between the departing and returning legs of round-trip flights to Tokyo and Beijing during some parts of the year. Flight attendants also secured representation on EVA's board and its employee review committees.
But they did not win their demands for a raise in their hourly layover allowance or double pay when they work public holidays. The union also agreed not to strike for the next three years, so long as management adheres to its agreement not to retaliate against strikers.
CALLED 'PRINCESSES'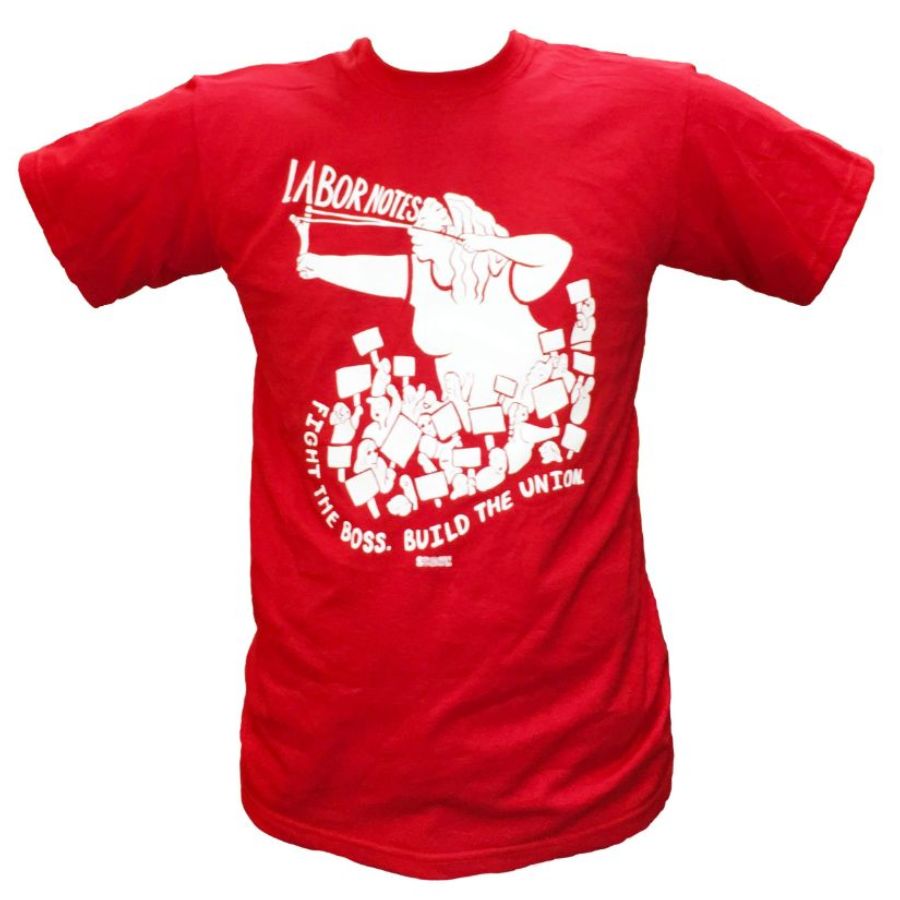 Unfortunately, early indications are that management has little interest in honoring its deal with the union, signed July 6. The company claims that the strike violated the Act for Settlement of Labor-Management Disputes. It has sued the union for compensation of 34 million NT ($1 million) per day of the strike.
Management is also likely banking on the public reaction against the strike to discourage future labor actions.
The public was largely sympathetic to the China Airlines strike in 2016. Many strikers were young people in their 20s and 30s. Their cause resonated alongside other youth movements that had enjoyed popular support, including the Sunflower Movement, a month-long occupation of the Taiwanese legislature in 2014 by student demonstrators opposed to a free trade agreement with China.
But since then, airline managements have waged concerted campaigns to turn public opinion against unions.
EVA used gender stereotypes to depict striking flight attendants as spoiled "princesses." This depiction is based on the idea that the profession has high pay and that flight attendants lead glamorous lives of international travel.
In reality, salaries remain low. Many flight attendants make 22,000 or 23,000 NT per month ($750), which is just above minimum wage. But false claims frequently circulate online that flight attendants make up to 100,000 NT ($3,200) per month, double the average worker's salary in Taiwan.
That said, the EVA strikers still enjoyed significant popular support, particularly from young people. A Facebook support group attracted 30,000 members. Despite heavy rain, a rally called on short notice on July 2 drew 1,000 participants, the majority of whom were not flight attendants.
GAG ORDER DROPPED
A week in, the union thought it had a deal to end the strike, after a meeting with the chairman of the board. Strikers voted to accept the deal's terms, which included giving up several important demands, so they could get back to work. But management refused to agree not to retaliate against strikers, blocking the deal and prolonging the strike.
"It finally dawned on union members that the main purpose of EVA Air throughout this dispute is not to safeguard its money, but to defend the arbitrary power over workers EVA management have always enjoyed ever since its founding," wrote union leaders in a solidarity appeal. As Wu Xiao-xuan, one of TFAU's directors, put it, the union's goals had to shift to "protecting the existence of the union."
During negotiations, management even proposed a contract clause which would fine workers 500,000 NT ($16,000) for "speaking against" or "spreading untrue news" about the company. Eventually union representatives got this clause dropped and got management to sign a non-retaliation agreement.
Though the deal was a partial victory at best, it's a testament to the resilience of the strikers, who held out for 17 days and blocked management's attempts to dissolve their union. Flight attendants celebrated news of the agreement with a party at their big tent—while management held a dour press conference, an indication of how the strike changed the balance of forces. The flight attendants' solidarity seems far from broken.
But the bitter fight shows that, faced with a rising tide of militancy, Taiwanese airline management is attempting to draw a line in the sand.
EVA management has already broken its promise not to retaliate against organizers. The company fired TFAU chair Kuo Chi-yen a day after the strike ended for comments she made on social media during the strike, joking about "adding something" to the meals of strikebreakers.
Meanwhile, another fight is brewing. The company has publicly advocated for a new law which would require a 30-day advance notice to strike. The idea has been popularized by large media outlets which have recently adopted anti-union stances after a push for unionization in the media industry.
Brian Hioe is one of the founding editors of New Bloom, an online magazine covering activism and youth politics in Taiwan founded in 2014 in the wake of the Sunflower Movement.