International Student Workers Key to Chicago Grad Strike Victory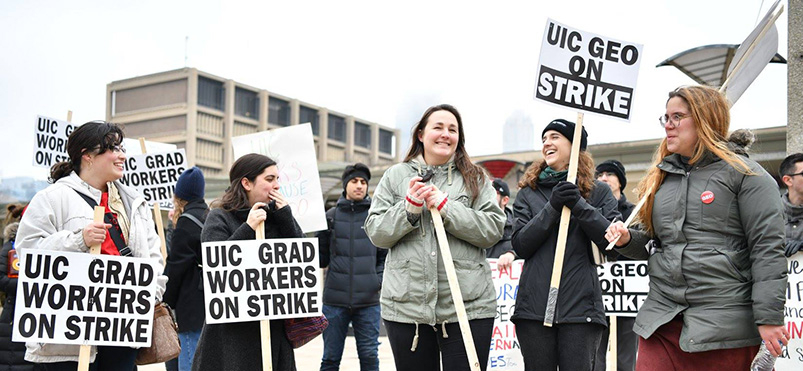 Of the 1,600 members of University of Illinois at Chicago Graduate Employees (GEO) Local 6297 who struck for three weeks in March and April, almost half were international workers. Though we often feel vulnerable, given that we're in the U.S. on visas, we were fed up with the UIC administration ignoring our financial needs and grievances.
By the time a group of us formed the International Caucus within GEO in October 2018, graduate workers at UIC had already been in negotiations with the administration for seven months. Among our main goals in the caucus were combatting discriminatory fees and negotiating equal opportunity rights.

How They Won
by Barbara Madeloni
After almost three weeks out on strike, members of the Graduate Employees Organization at the University of Illinois Chicago forced the university to crack, winning a 14 percent wage increase and significant relief from costly student fees.
The university originally refused to bargain over fees, claiming they were outside the purview of the contract. But graduate student fees can amount to more than $2,000 a year, eroding wage increases and eating into meager $18,000 a year salaries.
Though the contract was ratified by 98 percent of members, GEO remains uncertain if the university will ratify it in a timely fashion. Ratification must happen prior to the end of the semester in order for members to receive the back wages that were agreed to.
GEO prepared for the strike by expanding member participation and organizing escalating actions. The union issued an open invitation for anyone to become a steward, invited members into bargaining to observe and give testimony, held silent protests at Board of Trustees meetings, organized informational pickets, and got members to sign strike commitment cards before the authorization vote.
Undergraduate students, who are often taught by graduate teaching assistants, boycotted classes and organized a rally in support of GEO. Chicago Symphony Orchestra musicians, who have been out on strike for more than three weeks, performed at GEO rallies.
The professors' union, UIC United Faculty, also provided support. When the administration told adjuncts and department heads to cover the classes of striking teaching assistants, the faculty union sent out a message reminding everyone that doing so would be scabbing. On April 10, less than a week after the grad students ended their strike, UIC United Faculty members voted to authorize their own strike.
The momentum for organizing the International Caucus came about at a GEO bargaining session in fall 2018. In testimonials given by international GEO members, we voiced our unique challenges.
Though we earn only $18,000 a school year, we are unable to hold off-campus or summer jobs because of student visa limitations. We pay up to 60 percent of our health insurance fees—and don't qualify for Medicaid or Marketplace plans based on our status—as well as enrollment fees, including a $135 international student fee introduced by UIC in 2013. Because of these and other fees, we end up paying 10 percent of our income back to the university.
Some of us wept while detailing the financial hardships that we faced. We talked about the depression and alienation caused by being away from our families for years because we can't afford airfare, our inability to get medical care for our spouses and children who hold dependent visas, our difficulties paying rent, being overworked while being malnourished because we often can't afford food, and even suicidal thoughts.
These emotional testimonials had no impact on administration reps whatsoever. But they became a unifying factor for the 15 international workers present at this bargaining session and became the "language" that we all speak. Our next goal was to involve more international students across departments, with a particular focus on departments with large numbers of internationals.
It helped that GEO prioritized issues affecting international students, who make up a quarter of UIC's grad student population. In contrast to the previous GEO contract (2015-2018), where the issue of international student fees had not been addressed, during this round of bargaining GEO leadership demanded to cancel this fee. We knew grad student unions at UMass Amherst and the University of Washington had been able to stop these fees, and we hoped we could, too.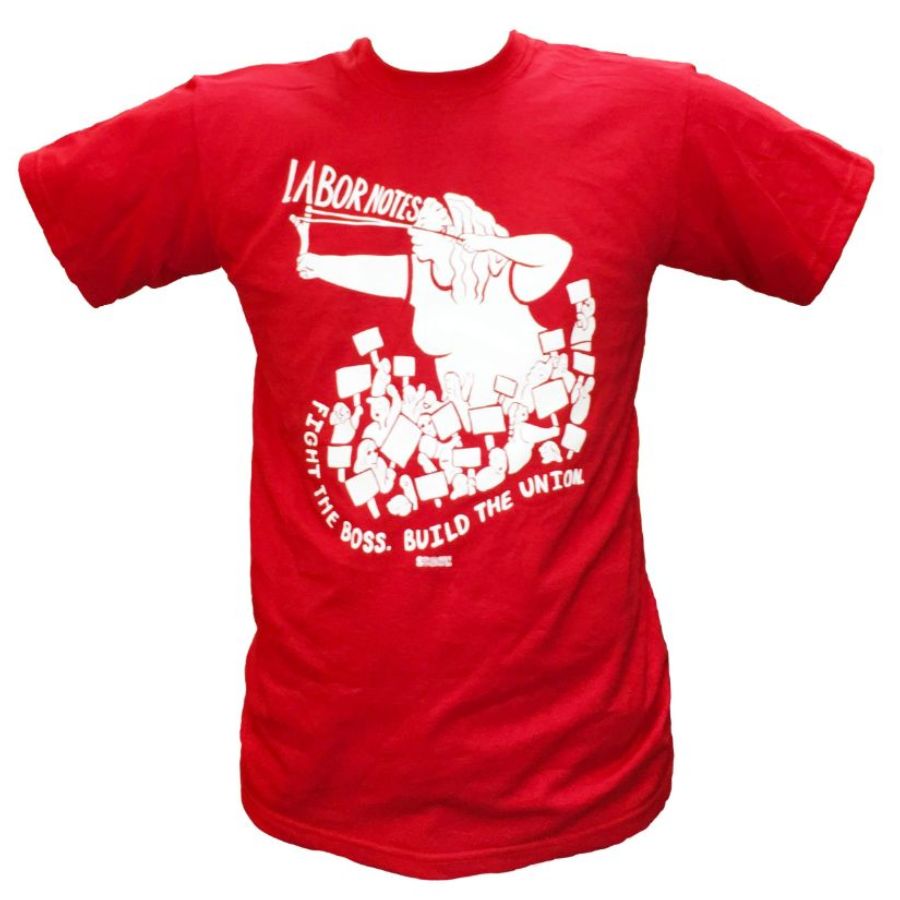 In addition, the union pushed to expand anti-discrimination language to include citizenship and immigration status (as well as arrest records). This was of paramount importance for us—legal aliens living in Trump-era America.
SURVEY SAYS
We've been proud to be a part of the UIC student community that chased Trump off campus in 2016, stood in solidarity with Muslims and undocumented immigrants while protesting Trump's divisive policies, and organized a walkout on Trump's inauguration weekend.
The first step in organizing international students and involving them in potential strike action was to understand their needs and demands better and to prioritize those needs in negotiations. Shortly after giving our testimonials, a group of International Caucus members drafted a survey for all departments. The results showed the dire financial situation many of us were in:
78 percent reported living on less than $1,800 per month (after taxes), with 15 percent making less than $1,600 per month
63 percent reported paying $2,000 or more in fees in the last academic year
77 percent claimed their financial situation affects their mental health
82 percent reported that their financial situation affects their academic progress
This data was also used to counter a survey of international students put together by the UIC administration, which seemed designed to confirm their thesis: international graduate students don't earn too little, they just don't know how to spend the money efficiently. One question asked, "What surprised you the most in the U.S. financial system?" Well, nothing really, except for our meager annual wage of $18,000! The survey suggested we cut down on gas consumption for our nonexistent cars, as well as on Uber rides and Starbucks.
Comparing the results of an official UIC survey with the one put together by the GEO International Caucus helped many international students see that GEO was representing them directly, while UIC was creating a false narrative.
We also anticipated that the administration might try to intimidate international students by saying they could be putting their visas in jeopardy if they struck, as several universities have done during recent organizing campaigns.
We made clear that in all of grad union history, to our knowledge, an international worker has never had their visa status or job position affected by striking. And we explained that international students have the same union rights and protections, including the right to engage in concerted activity without being retaliated against, as citizens, something many were unaware of.
A sizable majority of our international student population comes from countries where demonstrations and strikes are banned or ruthlessly suppressed, so they may have little or no past experience with publicly organizing. Including these members in our activities was the most difficult and most rewarding part of our campaign. It was wonderful to witness them create their first-ever strike signs—and then to see them take their signs home after the strike was over.
BIG WIN
The strike is over, and we won big. Not only did we cut the international student fee in half come next fall, freeze enrollment fees, reduce health care costs, and win a 14 percent wage increase over three years, we also deepened the GEO involvement of international students in departments like chemistry, physics, biology, and history. Some of them became stewards immediately following the strike.
Given that graduate student activism often runs in four-to-five-year cycles, winning a three-year contract instead of the five-year contract proposed by the administration means that we can keep the institutional memory of the strike alive.
We also hope that our strike encourages other international student workers across the U.S., at public and private universities alike, to get involved in their unions and push to end fees and raise wages.
Before getting involved in this contract campaign, most of us at UIC were afraid to speak up and had little to no experience with organizing or expressing our opinions in front of a crowd. It was the first strike in our lives for the overwhelming majority of us, though perhaps not the last, because there are still many fights we must fight to counter inequality—both at UIC and in our home countries.
Zukhra Kasimova is a graduate student in history at the University of Illinois at Chicago and a member of UIC-GEO Local 6297.