Minnesota Amazon Workers Walk Off the Job over Speed-Up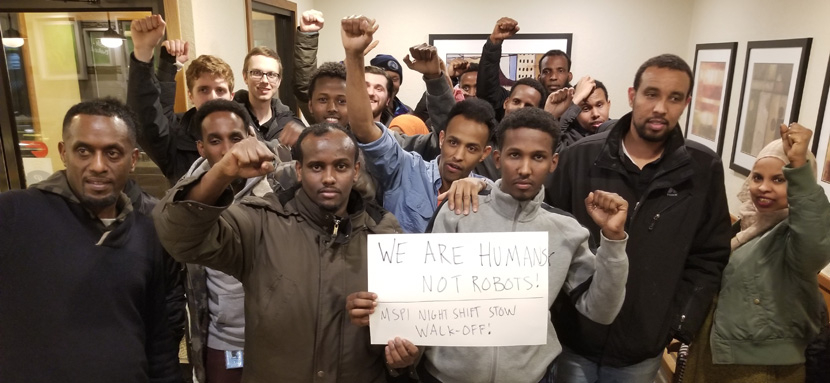 After yet another speed-up in a workplace notorious for its lightning pace of work, workers at a Minnesota Amazon warehouse walked off the night shift for three hours.
The March 7 walkout at Amazon's fulfillment center in Shakopee, Minnesota, was these workers' second job action in three months.
The strikers work in the stow department, shelving items after they have been unloaded from inbound trucks and processed. Once shelved, the merchandise is then compiled into customer orders by pickers.
Racing against a literal countdown clock, stowers have to find vacant space for incoming merchandise throughout the 850,000-square-foot warehouse.
Hanging over the heads of stowers are twin standards: "rate" and "errors."
FASTER AND STRICTER
Rate means productivity, measured in tasks per hour. Stowers are expected to keep up a standard of 240-250 tasks an hour. Any downtime, such as time spent drinking water or using the bathroom, is counted against productive time.
Errors is a measure of accuracy in scanning and placing items.
Since 2017, the number of acceptable errors has been reduced from one in 1,000 items to one in 2,200 items, according to Abdirahman Muse, director of a worker center that has been organizing workers at Amazon.
At the same time, the rate has been consistently increasing. The result? Workers are constantly expected to work faster while making fewer mistakes.
"The pace of work is inhumane," said Mohamed Hassan, one of the strikers, speaking through a translator. "Everyone feels continuously threatened by the system."
If workers make errors on two separate occasions, they can be terminated.
IMPROMPTU WALKOUT
Rates and errors are concerns for all Amazon warehouse workers—but at the Shakopee warehouse, these concerns are compounded by workers' prayer regimen.
Many of the Shakopee workers are East African immigrants and practicing Muslims, and organizers say that Amazon hasn't made sufficient accommodations for them to observe their faith.
Devout Muslims pray five times per day, with each prayer lasting around five to 10 minutes. When Muslim workers stop to pray, Amazon often counts that time against their rate.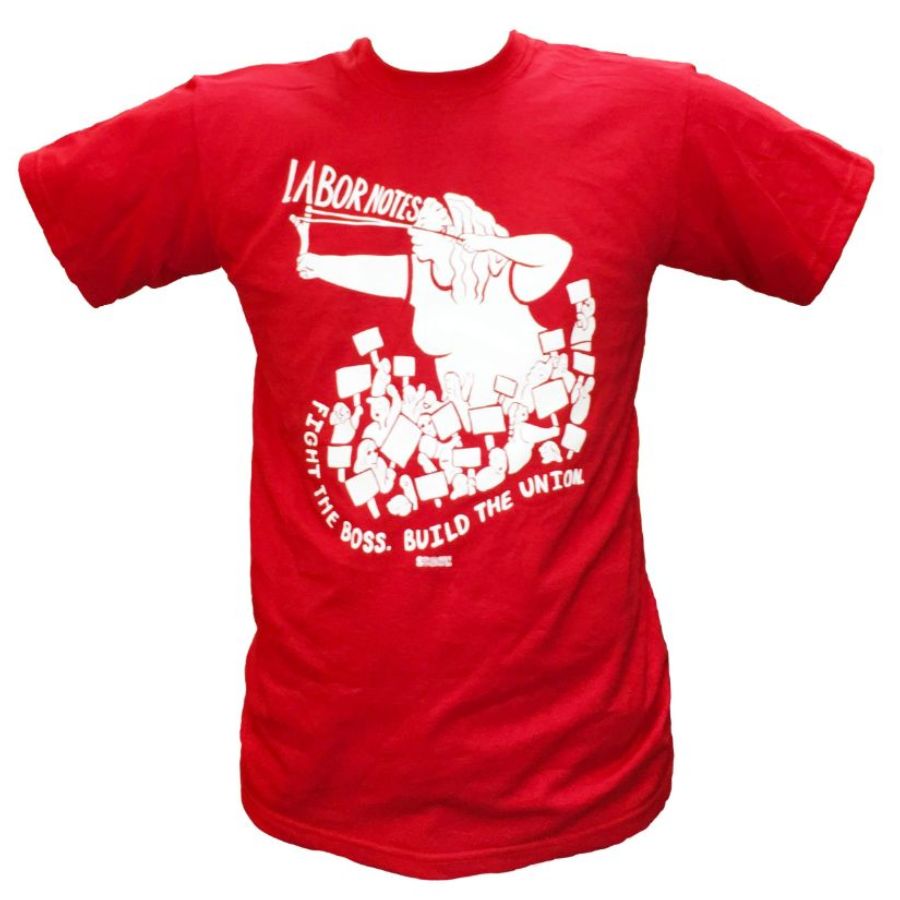 Workers in the stow department came to work that night to find that their rate had been raised again. "When they told us about the changes and the increasing, increasing, increasing workload," said Hassan, "we decided to fight back."
About half of the 60 stowers on the night shift walked out of the facility together. They timed the action for immediately after their lunch break, around midnight, when their action would have the most impact on the operations of the entire warehouse.
The workers met down the street at a Perkins restaurant, where they wrote up and voted on their list of demands. In addition to calling for an "end [to] the unfair rates that force errors and end careers," they called on Amazon to stop the use of temporary employees, to "stop counting prayer and bathroom breaks against rate," and to better maintain the equipment that most often leads to injury.
Three hours later, the strikers returned to the facility and attempted to deliver their demands to Amazon managers.
Supervisors refused to meet with the workers as a group, but agreed to meet with a representative the next day. According to the strike's organizers, nothing concrete came out of that meeting.
NOT A ONE-OFF
The Awood Center, based in Minnesota's East African immigrant community, has been supporting organizing by Amazon workers over the past two years.
It held a rally in June outside the company's Eagan, Minnesota, warehouse, calling on Amazon to address workers' complaints of extreme heat and lack of religious accommodation.
Last year, workers organizing with Awood were the first in the nation to negotiate with Amazon over working conditions. The company said in November that it would assign a manager to hold quarterly meetings with workers and answers workers' complaints within five days.
But these and other moves did little to address the workers' concerns. Awood held another community rally in December, this time at the Shakopee facility. Both Eagan and Shakopee are suburbs of the Twin Cities.
The rally featured then-Congressperson-elect Ilhan Omar, the first Somali-American elected to Congress, whose district includes many warehouse workers.
Speaking at the rally, warehouse worker Khadra Hassan called on the company to stop threatening and firing workers for not meeting the ever-increasing rates.
More than 50 workers walked off their shifts an hour early to participate, in what could be considered the first coordinated strike at an Amazon facility in the U.S.
Amazon workers have gone on strike much more frequently in Europe, with recurring strikes in Poland, Spain, and Germany, among others.
Workers don't see these actions as one-offs. "What they're asking us to do is so inhumane that we cannot do it," said Hassan. "We will keep fighting until conditions have improved."