Philly Teachers Call Off Work In Bottom-Up Campaign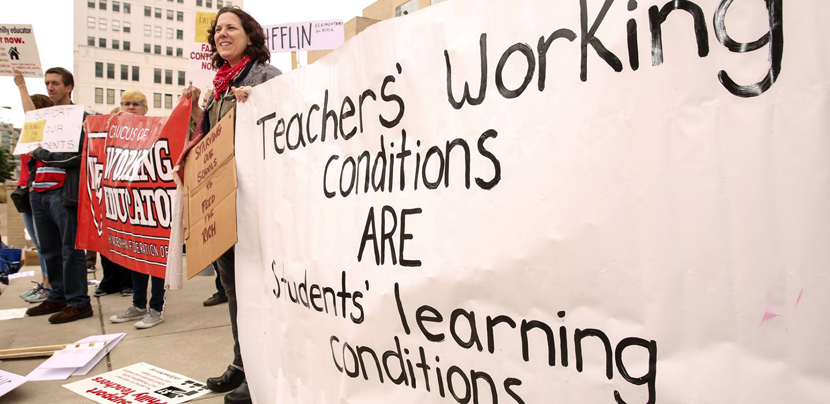 Teachers and their unions turned out for May Day this year in St. Paul, Minneapolis, Oakland, Los Angeles, Milwaukee, Chicago, and Seattle. They held teach-ins at schools and pickets outside, and joined citywide demonstrations in solidarity with immigrant communities.
Philadelphia teachers wanted to show solidarity with the day's themes—but also make a statement to the city about their own contract struggle. They've gone four years without a contract and five years without a raise. They've suffered school closings, freezes on steps and lanes in the pay scale, layoffs of school nurses and counselors, and the privatization of substitute teachers. The state-appointed school board even tried to cancel their contract, though it was rebuffed by the courts.
So, to create pressure on the district, a group of teachers organized their own protest. "We are finally taking some action, after five years of not doing much," said Tom Quinn, a teacher at the city's largest high school, where more than half of teachers took a "personal day" on May Day.
The 11,000-member Philadelphia Federation of Teachers didn't authorize the action. Instead it was a rank-and-file group, the three-year-old Caucus of Working Educators, that enlisted 400 teachers from 24 schools to call off from work and join a series of May Day activities. These included a 10 a.m. grade-in and rally at the school headquarters, joining the Day without an Immigrant march, and heading over to the official PFT union action at an elementary school.
The move certainly got the district's attention. It reported a high alert for absences and had to offer additional bonuses for substitutes on that day.
YOU JUST HAVE TO ASK
How did teachers organize so many of their co-workers to skip work for a rally at City Hall? They focused on one-on-one conversations, creating their own bargaining survey as a conversation-starter. The survey asked teachers to choose their top five contract issues, explain why the number one issue was so important, and identify which social issue resonated most with their school communities.
Teachers were also asked what types of actions they would be willing to do. Organizers were surprised at the results: many teachers checked the box to miss a day of work. In fact, out of 10 options, 70 percent of survey takers at Quinn's school ranked this as their top choice.
When Jessica Way saw similar responses at her school, the Franklin Learning Center, she realized, "Oh wow, people are so much more upset than we realized," Way said, "and so much more willing to act."
Next, at several schools where the survey had shown interest, the teachers took a vote and decided to take part in a May 1 "Day of Advocacy" organized by the caucus. Event organizers travelled to other schools to get more teachers to join in, then they had to shore up teachers' resolve after blowback from the union.
Each teacher is allowed three personal days per year—and the district had already conceded that teachers were within their rights to use personal days for political activities, after women on staff at two high schools announced in March that they were striking as part of the national "Day without a Woman" protests.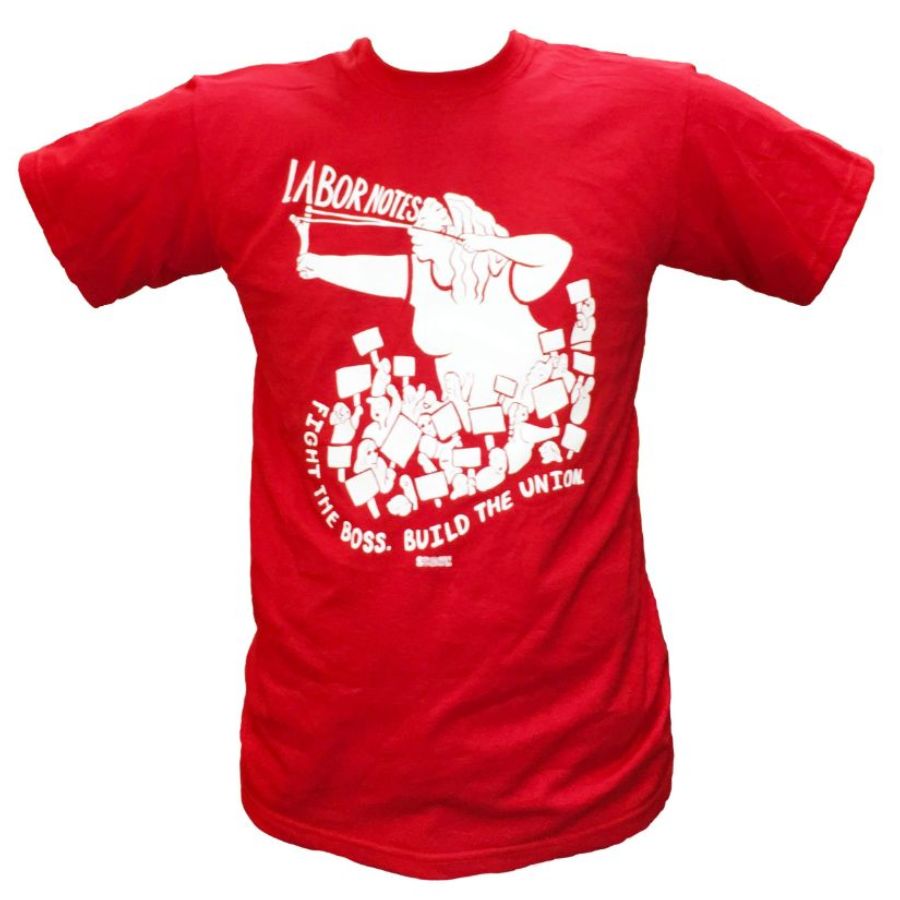 On the other hand, district policy says that after 10 percent of staff at a given school call off, it's up to the principal's discretion whether to excuse any further absences. Since participating schools were expecting call-off numbers much higher than that, members walked through the possible repercussions: an excused or unexcused absence with no pay.
On May 12, the superintendent emailed principals, instructing them to code the May 1 call-offs as a day without pay for those who called off after their schools hit the 10 percent threshold. But after caucus supporters protested via phone calls, emails, and social media, the district backed off a bit. Now it is leaving the decision to principals.
CAMPAIGNING FROM BELOW
Union staff and officers had tried to discourage members from participating, pointing out that Pennsylvania law includes penalties for teachers' strikes—teachers can lose their licenses, and the district can impose a contract on the union. But it was clear from day one that this was not an official, union-sanctioned action.
Why did teachers organize the day themselves? Members complain that bargaining happens behind closed doors, and they get very little information about progress. Caucus members attend executive board meetings to get what updates they can—but often they learn more from the newspaper, where the district's appointed School Reform Council regularly leaks details of negotiations.
So they decided to create a contract campaign to push for more funding for city schools, and to push the district to back down from its demands for cuts to health care and a longer school day and year.
They're concerned their union may settle too low in its eagerness to get a deal. Already it has offered up concessions on health care and pensions. The caucus's demands include a reading period so that members have time to review any settlement the bargaining team comes up with.
"I don't think the union takes advantage of all of the creativity, power, and ideas that the members have," Quinn said.
By leading from the back of the room, the activists are following the model of the Caucus of Rank-and-File Educators, which organized a contract campaign from below on its way to winning leadership of the Chicago Teachers Union.
The Philly activists hope to set an example of their own by proving that involving members and taking action gets results. "The morale gets really low," said Catherine Kella, who also teaches at Franklin. The May Day action "really lifted people up."
One thing that's been missing from the union's program, Way added, is actually getting a sense of what members are willing to do. "Until you ask, you don't know." That's a good lesson for all organizers.