Brooklyn Warehouse Workers Fight to Form Union, End Discrimination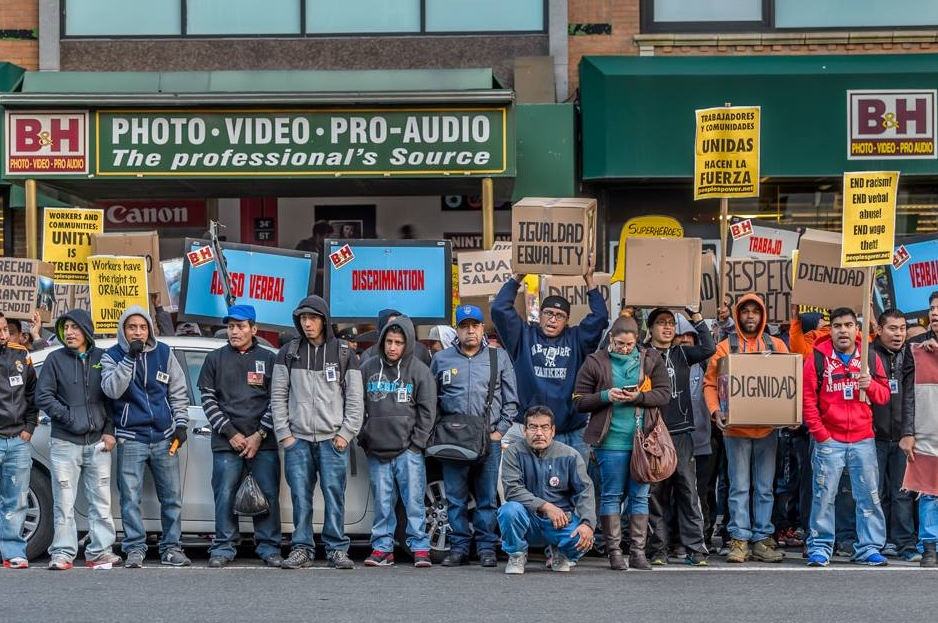 Raising banners into the cold Atlantic wind, 100 warehouse workers from Mexico, Honduras, and Guatemala marched on October 18 to the Manhattan showroom of their boss, B&H Photo Video, the nation's largest non-chain camera store.
They carried cardboard boxes inscribed with a few of their demands—the hora de comida (the meal hour); respeto (respect); the right to call their families in an emergency; sick days; and their most fundamental demand, igualdad (equality—with the store's Hasidic Jewish foremen). Close behind them marched a phalanx of 400 supporters.
This was their second major picket in a week, wrapping around the face of the B&H store on Ninth Avenue. There were so many people at the gates that a concerted decision to block entry could have closed the store for the afternoon—though so far, the storefront pickets have remained symbolic.
Three days earlier, the warehouse workers had taken their fight to the next level: direct action. Demonstrations at B&H's two Brooklyn warehouses on October 15 turned back the bosses' attempt to fire workers en masse and to snuff out their campaign.
At the march and picket, that victory became a jubilant chant: "El jueves demostramos que no tenemos miedo!" ("On Thursday we showed that we are not afraid!")
TOXIC CONDITIONS
Near the front marched Raul Pedraza. Like many in B&H's warehouses, he has suffered years of unpaid overtime and stolen wages, beginning with his very first shift.
Pedraza has endured managers' racist taunts. He's chafed at how Latinos and young workers are excluded from the higher pay scales and even from health care benefits.
He's breathed air so thick with dust that his nose bleeds, a daily reminder that he and his coworkers have no say over conditions.
He's gone without food or a lunch break; worked 14 hours a day; and been unable to take a day off when his children got sick—all illegal in New York City, but common in its warehouses, restaurants, laundries, factories, stores, and offices.
Workers say B&H warehouses are rife with toxic conditions and fire hazards. Two trailers on the company's Navy Yard lot exploded in September 2014, engulfing the Latino and ultra-Orthodox Jewish workers in smoke and threatening to consume the entire facility in flames. B&H's Navy Yard operations are currently under investigation by the Occupational Safety and Health Administration.
'OVER MY DEAD BODY'
Days before the picket, managers and anti-union consultants tried to fire scores of workers.
But the Navy Yard workers—well-prepared by a year of underground training in labor law and worker-power tactics led by organizers from the Laundry Workers Center—were unmoved by management's closed-door union-bashing sessions.
"They told me they would take away our benefits," Pedro Ramirez, a worker at the Navy Yard facility, told Al Jazeera America. "But we don't have benefits."
One by one behind closed doors—and then all together on the plant floor—the Navy Yard workers refused to sign a vague legal document. Managers told them they had to sign or face termination. When workers balked, the managers flew into a rage.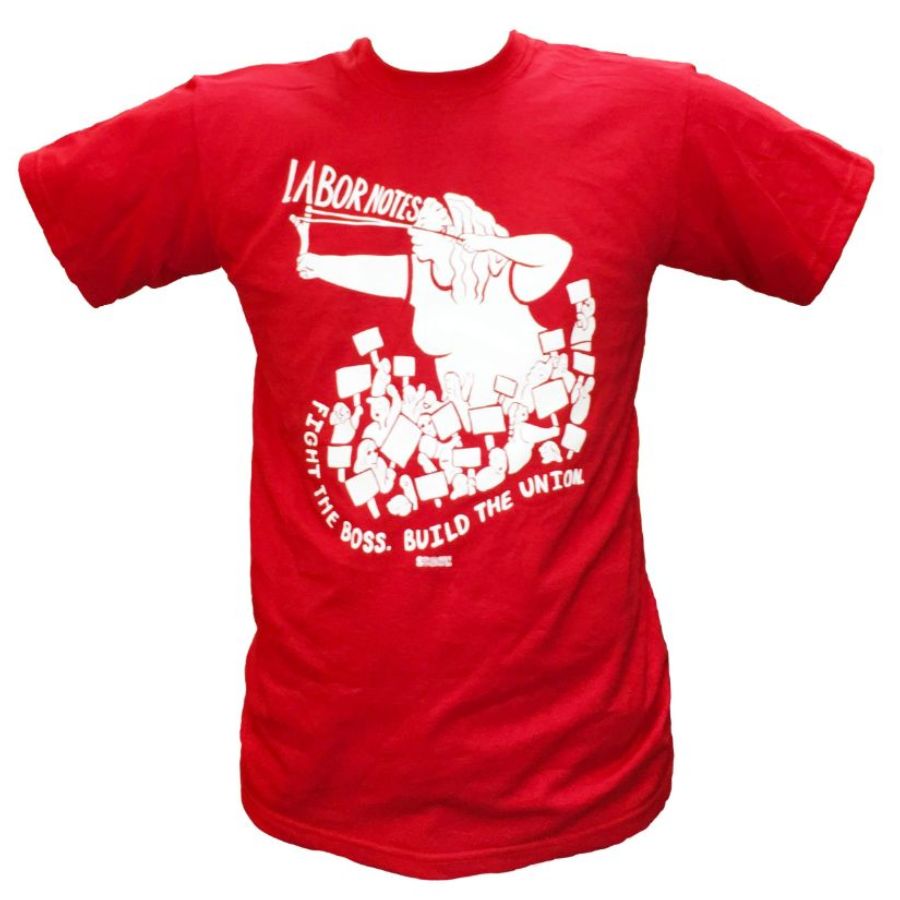 Hollering, "Get out! Get out! Get out!" managers pushed Ramirez and his fellow workers out of the warehouse and past its gates, where workers took up a vigil.
Text messages flew to the company's other warehouse, on Evergreen Avenue in the industrial section of Bushwick, Brooklyn, where workers were ready for direct action, too. Edwin Rojas told Al Jazeera America he had been told, "If you think a union will enter here, it will be over my dead body."
"I told them," said Rojas, "You are no one to change my mind."
Soon scores of workers streamed out, shuttering Evergreen too. Another worker, Jorge Lora, told The Nation that the action showed how "workers have the power—because in the city, nothing can move if there's nobody working there."
Combined, the protests numbered 150 or more workers. B&H immediately bowed to their power, rehiring everyone. Later the company claimed no one had been fired in the first place.
WAREHOUSES ARE CENTRAL
At the picket, there wasn't a trace of fear. Pedraza and a hundred fellow workers were resolute and cheerful.
Flanked by their families, the members of the B&H Warehouse Workers Association chanted as they marched toward the showroom: "Arriba los trabajadores, abajo los explotadores! (Up with the workers, down with the exploiters!)"
Shoring up their ranks were hundreds of labor movement veterans, young socialists, fellow workers from other industries, and organizers from Laundry Workers Center and the United Steelworkers, which have joined forces to support this fight.
Out of 240 B&H warehouse workers, 199 have signed union cards. The United Steelworkers filed on October 13 for a National Labor Relations Board election to represent them. The election is scheduled for November 4.
Warehouses—and transportation to and from them—are central nodes in the world economy. Tactics that succeed in this sector could ripple through the supply chain, which knits together workers in Amazon distribution centers, port truckers, fast food workers, airport fuelers, and Target clerks.
That's part of why, as Lora said, this struggle is about more than these few hundred workers in Brooklyn. It is also a fight to show all low-wage workers that "unity is strength."
"Why are we here?" Pedraza asked the crowd as the demonstration drew to a close. "We are all here because we all have the same blood, and the same heart. We're fighting for our future."
Joel Feingold is an organizer and writer in Brooklyn, New York.