Pittsburghers Demand Fair Treatment, Taxes from Huge 'Charity' Health Care Business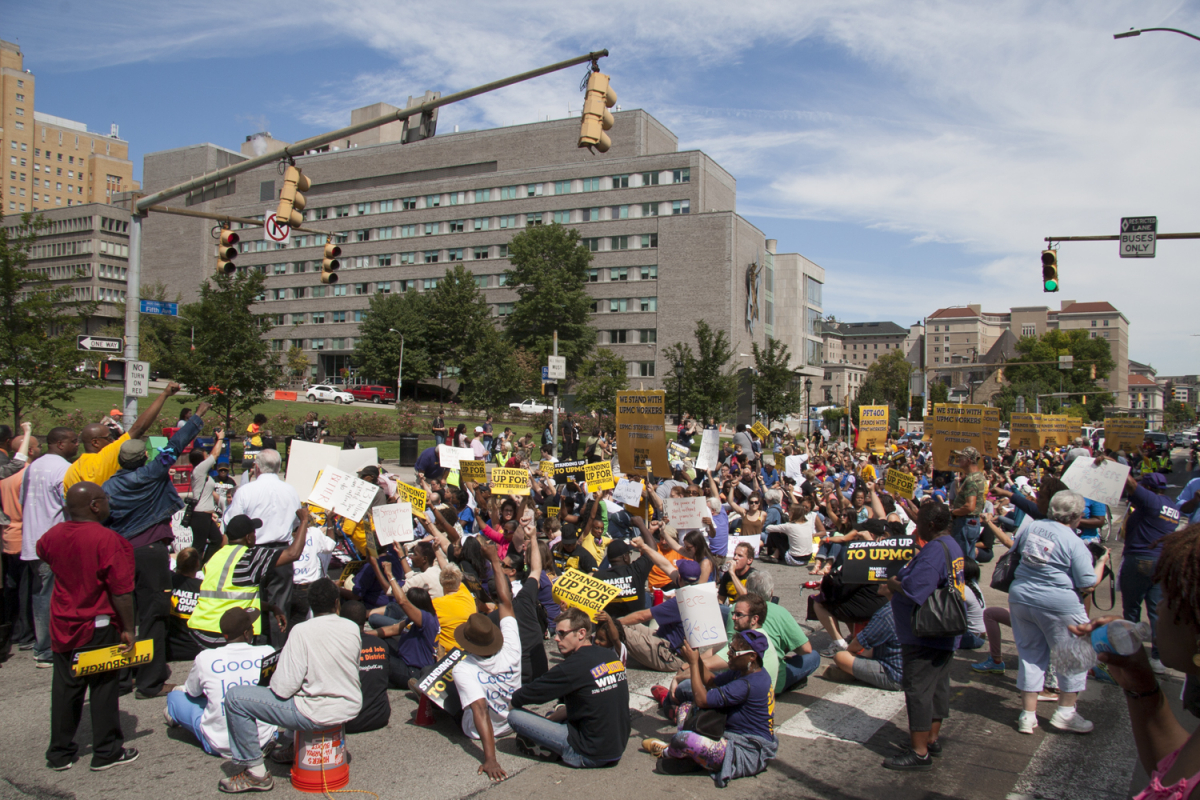 Pittsburgh's biggest landowner pays not a dime in property taxes.
The University of Pittsburgh Medical Center is a self-described "$10 billion integrated global health enterprise," with 20 hospitals and 400 clinics in western Pennsylvania. But its status as a "nonprofit charity" makes it tax-exempt.
Pittsburgh is trying to change that in state court.
"We're not asking for anything all that radical," says Michael Lamb, Pittsburgh's city controller. "But we've lost a lot of our tax base and we just want some of these profitable nonprofits to help."
UPMC is also the city's largest employer. Its eight hospitals and dozens of outpatient clinics, labs, and offices employ 43,000 people in Pittsburgh.
Last year the Service Employees (SEIU) began organizing nonclinical hospital workers. The two fights have comingled into a community-based campaign for economic justice.
Workers on Food Stamps
As the city's steel mills shrank, closed, and moved away in the 1970s and 1980s, Pittsburgh's population dropped—from a peak of almost 700,000 to just 300,000 today.
Fewer workers and homeowners meant less revenue from income and property taxes. Reductions in city services followed. Schools closed, public transit shrank, and firefighters were laid off.
"If the city's largest employer has tax-exempt status, it puts the burden on those who do pay taxes," said UPMC cafeteria worker Christoria Hughes. "And we're not making enough to sustain that."
Meanwhile, UPMC was getting worse as an employer, too.
Wages got so low that some workers have had to turn to food stamps and food banks to get by, said longtime employee Terri Collins.
"When I started, there were three housekeepers on each floor," said Collins, who worked as a UPMC housekeeper for 25 years. "But they've cut it down to one. And for raises, I was getting two cents [an hour] a year."
Problems with her back led Collins to take a job as a secretary on one of UPMC's hospital units eight years ago. Since there's no union contract, she said, promotions are subjective: "I could become a secretary [only] because the unit director liked me."
The Usual Wall
When workers started organizing a union, they "ran into the usual wall," said Neal Bisno, president of SEIU Healthcare Pennsylvania. A May 2012 NLRB complaint describes threats, discipline, firings, and other intimidation tactics.
Collins was at first reluctant to get involved, despite her frustrations. "I was very negative about the union," she said. "UPMC was so dirty. They threatened us, saying that with a union, you might not even have a job. I was paranoid."
In a settlement reached in February, UPMC agreed to reinstate employees it had fired for organizing, to remove negative reports from the discipline records of workers written up for organizing, and not to interfere with the campaign.
Still, "a lot of people talk to me in secret," Collins said. "They hate working here, but they are afraid."
Civil Rights… of the Boss
In June, UPMC sued the City of Pittsburgh, claiming the city's challenge to its tax-exempt status "deprived UPMC of its constitutional rights, including the right to equal protection under the law, and procedural and substantive due process."
UPMC is charging Pittsburgh's former mayor and others with unconstitutional discrimination under the 1964 Civil Rights Act and the 14th Amendment. Ratified in 1868, the amendment was meant to protect the rights of African-American former slaves. The Civil Rights Act of 1964 was passed to further enforce it.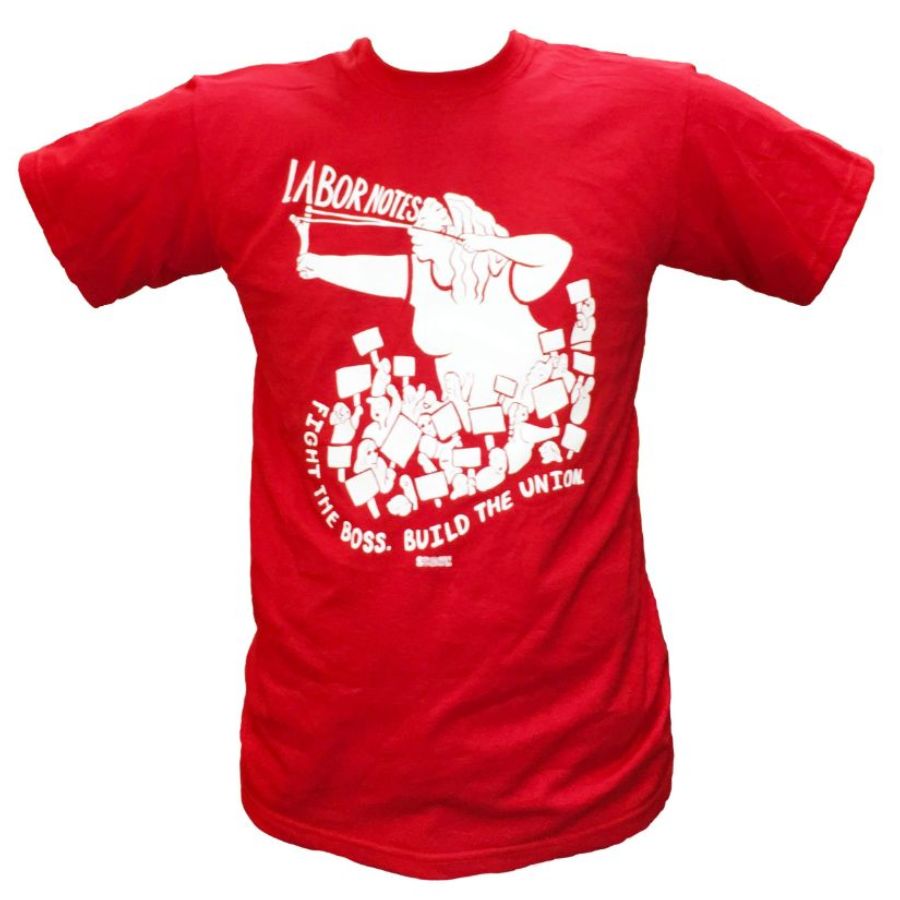 UPMC's claims sparked an angry protest rally, bringing together black activists, UPMC workers, members of other unions, and local officials.
"I resented it completely," said Collins. "I am an African-American woman and I also lived in Germany for a while. I know about discrimination and racism."
UPMC claims the fight over its nonprofit status is a union-led effort to tarnish its image. Longtime Pittsburghers know that's not true: the city had been trying to eliminate UPMC's tax-exempt status since long before SEIU's organizing drive began.
"The city was negotiating with UPMC's predecessors in the 1980s, to leverage payments in lieu of taxes," said Lamb. "We've been in this with UPMC for 20 years or more."
And the alliance has boosted support for the union campaign.
Pittsburgh's mostly Democratic elected officials have generally enjoyed union support, regardless of their actions—but now that they have a common enemy, they are vocal in the union fight too.
"After all," says City Controller Lamb, "as workers' pay goes up, it helps the city with income tax revenue."
And being connected to the high-profile tax exemption push is giving workers more opportunities to interact with and educate the public—making it harder for UPMC to manipulate public opinion the way employers usually do.
"People in Pittsburgh now see UPMC as putting its own profit before anyone else, and bullying anyone who gets in its way," Bisno said.
An Earful
When workers brought up the union fight in their neighborhoods, churches, and holiday gatherings, Bisno said, they got an earful back—about other problems with UPMC.
Friends and family talked about the rising costs of care. Some complained the only insurance UPMC's doctors and hospitals would accept was its own health plan. UPMC won't accept the state's biggest insurer, Highmark, saying it won't give favorable reimbursement rates to "a competitor." And those in a non-Highmark plan (like Aetna or HealthAmerica) find that very few UPMC-affiliated doctors or clinics belong to those plans.
Workers also heard complaints that UPMC had closed hospitals and clinics in low-income areas, while opening new ones in well-to-do suburbs and continuing to acquire tax-free land for future expansion.
UPMC has argued it saves taxpayers money by providing free care to the poor and uninsured. But the workers counter that the company's uncompensated care is not charity, but unpaid medical bills UPMC continues to send to poor and uninsured people.
Thus "Make It Our UPMC," a project of SEIU Healthcare Pennsylvania, was born to pressure the company. It demands that UPMC guarantee equal access to its health care institutions, pay taxes to support public services, respect workers' rights, and work with neighborhoods to improve health outcomes. These demands are outlined in a petition residents are asked to sign.
Supporters have spoken at government meetings and held a march and rally. Supporters and advisors for "Make It Our UPMC" include Pittsburgh residents, clergy, community organizations, workers, elected officials, and other unions, including UFCW, the Transit Union (ATU), and Steelworkers.
These kinds of community alliances aren't just convenient; they're the future of the labor movement, Bisno argues.
"If all we do is protect the wages of the 10 percent who have a union, then we won't do much good," he said.
After all, "UPMC workers don't just need a union; they need better services like transit and schools," he said. And "communities don't just need better services; they need better-paying, union jobs."
Pittsburgh journalist Leah Samuel is a former Labor Notes staffer. Pittsburgh will host a Troublemakers School on October 5.