Locomotive Builders Say, 'Keep It Made in Erie!'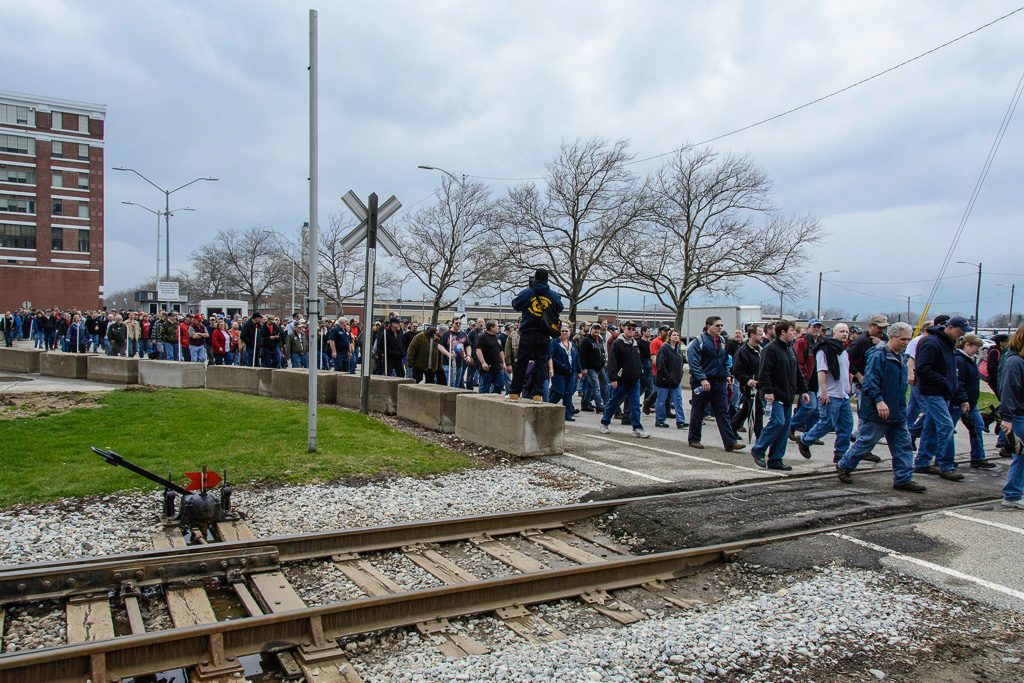 Locomotive builders in Erie, Pennsylvania, are rallying today to demand that General Electric stop the transfer of nearly a third of the plant's jobs to a non-union, lower-wage factory in Texas.
The three actions—one for each shift—follow the profitable factory's April 9 announcement that 950 union jobs would be moved to what GE had called an "overflow" plant in Ft. Worth. A week after the surprise announcement, the members of United Electrical Workers (UE) Local 506 walked off the job for two hours in protest (see photo of earlier action).
The original plan for that April protest was for stewards in each of the complex's 13 buildings to punch out 30 minutes before the end of the shift and march together through the 320-acre grounds. But the desire for a solidarity march grew until the officers suggested that all members would be welcome to join the stewards.
Rallies will also be held today at GE locations in Chicago and Fairfield, Connecticut.
Lied to the City
GE made the announcement only after months of misleading Local 506 and the Erie community, claiming that Ft. Worth would not cost Erie any jobs.
The job loss would be devastating to the city of 102,000—after all our politicians have done for them.
A HISTORY OF FIGHTING GE
When fighting a giant like GE, it is critical to retain, as our contract does, the right to strike with 24 hours' notice. The best way to get their attention is to shut down their "money tree."
Local 506 has fought GE in Erie since 1937. We were on the picket line for 103 days in 1969-70. We have walked out regularly during contract negotiations to express our disgust with the direction the talks were taking.
After the start of the Bush Depression in 2008, GE asked all its unionized workers to forego the wage increases negotiated in the 2007 contract. Most, if not all, other locals voted to do so. Our officers asked GE what we would get in exchange.
The answer seemed to be "the knowledge that the stockholders would make more money."
Management held "All Employee" meetings to insult us in circus-style tents in the plant. Our officers chose not to even bring it up for a vote, and no member made a motion to have a vote. We got the raises we had earned.
During the Bush Depression, much of our work was moved to companies located in "trading partner" countries. As half our fellow workers were laid off, we filed for Trade Adjustment Assistance benefits. GE swore that TAA did not apply to our lost work.
We heavily invested in a lawyer and gathered thousands of shipping papers showing what was coming from where. After several appeals, we won TAA, not just for 506, but for many employees at other companies laid off during the Depression. We showed GE to be "mistaken."
Our greatest showing of solidarity was the 19 months we refused overtime. GE announced in 2002 that they would lay off 925 union members. They started the layoffs—and we exercised our right to refuse overtime. Only 150 or so workers ended up going out the gate, as the orders fell further and further behind.
Management tried to do our work on the weekends. For the first few months, they laughed about how much money they were paid to do our work.
But before the six-month mark, they hated not seeing their families, missing golf outings. Managers started having serious problems with alcohol, family, and other management.
Nineteen months later, they recalled the laid-off members—and went on to hire close to 1,000 new workers. We showed the power of solidarity.
Local 506, with 3,700 members, is the UE's largest local and one of its oldest. Top officers criticized GE's "competitive wage" strategy and pointed out that profits for the company's transportation division, based in Erie, more than doubled to $757 million between 2010 and 2011, and grew another 36 percent to $1 billion in 2012.
"The company named the transportation division 'business of the year' for 2012," the officers wrote, "and the head of GE Transportation walked around the Erie plant showing off the trophy." Now GE Transportation Systems VP Lorenzo Simonelli says the move is necessary to make the division more "competitive."
Because of language in the union contract, the announcement began a six-month period before the work could be moved and a 60-day "decision bargaining" period to change management's minds.
What's the Endgame?
The way GE phrased the announcement, it sounded like they were trolling for concessions. A few members seem willing to throw around ideas on what we should surrender—but most are only willing to give GE advice on how to manage a factory properly. In most areas, workers report chronic parts shortages, bosses who don't have any mechanical/process knowledge, even managers hired for first-level quality positions who can't read micrometers and calipers that aren't digital.
When asked what she believes is behind the move, nine-year assembler Marilyn Simmons starts with one word: "Capitalism," she tells me. "Unrestrained greed, the desire to control workers, break the union, destroy the middle class."
Gauge calibration tech Matt McCracken thinks across-the-board de-skilling is the end goal. "They want to make every job easy enough for an idiot to do," he says. "That would set a bar most of their managers fail to meet."
Others see this as a way to set workers against each other—getting us to fight over whether to accept concessions to preserve jobs.
J.P. Wright, who drives locomotives on the CSX railroad, weighed in on what the move would mean for engineers: "I want my locomotives built by qualified union people," he said, "because now the FRA [Federal Railroad Administration] is allowing these locomotives to be inspected every 180 days instead of 90 days.
"They made the case that these locomotives are computerized and report many defects by computer—but many defects like welds, electrical wiring, and structure-related defects will not be detectable. I want qualified welders and electricians making the tools that I use."
Interesting Summer
The union is planning public relations efforts to show the impact of this decision on Erie, member mobilizations, and perhaps a few surprises for GE.
What we will not do is blame those in Texas wanting to do this work. As UE President Bruce Klipple told the members of 506, "The campaign is not about Texas or the workers in Texas. That's where the company wants us—fighting with other workers."
He also let us know that we will not be finished "working" the company at the end of the 60-day bargaining period. Sounds like an interesting summer is ahead.
The pending tragedy in Erie is not an isolated instance. At least 40 GE plants have closed to move work elsewhere since 2009, with another five to join them within a year. This despite the fact that GE's CEO Jeffery Immelt chaired President Obama's Council on Jobs and Competitiveness, to create good jobs in the U.S.
But loyalty to a community is considered a bad business decision; workers are a commodity. As former CEO Jack Welch said, he wished they had factories on barges, to be moved from labor market to labor market, always looking for a more desperate town or country. They want to see how desperate UE 506 is—how desperate Erie and Pennsylvania are—and play us against what Texas will give them in tax breaks, non-enforcement of regulations, and "right to work."
GE's power to influence government enabled the company to receive TARP money intended for banks in 2009, a bigger slice of that pie than any other. GE also got special waivers on some of the requirements others had to meet—including limits on executive compensation.
And yet, to General Electric, the taxes that sustain the system are an outrageous expense to be skirted by shady bookkeeping. GE made more than $14 billion in 2010, but paid zero in federal taxes. The company has at least $108 billion in profits awaiting repatriation waiting offshore. And it is among those pushing to get another tax holiday.
GE is held up regularly as the "Best Run Business" in the U.S. It is the model used in many business classes. Then why is this happening?
Whether you are talking about money, benefits, or rights, the best way to explain it is: "As long as we still have some, they don't have enough."
Mark Haller is a steward in UE Local 506 in Erie.