Whose Jobs Are We Bringing Home?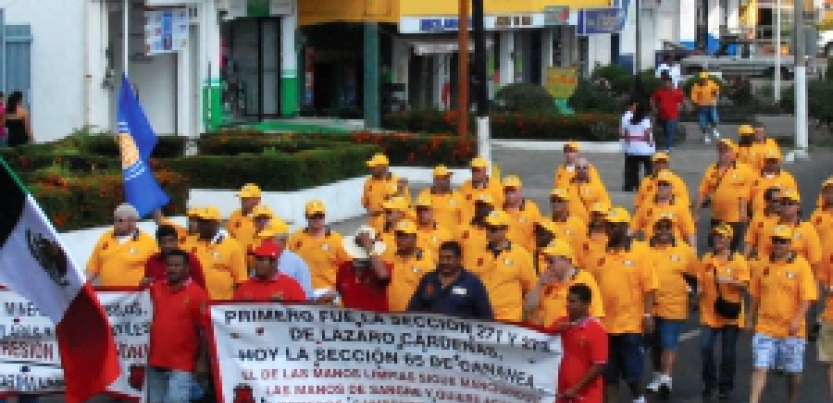 Senators will vote on the Bring Jobs Home Act tomorrow, a bill that would cut taxes for U.S. companies that shift work to the United States and close tax loopholes that encourage outsourcing.
Unions are pushing members to call their senators, taking the opportunity to remind them that Mitt Romney and the Republicans don't back the legislation.
Using incentives to create jobs and discourage more job loss is a good thing, of course. But the title of the bill reinforces the idea that "somebody took our jobs."
The approach of U.S. unions to global trade has often been contradictory, caught between the impulse for international solidarity and urgent desire to save jobs at home.
When the 1% began erasing national borders through outsourcing, capital flight, and, in the 1990s, "free trade" agreements, working people around the world found themselves increasingly in a single global labor market, competing for jobs.
The dream of GE CEO Jack Welch ("ideally you'd have every plant you own on a barge") came closer to reality.
U.S. jobs that had already moved south and west relocated overseas. Workers there were dislocated, more Latin Americans immigrated to the U.S., and American workers felt the downward pull on their standard of living.
By the 1980s economic restructuring was erasing national borders and national interests, and the so-called social contract between labor and management along with it.
Corporations made the change almost seamlessly. Unions, in contrast, had to undo decades of propaganda that had made members concerned mainly with their own conditions.
When jingoism entered the mix, it wasn't a pretty picture. Many unions approached the emerging globalization defensively and narrowly, blaming workers in other countries for "stealing our jobs." Auto workers aimed their anger at the Japanese. Steelworkers joined with industry to call for protectionism.
WAKING UP
But many U.S. unions have moved from "Buy American" campaigns and calls for tariff barriers to global solidarity.
When unions practice international solidarity, it's likely to mean a delegation of workers from one country visiting another, resolutions of support, maybe financial aid. Sometimes it's more, such as actions at stockholder meetings.
Sympathy strikes are very rare, and joint bargaining with transnational corporations, common contract expirations, and coordinated action are hard to find.
Those things would be a lot to expect, considering where U.S. labor has come from. What have we accomplished?
Early initiatives started at the top (with the exception of the United Electrical Workers, who did cross-border work with rank-and-file participation from the beginning). Formal global networks among workers employed by the same transnational corporations emerged with help from the "international trade secretariats," bodies such as the International Metalworkers Federation. These international bodies have overhauled themselves to support global work.
Such networks were often pushed forward by unions in the Third World, already in battle with global corporations. Brazilian metalworkers at the steel company Gerdau set up one of the first networks and put it to effect, stopping work for two hours to support striking U.S. Gerdau workers. Bolivian miners tackled privatization of their water by a Bechtel-owned corporation and became part of many international networks fighting water privatization.
Networks in steel, transportation, food, mining, and aluminum took form. Union officers met with their counterparts, from Japan to Germany, from South Korea to South Africa.
This humanized global community brought a new understanding into top levels of the U.S. labor movement. The new consciousness was uneven, with some union leaders uninterested, others participating solely in junket fashion, and others genuinely committed.
How were these unionists to push global solidarity down to labor's grassroots, especially at a time when conditions at home were deteriorating? Plant closures, outsourcing, and privatization fostered fear, and fear aggravates already existing individualism, narrow patriotism, and hopelessness.
In addition, emphasis on consumerism created a culture of blame and the illusion that union members were "middle class." Workers in almost every other country identify themselves as working class, an identity that speaks directly to "which side are we on?"

Best-Selling Book
Secrets of a successful organizer
A step-by-step guide to building power on the job. Buy Now. »
Another difficulty was paternalism: some U.S. workers assume it's their duty to help workers in poor countries. Never mind that those workers have been battling transnational capital for decades! Paternal offers of aid—rather than solidarity—would only reinforce the old inequalities.
Some recent ideas were even more noxious.
Former SEIU President Andy Stern told a business publication in 2006 that it would be smarter (and cheaper) for the union to pay workers in Indonesia or India to strike against the same global employer, rather than wage the battle on domestic soil.
Clearly, solidarity doesn't mean outsourcing our struggles.
BIGGER AND BETTER?
It's true we haven't slowed down globalization. Wages in most of Latin America, Asia, and Africa are still miserable, and at home they're falling. Employers still play us off against each other.
One answer has been to look to transnational union mergers at the top. This June more than a thousand delegates met in Copenhagen to form a global federation joining together mining, energy, and manufacturing unions. They expect 140 countries and 50 million workers to be represented.
The Steelworkers have signed an alliance with unions in Great Britain that has produced coordinated support for campaigns and strikes.
The USW's working agreement with its counterpart in Mexico, Los Mineros, has involved hundreds of members and helped to push the Mexican government to drop bogus charges against Los Mineros' president. The alliance has raised money and pressured Congress and Mexican consulates to help settle the endless Cananea copper strike.
Through the USW's Humanity Fund, Bolivian, Chilean, and Peruvian mine workers at companies like Rio Tinto have had Canadian workers at their bargaining table and vice versa.
The Teamsters have established a global department and are carrying out common campaigns in the fast-growing logistics industry. German DHL workers have toured non-union DHL facilities in the U.S. and pressured the corporation to deal with organizing by U.S. delivery workers and also those in South Korea.
FACE TO FACE
Meeting face to face with people who work for your company in another country creates personal bonds and commitment. But what percentage of workers can actually engage in these mind-changing encounters?
ArcelorMittal is a transnational that operates in 60 countries and has bought up steel mills and mines throughout the hemisphere. The union network at the company has sponsored repeated interchanges between USW locals in the U.S. and Los Mineros in Mexico.
Groups of workers, new ones added each time, travel to Mexico to participate. Upon returning, they talk about the importance of solidarity ("If we don't fight with them, we will work under similar wages and conditions") and what they learned ("I could not believe the community respect and support for the union." "I felt like I was walking on sacred ground at the union monument.")
But they have a harder time figuring out how it translates for co-workers. The Steelworkers do fundraising, support picket lines at the Mexican consulates, and publish articles every month in the union magazine and website. Steelworker districts bring workers from other countries to speak at conferences. Yet building global solidarity day to day at work remains an elusive goal.
CONCESSIONS A MOTIVATOR
A motivator could be ArcelorMittal contract proposals announced in June for U.S. workers: end defined-benefit pensions, cut retiree health care, and increase workplace flexibility.
As the realities of a global labor market become clearer, workers begin to understand that "an injury to one is an injury to all." U.S. workers will realize they need to give and receive support—as long as direct actions, global networks, and solidarity education remain a union priority.
Conferences accessible to rank-and-file workers, such as those Labor Notes holds, also build bonds, often at the lower levels of the union. Once workers can see global realities for what they are, they are less vulnerable to lies and misinformation.
The media in this country have worked hard to dehumanize workers abroad, by attacking immigrants and devaluing life in the global south. Our job remains to humanize and build communities among workers across nations, divisions, and differences.
---
Ruth Needleman is director of Labor and Community Studies at Calumet College in Whiting, Indiana.
/>