Hershey's Walkout Exposes J-1 Guestworker Scam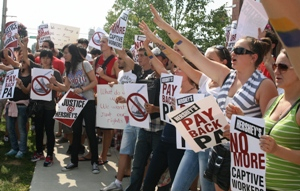 Every year the U.S. State Department grades countries on human trafficking, but it would do well to look at its own J-1 visa program, which one organizer called "the ultimate captive guestworker program."
The Summer Work Travel program for students was widely exposed when three hundred J-1 student guestworkers from China, Turkey, Ukraine and other countries walked out of a Hershey's packing plant in Palmyra, Pennsylvania August 17.
The students demanded a refund of program fees, and said the jobs should go to local unemployed people at a living wage.
The students presented a petition to management and then marched out chanting in English and their native languages. Three Pennsylvania labor leaders blocked the door and were arrested, while Jobs with Justice put out a call for funds and solidarity, and the National Guestworker Alliance, which helped the students organize, demanded that the State Department eject the company responsible from the student guestworker program.
"Why did they bring us here?" said Harika Duygu Ozer, a medical student from Turkey. "Because they want to make profits from us instead of giving good jobs to local workers."
Saket Soni, executive director of the NGA, said that if the jobs were living wage jobs, with a union contract, they would have paid $15 million this year to currently unemployed Pennsylvania workers and their families.
CULTURAL EXCHANGE
The striking workers are college students who were solicited by a dizzying range of sponsoring groups with splashy websites promoting a fun four-month cultural exchange visit to America.
The Council for Educational Travel, USA (CETUSA) provided the workers to the Hershey's-owned plant. CETUSA describes itself as "a non-profit, global exchange organization dedicated to helping people from different cultures develop more compassion and understanding for one another."
To employers, it markets its services as a way to fill seasonal staffing needs, "No matter if you own a little candy shop in Texas or run a huge processing plant in Alaska."
The Palmyra J-1 workers packed and lifted 65 pound boxes of candy at breakneck speed, many on night shift. They complained of severe back pain, bruising, and numbness in their arms.
Workers were subjected to camera surveillance and were told they would be fired if they didn't keep up the pace. Zhao Huijiao, a 20-year-old international relations student from China, said managers pushed them, "work, work faster, work." Students said they were threatened with deportation if they didn't keep up.
Inflated housing costs were deducted from their paychecks, leaving them as little as $95 for a 40-hour week, said Godwin Efobe, a Nigerian medical student who works night shift in the plant.
The last straw, some students said, was when they discovered that they were paying more than double the rent of their non-J-1 neighbors. Typically, four students crammed into an apartment with a market rent of $600. The company deducted $400 from each student's paycheck, adding up to $1,600 a month.
Housing wasn't close to the plant, either, requiring a 20-minute walk followed by a 40-minute bus ride. Students were told they could not rent for themselves because they were staying such a short time. The costs of damage deposits, bus fare, hats, and gloves were also deducted. One student ended up with a paycheck of six cents after her first week's work.
CAPTIVE WORKERS
The wage theft is especially galling because the students paid between $3,000 and $6,000 to enter the program, a fee which included round-trip travel.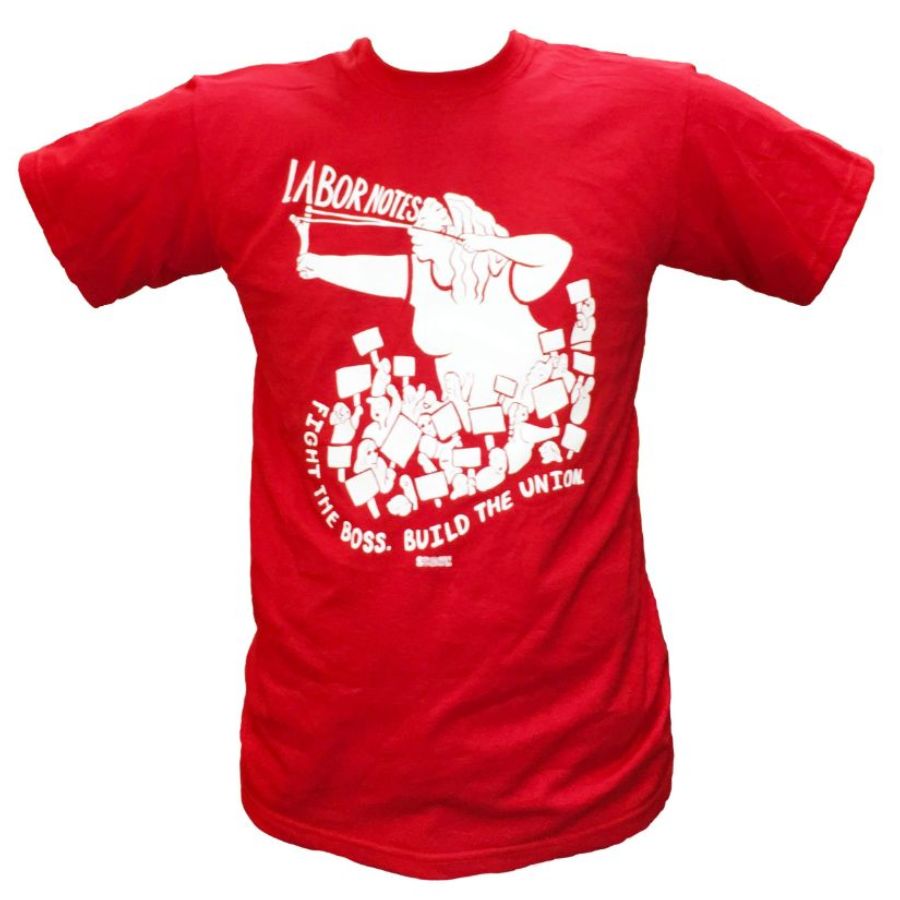 Like many agricultural guestworkers, they found themselves "captive workers," they had to keep working to pay off their debts. Some had hoped to save money for fall school expenses, but the paychecks barely met their daily needs.
A Ukrainian student told television news in her home country that she couldn't leave because her parents had invested so much, and if she came home she'd have to pay her own travel, piling on more expense. How would she look her parents in the eye? she asked.
When management got wind of worker unrest, they threatened deportation, in a meeting that one of the students audiorecorded.
LOCAL JOBS
Hershey's laid off 600 workers in 2009, when it moved some product lines to Mexico, said Diane Carroll, Secretary-Treasurer of the Chocolate Workers union (BCTGM). Four hundred more union jobs will soon be lost to automation when a new plant opens, replacing the original Hershey factory. Some of the Palmyra packing jobs used to be union, too, but the company closed that plant in the early 1990s.
After that, the union tried to organize the current plant, but Hershey's said it only owned the building, the real employer was subcontractor Exel, and therefore the workers were not covered by the Hershey's contract.
It is not clear how long Exel has used J-1 students, some say five years. The employers take advantage of varying college schedules around the world to maintain staffing year round, although the students only work 4 months each.
"Quick turnover is part of the recipe for exploitation," said Stephen Boykewich, a Guestworker Alliance organizer. He said other guestworker programs, administered by the Department of Labor, have been scrutinized lately due to worker organizing and renewed enforcement, but the J-1 program has virtually no safeguards.
SWEATSHOP DIPLOMACY
The Summer Work Travel program was originally fashioned during the cold war to promote America to foreign students. Now it annually accounts for 130,000 college students, in low-wage jobs, while another 200,000 J-1 visas are issued to workers in year-long trainee and intern programs.
Unlike other guestworker programs, J-1 employers don't have to advertise jobs locally to show that Americans don't want them, and there is no limit on the number of J-1 visas issued. The H2A agricultural guestworker program brings 40,000 workers while H2B, the non-agricultural program, is capped at 65,000.
The J-1 program is "Particularly offensive because it appears to be standard-less," said Rebecca Smith of the National Employment Law Project, who works on guestworker rights. "It's used in a way to subvert the already low standards of the other programs."
BACK INSIDE
Two hundred student workers who struck walked back into the plant three days later, but this time they returned as "labor justice monitors," said Boykewich of the Guestworker Alliance. They are armed with badges and logbooks, looking for labor violations of any kind.
"This forces the plant management to take a very different approach and be on guard about minimal labor standards for the first time," he said. No one has been fired yet.
Simultaneously, the students are launching a kitchen table listening tour, visiting the families of Pennsylvanians who reached out to them when their strike hit the news. Many offered the students food and places to stay.
The students are taking them up, making connections with people in the area who have been hit by corporate cost-cutting like Hershey's. The outlook is good for some real cultural exchange, they say.