Capitol Square Remains Packed as Protests Continue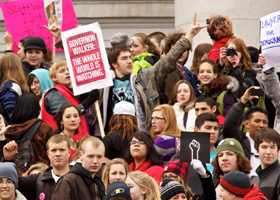 Police dragged a hundred demonstrators from the Wisconsin statehouse Thursday to break a blockade trying to prevent state representatives from passing the governor's anti-union bill.
Several thousand bellowed their disapproval outside, joined by more than 1,000 high school and middle school students who walked out of class again to march together to the Capitol.
None of the protesters were arrested, and state representatives spent the afternoon with police blocking Capitol entrances while they debated inside. Republicans have a clear majority in the Assembly and are expected to pass the bill.
Union leaders and a crowd that grew by thousands yesterday evening and throughout the day denounced Wisconsin's Senate Republicans, who rewrote a month-old bill yesterday to focus just on attacking union rights and collective bargaining.
That allowed them to pass the bill without the participation of Senate Democrats, who reportedly are returning to the state today. Republicans didn't need them because a quorum of 20 is required only for fiscal measures.
Legal complaints have been filed with the state district attorney, challenging the bill on a number of grounds. Opponents say the new bill left in several fiscal measures, including sweeping changes to the state's Medicaid system and stiff health and pension concessions for state workers.
Legal challenges are also expected around the hurried-up process by which the bill passed—Democrats say they received just an hour's notice before it was considered.
The bill would cripple public worker unions by ending dues check-off, mandating yearly votes to maintain the union's certification, and restricting bargaining to wage increases below the inflation rate. But enormous numbers of people, union and non-union, public and private sector alike, are rallying to oppose the bill.
"People who are not represented will be hurt the worst through the draconian measures the governor has put forward," said Eric Cobb, executive director of Madison's building trades council. "People see us standing together, and they're saying, I want someone standing next to me."
"People understand that it's all public institutions at stake," said Bob Peterson, a Milwaukee fifth-grade teacher and editor of Rethinking Schools. "They're increasingly recognizing that that the so-called deficit is really a refusal from the Republicans, and Democrats too quite frankly, to tax the rich."
Capitol Square Filled
Although protesters said the Capitol Square was again packed with members of every stripe of union, no unions have yet voted to take mass action.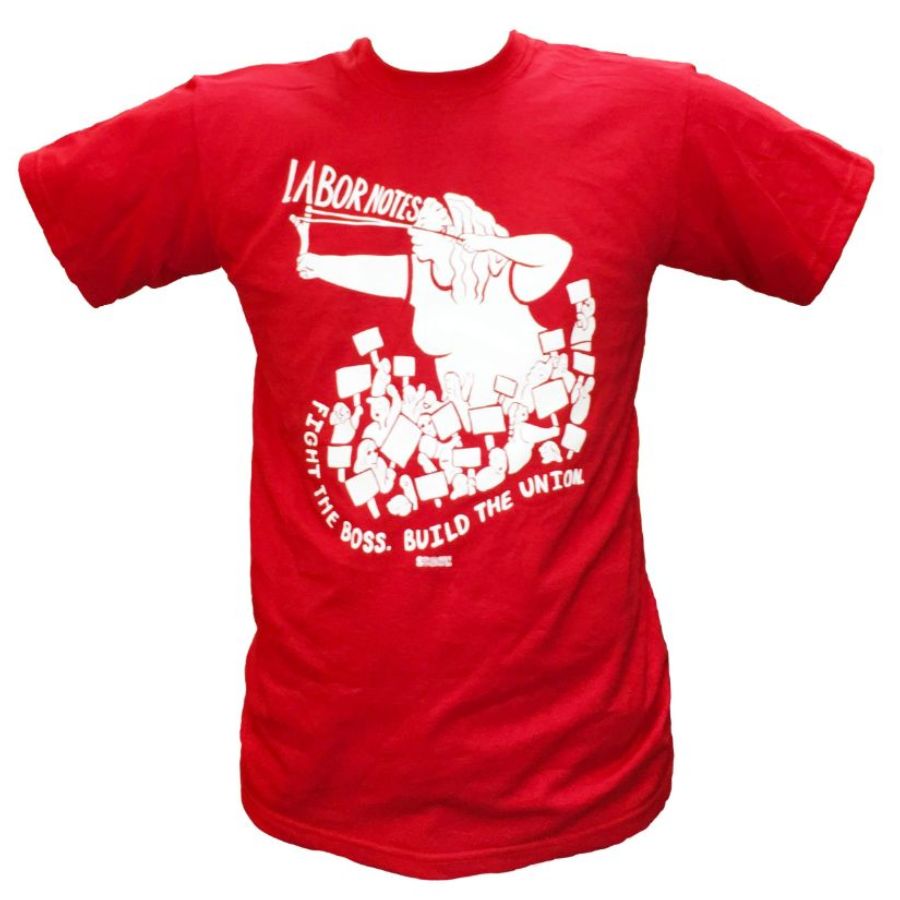 Leaders of the state teachers union, WEAC, and the public employees union, AFSCME, advised members to go to work today. Teachers in Milwaukee and Madison held emergency meetings late into Wednesday night before deciding not to ask members to leave their classes. It was Madison teachers who started a sick-out three weeks ago that spread across the state.
The bill passed by the Senate yesterday gives state officials the power to fire workers who participate in a "strike, work stoppage, sit-down, stay-in, slowdown, or other concerted activities to interrupt the operations or services of state government, including mass resignations or sick calls."
While such concerns may weigh on union leaders, individual members are taking leave and joining the protests. A story passed around protesters today included a note one worker left on her boss's desk: "Had to go to Madison for a funeral today. Democracy died."
"People you'd never see in a union meeting are grabbing stickers and signs and heading to the Capitol," said Barbara Smith, a member of Wisconsin Professional Employees Council/AFT Local 4848. "As things progressed, people figured out that it would hit their mom, their aunt."
Huge Rally Saturday
Another giant protest is planned for Saturday. The state's unions are expected to throw energy into the effort to recall eight Senate Republicans. Democrats said the drive has produced—in a matter of days—one-sixth of the signatures needed to force recall votes.
They say they have a quarter of what's needed to put several of the most vulnerable senators up to a vote, which could take place in four months at the soonest, said David Boetcher, an Electrical Workers government affairs staffer.
Cobb, the Madison building trades leader, says Wisconsinites are looking to take the protest to the institutions that supported Walker's election bid in November. One such company, M&I Bank, will be hit with demonstrations. Reports said the Firefighters local withdrew its account.
Other efforts are aimed at flipping the state Supreme Court to the Democrats in an April 5 vote. Unions are preparing for the "day of action" called by the national AFL-CIO April 4, the anniversary of Martin Luther King's assassination, but it's unclear yet whether that would mean a big walk-out—like the kind that bloomed after Madison's teachers closed their schools.
"We need to take that kind of action and escalate it—in the Madisonian way, extremely peacefully and with incredible solidarity," Cobb said. "This city and state will not run without the people answering the phones and doing the work."
Even if legislators strip bargaining rights, Cobb said, the power of workers doesn't come from a piece of paper.
"If we stand together, no law will take our rights away," he said.