Winnipeg Wildcat: Postal Workers Refuse Unsafe Work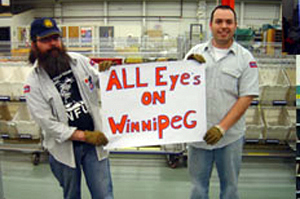 A spontaneous one-day walkout of 70 Canadian postal workers over injuries triggered by a mechanization scheme has inspired a rising tide of solidarity across the country and internationally. It serves as a reminder of the enormous power of a simple bold act.
The November 22 walkout in the city of Winnipeg in central Canada grew out of a dispute simmering for months. Canada Post launched a pilot restructuring project there in April, the first test site for a $2 billion modernization initiative. The scheme is supposed to achieve productivity gains and cost savings once in place across Canada.
But management never consulted with postal workers before rolling out the new system. And it's been causing injuries and family stress for the Winnipeg letter carriers, who are working late into the night to finish their delivery routes.
The new machines sort 80 percent of the mail, explains Bob Tyre, president of the Winnipeg local of the Canadian Union of Postal Workers (CUPW), while the remainder must be sorted by the old hand method because items are off size or the address is illegible. Two types of sorting isn't a problem as long as letter carriers are allowed to merge both stacks into a single bundle before leaving the mail facility to do their route.
But management insists that the carriers move out into in the field right away, forcing them to manage two or more bundles of mail.
"You're walking with different shapes and sizes balanced in your arm, with another in your hand," Tyre says. "It obscures your feet. You can't see where you're walking, and you're up and down stairs all day. You have to hold your arm rigid and balance the load while you're walking. It's caused a lot of slip and fall injuries, a lot of shoulder, arm, and neck pain."
One Worker Draws the Line
After a number of injuries and hassles managing deliveries during the first few weeks of the new system, local supervisors slacked off and allowed workers to merge the bundles at the depot.
But on Monday morning, November 22, at the city's southwest letter carrier center, management took a firm stance: use the new method or face disciplinary action.
One worker said no, Tyre recounts. The worker told his boss: "I've tried it and I stumbled a number of times. So you'll have to send me home, because I'm not doing it."
Management issued an immediate five-day suspension. It took only 10 minutes for word to spread through the building, and about 40 workers held an immediate meeting in the parking lot. They decided to all go home, invoking contract language which gives the right to refuse unsafe work. When 30 workers arrived for the second shift and heard what had happened, they decided to go home, too.
CUPW members across the country, like these in Toronto, are letting management know they're closely watching the roll-out of a restructuring project that started in Winnipeg and will soon spread.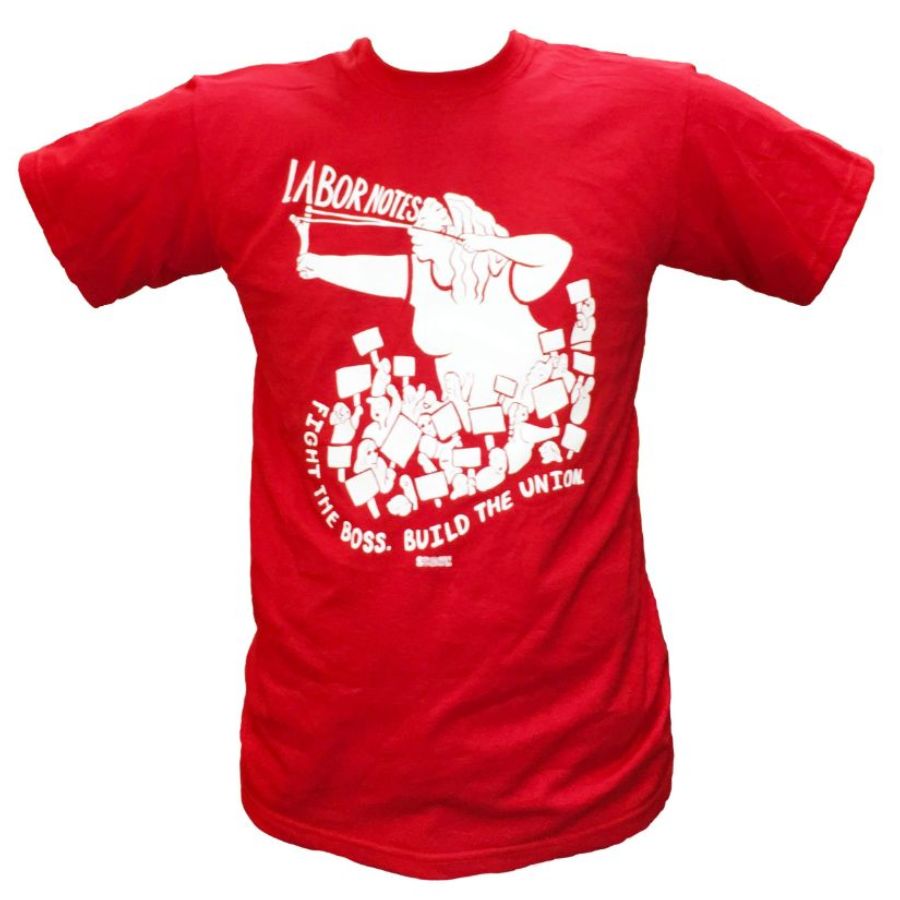 Canadian media covered the wildcat action, and word spread quickly among CUPW members and especially through a blog called "The Workers Struggle with the Modern Post." A week later, the blog had received 50,000 hits and had become a worker-to-worker communication tool for CUPW members, with individuals and locals sending messages of solidarity or launching support actions and then posting photos on the blog. Support also came from abroad, including from the international union federation, UNI Global Union.
On Tuesday, for fear of their jobs, workers returned to work and struggled to get the mail delivered under management instructions that remained unsafe. At press time, management had not actually disciplined workers, beyond docking their pay for the day they walked off the job.
Porch Lights for Posties
The Winnipeg local launched a "Porch Lights for Posties" campaign in response. The ill-conceived delivery system combined with shortstaffing has created widespread delivery delays and growing piles of undelivered mail at the postal depots.
CUPW members selected neighborhoods suffering the worst delivery delays, and went door-to-door handing out light bulbs and flyers to residents. The flyers say, "You may have noticed recently that your mail is now arriving much later than previously," informs residents of the service changes made by Canada Post, and asks them to "keep your porch light on and help keep your letter carrier safer."
Residents are encouraged to contact their member of parliament and the Canada Post. Soon CUPW members in Edmonton, Alberta—800 miles west of Winnipeg—had joined the campaign and were delivering light bulbs and flyers as well.
Impact on National Bargaining
While members challenge the work restructuring in Winnipeg, CUPW is in the midst of negotiating a new national contract for its 54,000 members. Health and safety— including the demand to return to one-bundle delivery—are front and center, says National President Denis Lemelin. The new system is being introduced at a few sites in Toronto, Montreal, and Halifax, and will spread nationally over the coming year.
But other important issues are on the table. Canada Post has cut about 1,800 full-time positions since 2009, mostly through attrition as workers retire. Temporary and casual workers have been cut. And, as in other industries, management is pushing a lower tier for new hires. "They want two tiers in wages, pension, benefits, job security, time off work—everything," Lemelin said.
Coupled with these contract challenges are service cuts due to shortstaffing, reductions in rural delivery services, and fewer collection mailboxes on the street. The impact of the cuts has been greatest in rural areas. CUPW has responded by asking local municipal councils in rural areas to sign on to a "People's Postal Declaration," which demands that postal modernization be handled in a socially responsible way that doesn't sacrifice quality services or quality jobs. The declaration has been signed by 359 municipalities, after concerted outreach by local CUPW activists.
CUPW held a national day of action November 25, with rallies outside workplaces across the country. The action day morphed into a day of solidarity with Winnipeg. At a postal facility in St. John's, Newfoundland, workers held signs saying "All Eyes on Winnipeg."
The ante will be upped in the coming weeks. Injuries under the multiple-bundle delivery system will rise as snow begins to fall. And CUPW is lining up another day of action at the end of January, which will focus on the contract that is set to expire then.