Incoming Governors Spurn Federal Money For Rail Jobs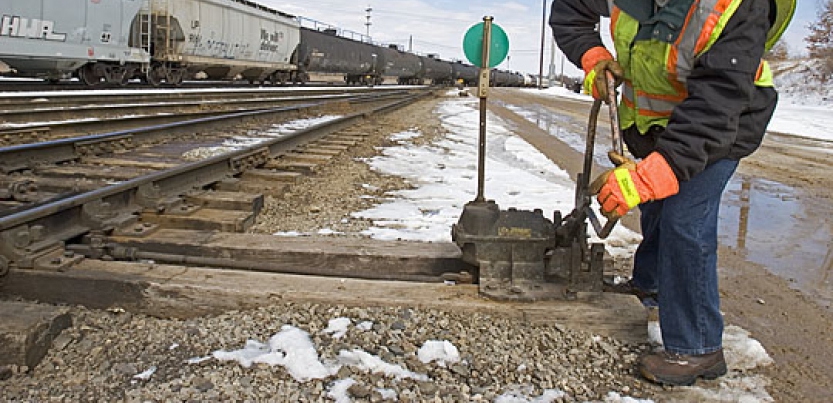 Passenger rail projects in Wisconsin and Ohio are dead, and Florida's is on the chopping block, as incoming Republican governors turn away hundreds of millions of dollars of federal money—and the jobs they would generate.
The train projects became symbols of the federal government's dictates and big-time spending during the election campaigns.
"It was a smaller version of the big debate, do you spend your way out of the recession or do you cut?" said Tim Hanely of the Locomotive Engineers (BLET) in Ohio, where Governor-elect John Kasich promised to send back $400 million.
All three governors-elect ran on a promise to create jobs, so the refusal of money is particularly enraging to building trades and railway workers unions. They had hoped to see some of their laid-off members return to work building and upgrading track and stations and building and operating trains.
The Laborers Union in Ohio reports that its members have 25 percent less work since the recession hit. Construction unemployment nationally stands at 17 percent.
The unions banked on electing Democratic governors to complete long-planned rail projects. When Republicans won, they seemed at a loss for an alternate strategy.
U.S. Transportation Secretary Ray LaHood said the money not used in Ohio and Wisconsin would be redirected to other states. But Congressional Republicans want to stop payment on unused stimulus checks for trains and other projects.
THAT TRAIN IS DEAD
Kasich campaigned against a project to link Cleveland, Columbus, Dayton, and Cincinnati by passenger trains on existing track. "Passenger rail is not in Ohio's future," he said at his victory party. "That train is dead."
The Ohio train project was estimated to create 400-500 permanent jobs and thousands of construction jobs during the building phase. It was expected to serve nearly half a million riders yearly.
"But it's not just the jobs," said Transport Workers Union staffer Fred Fink in Cleveland. "It means we're not moving forward with alternate transportation, the ability to move around our state without getting in a car. It's the right thing for pollution and the environment."
Passenger trains are about 40 percent more fuel-efficient per passenger-mile than cars, with lower carbon emissions to match.
NO CHECK, PLEASE
Kasich made the train "boondoggle" the spearhead of an attack on federal spending during his campaign, according to Hanely: "It was the hot-button example of the federal government dictating to Ohioans."
The Kasich campaign argued that the trains would saddle Ohio with a $17 million a year operating cost. The projected cost to operate the train is about one half of 1 percent of the Ohio Department of Transportation budget.
Kasich seemed to have no problem with the mandates carried by other big public subsidies: Ohio has taken in $1.1 billion in federal stimulus money for roads.

Best-Selling Book
Secrets of a successful organizer
A step-by-step guide to building power on the job. Buy Now. »
Railway unionists shake their heads at the illogic. They point out it's much cheaper to add passenger cars to a train than to widen a congested highway, and that the infrastructure cost of rail per passenger mile is a fraction of the cost of highways to move the same number of passengers.
CAMPAIGN PROMISES
Unionists in Milwaukee protested outside the factory of Spanish-owned train car manufacturer Talgo shortly after the election, dismayed at Governor-elect Scott Walker's decision to turn down $810 million in federal funds for a fast train link between Milwaukee and Madison.
Killing the Wisconsin project will cost between 4,700 and 9,500 jobs, according to estimates. Talgo representatives said they are likely to move the factory now that train plans have been cancelled.
One Walker campaign ad featured him standing on a poorly patched road, saying he'd "rather take that money and fix Wisconsin's crumbling roads and bridges."
But LaHood has said that rail-specific funds can't be repurposed. Eighty cents out of every federal transportation dollar already goes to roads.
Illinois politicians greeted Walker's anti-train rhetoric, saying they'd love the money. Now, Illinois is one of the states slated to get some of the rejected cash, up to $42 million.
The federal grants were intended as a down payment on a larger regional passenger rail plan. Dan Large of the IBEW in Milwaukee said the Madison link was the first step to a fast connection between Chicago and the Twin Cities (currently an eight-hour trip).
"But we'll have to wait," he said.
While leaders in Illinois, North Carolina, and New York are excited to get the rejected funds, the new bipartisan austerity binge projected in Washington rolls on.
UP IN THE AIR
A group of 27 incoming Republican Congress members are pushing to claw back $16 billion in unused stimulus funds. About $6 billion of that is for transportation.
They seek to pull $2 billion promised for a California high-speed train project. Gubernatorial candidate Meg Whitman vowed to cancel the $43 billion San Francisco-Los Angeles link, but she lost to more rail-friendly Jerry Brown.
Florida has already received promises of $2 billion for a proposed 90-mile high-speed Orlando-Tampa rail link. But Florida Congressman John Mica, expected to be the new House transportation chair, has suggested the route be shortened to run between the Orlando airport and Walt Disney World, about 20 miles.
And Florida Governor-elect Rick Scott is pondering sending back all $2 billion.
Scott is a venture capitalist who spent $78 million out of his pocket to narrowly win the governorship. He campaigned on job creation, claiming he would generate 700,000 jobs in seven years. Florida unionists say his first planned move is a 5 percent across-the-board cut to the state budget, which they expect will result in layoffs of tens of thousands of public workers.