Hyatt Housekeepers: This Job Hurts!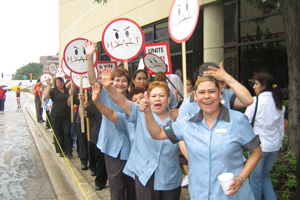 Eunice Zapata cleans 30 luxury hotel rooms in an eight-hour shift at the San Antonio Grand Hyatt.
When she slipped on a wet floor and hurt her arm, the hotel didn't give her enough time to heal. Then she was made to prove she could keep her job by working through excruciating pain.
"My whole arm falls asleep and I don't have any strength," she said. "I'm a new mother, and when I hold the baby I feel pain."
Zapata and her injured coworkers in eight U.S. cities went to the Occupational Safety and Health Administration November 9 with complaints against 12 Hyatt hotels. The complaints ask OSHA to investigate the hotels and to require remedies.
OSHA has no standards on hotel cleaning, or any other cleaning profession.
REPETITIVE MOTION INJURIES
"We're in the position where health care and nursing home workers were 20 years ago," said Pamela Vossenas of the hotel workers union, UNITE HERE. "We're alerting employers and OSHA that repetitive motions and heavy lifting are seriously injuring workers."
OSHA developed guidelines for nursing home and grocery workers after strenuous campaigning by the workers, their unions, and public health advocates.
UNITE HERE is focusing on Hyatt because the Chicago-based chain has the worst record for housekeeper injuries among the top five U.S. hotel companies, according to a study published in February in the American Journal of Industrial Medicine.
The 12 Hyatts named in the complaints reported 780 injuries on OSHA logs since 2007, according to the union. The hotels employ about 3,500 workers in San Antonio, Chicago, San Francisco, Santa Clara, Los Angeles, Long Beach, Honolulu, and Indianapolis. Seven of the hotels are unionized.
Hyatt has also been pushing takeaways on its unionized workforce since its contracts expired in the summer of 2009. In San Antonio, the union is seeking to organize the Grand Hyatt, where Eunice Zapata works.
"The problem is they give us too many rooms, but we can't complain because they give us disciplinary warnings," Zapata explained through a translator.
Housekeepers are being injured at such high rates because their workload requires them to rush through their day without time for their muscles to recover, explained occupational ergonomics expert Gary Orr. "These injuries result from an imbalance between work and fatigue," he said, "when recovery time isn't long enough because of the speed of the work."
BED WARS
Worker health is collateral damage in the "bed wars," in which luxury hotels have increased the weight of bed linens, mattresses, and duvets and boosted the number and size of pillows. Hyatt Regency Chicago doubled the number of pillows per bed in 2006.
Hyatt doesn't use fitted sheets, so the worker must forcefully lift a heavy mattress at least a hundred times a day. Other luxury chains use fitted sheets, cutting in half the number of lifts per mattress.
Nenita Ibe had been a housekeeper at the Hyatt in Santa Clara, California, for nine years when she experienced a severe pain in her right shoulder and arm as she was making a bed last year. Now she can't even hold a mug with her right arm, and uses her knee and left arm to tuck in sheets. "When I go grocery shopping I can't buy very much because I can only use one hand to carry groceries on the bus," Ibe said.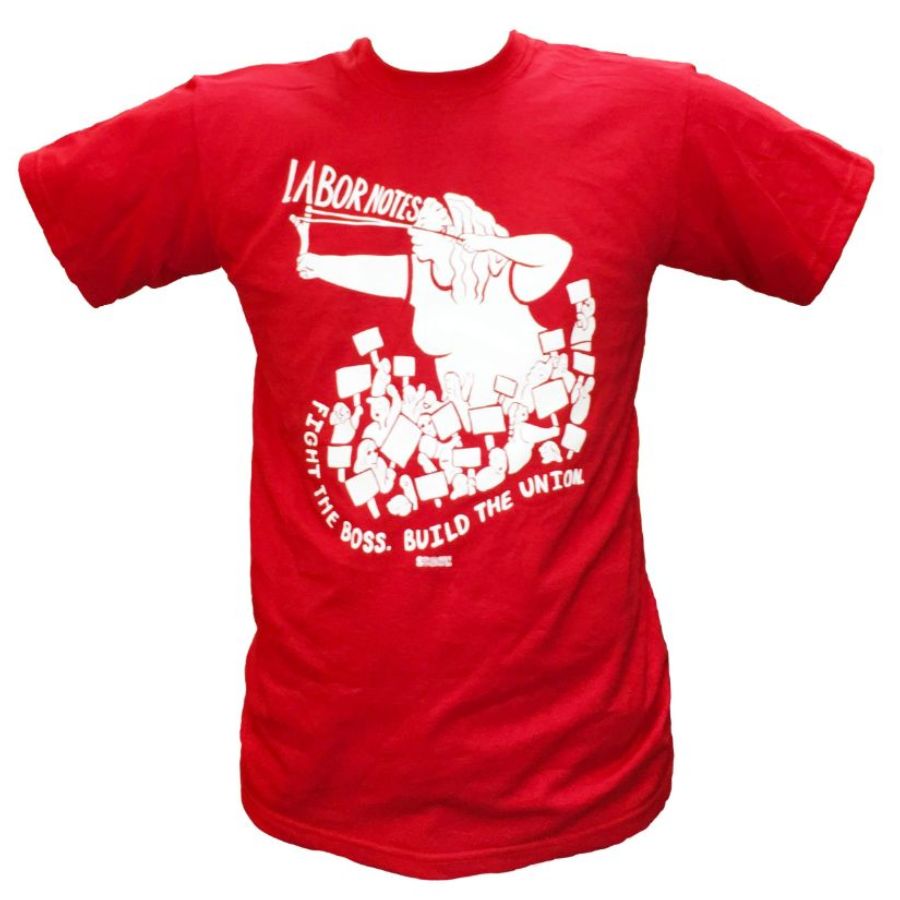 Francine Jones has worked at the Hyatt Regency Chicago for almost two decades. In 2005, she developed carpal tunnel syndrome. "Hyatt said it wasn't carpal tunnel—or if it was, it wasn't from doing rooms," she said. "But that's all I've been doing for 19 years."
She said she and many of her co-workers take pain medication to get through the day. Currently eight of her co-workers are on light duty from injuries sustained at the hotel.
SAFETY BINGO
In some hotels, management discourages injury reports through a program called "safety bingo." The department that has the fewest injury reports gets a monetary prize. "It's so others will get mad at us if we report an injury. It's to divide us," Zapata said.
Hyatt workers are given rags to clean bathroom floors. This requires them to crawl on their hands and knees, or to create a makeshift mop with a small broom and a rag. To reach high areas, they must balance on the side of the bathtub.
When injuries happen, managers blame the worker. If you report an injury, "they discipline you for violating safety rules," Zapata said.
Workers complain about Hyatt's "Refresh" program, which pushes workers to clean more rooms in less time. Each room is supposed to take 15 minutes with a slightly curtailed task list, but the tasks still include changing the beds, vacuuming, dusting, mopping and wiping the bathroom, replacing all towels, soaps, coffee materials, and glasses, and several other actions.
"They race us through these rooms," said Jones.
In current contract negotiations with UNITE HERE, Hilton Hotels proposed that housekeeping staff clean 40 percent more rooms, under a "refresh" program similar to Hyatt's. Hilton claims "refreshing" rooms should take workers less time. Union members dispute that, and have been able to keep refresh programs out of the union Hyatts.
The OSHA complaint against the Hyatt Regency Chicago lists several proposed remedies: lower room quotas, lighter mattresses, fitted sheets, lighter duvets, lighter vacuum cleaners, and mops and dusters with handles.
TIME FOR INTERVENTION
The time for intervention is when injuries start to develop, Orr said, before they become disabling. "Workers need a health and safety committee," he said. "And not to have their complaints stifled early on, when the problem is easy to treat."
Vossenas said there is plenty of evidence that the industry is aware of repetitive stress injuries. California's OSHA cited Hilton LAX at the Los Angeles airport in 2007 for repetitive motion injuries afflicting its housekeepers.
But housekeepers report that they are pushed to do more in less time, skipping breaks and lunch.
Jones noted that the speedup that injured her is saving the hotel money. Her Chicago employer has just made a $60 million renovation, and hotel revenues are up nationally.
"This is what the great Grand Hyatt is all about, it's about the dollar," she said. "If it was about the worker, we'd be in better health."