Union Notches Rare Win at Comcast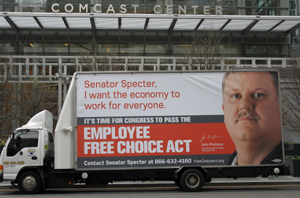 As technicians at cable giant Comcast celebrated a rare organizing victory in New Jersey last month, fellow techs in Ohio and New York reported a more familiar result: two more campaigns done in by Comcast's anti-union machine.
The vote for the Electrical Workers (IBEW) by 74 workers in Fairfield, New Jersey, about an hour south of New York City, is the first organizing win at Comcast in several years.
With hopes for the Employee Free Choice Act receding, organizers at the Communications Workers and Electrical Workers are re-starting the slow grind of garage-to-garage combat with 107,000-worker Comcast. Like many unions, CWA and IBEW had planned to blanket workplaces with cards as soon as EFCA passed.
Now they're back working the phones and meeting with workers, and report an uptick of interest as the cable giant has slashed jobs, increased health care costs, and cut 401(k) contributions—all while finding $49 billion to make a bid on NBC.
"People are realizing they've been had," said Steve Smith, an IBEW organizer. "The money is there, it's just a matter of what they want to spend it on—and it's not the workers." The company posted a $3.6 billion profit last year.
The pending corporate marriage has consumer watchdogs concerned the company could gain studio-to-sofa control of media production and delivery. For workers in the telecom industry—where converging technologies have made telephone and cable jobs more similar—Comcast's merger mania means its business practices, which have dragged down job and wage standards, will increasingly be the norm.
A 2004 report by the American Rights at Work advocacy group detailed Comcast's strategies: deter organizing, drag out bargaining when unions win, aid and abet decertification. The company has broken local unions covering 5,000 members this decade, union staffers report, including among thousands of members rolled into Comcast through previous corporate mergers.
FEAR AND FAVOR
The company relies on a delicate balance of fear and favor. In areas where Comcast has acquired other companies with union-represented workers, it has shifted work away from union garages and tipped pay scales to reward non-union shops—enticing workers to decertify the union.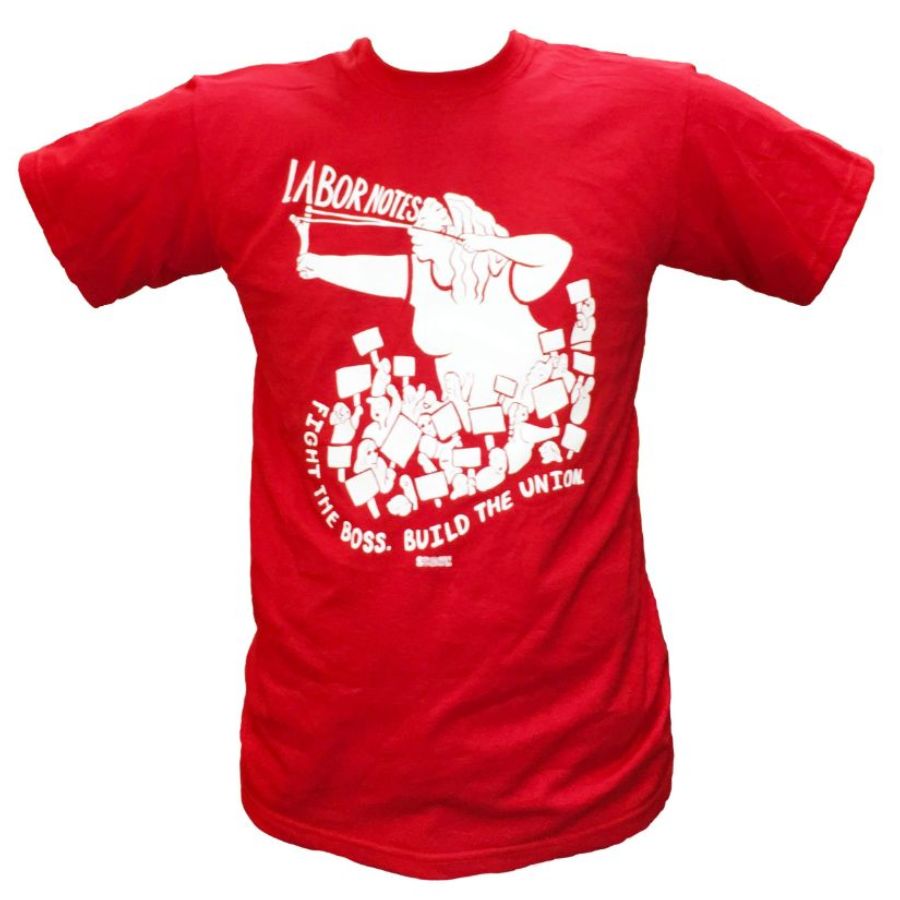 Recent organizing campaigns have been no easier. The company interrogated workers every morning in New Jersey garages about their loyalties, pulled them into meetings that pointedly excluded chief union supporters, and swamped any location that showed a hint of organizing with a team of union busters. In New York, the team included a posturing Comcast negotiator who styled himself "Dr. No," assuring workers they'd get nothing by voting "yes."
At the start of the Jersey drive, Comcast trashed the highest job title, sending top wages for outside line techs from $25 to $18 an hour—only to rescind the cut in a show of benevolence when the union filed for the election.
Jason D'Errico is recording secretary of IBEW Local 827, which organized the Fairfield workers. He said there was no secret to winning the campaign. Techs get tired of production standards that require 12-hour shifts, of no ability to refuse OT, of discipline systems that fault them for flawed equipment, of the indignity of watching their 401(k) crater while the CEO takes in $40.8 million.
Curt Hess, a former Comcast technician who's worked on several CWA campaigns, said wages nationally start around $12 an hour. Buying the family health plan can chew up a quarter of take-home pay, D'Errico said.
CWA and IBEW represent about 1 percent of Comcast workers nationwide, organizers estimate.
IBEW organizers report a dozen active campaigns under way. CWA has scheduled 12 organizing institutes in coming months. The sessions train telecom workers, whether they're in the union or not, how to do worker-to-worker organizing that builds durable workplace committees.
Losing EFCA, organizers say, was a body blow to their plans. D'Errico holds out hope that legislators can deliver a shrunken version that mandates first-contract arbitration.
Organizers are searching for mechanisms that could give them a breakthrough, like the nationwide neutrality deals that other unions are trying to use to organize hotels and hospitals. In the meantime, they'll keep slugging it out with Comcast—and Time Warner, Charter, and the other "dirty dogs of cable," Hess said.