Twin Cities Nurses Prepare for One-Day Walkout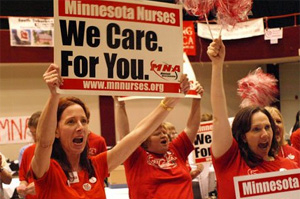 Twelve thousand nurses in the Twin Cities are fending off a well-coordinated attack by corporate health care interests to diminish the power of our union. In a metropolitan area with one of the highest densities of organized nurses in the country, we know that if the employers take down the Minnesota Nurses Association, they can take down anyone.
The nurses authorized a one-day strike last week by more than 90 percent of 9,200 voting. Negotiations with 14 Twin Cities hospitals owned by six corporations started in March, but little actual back and forth has taken place. One bargaining session lasted 12 minutes before management walked out. Another was over after 20 minutes.
MNA set a strike date for June 10, but the employers are threatening a lockout on June 1, when the contract expires.
Nurse negotiators from each hospital voted unanimously to recommend the one-day strategy to their members because it will cause minimal disruption to our patients while causing maximum pain to our employers. For the employers, a one-day action could cause significant disruption as they attempt to find scabs willing to travel for a one-day commitment and scale back their most profitable service, outpatient same-day surgery, in preparation. It also struck a nerve with the powers that be that nurses have the audacity to walk off the job and determine their own return-to-work date.
The nurses have been building up to this point for months. Hundreds have packed meeting rooms to face management, marched on the boss to deliver notices detailing how we felt about the assaults on our contracts, and rallied in red union T-shirts at the vote locations. We conducted two informational picketing events during Nurses Week May 6-12 that attracted thousands of nurses to demonstrate in front of the hospitals, making plain our concerns for patient safety and making public the hospitals' attacks.
BIG CHANGES
You have to be really ill to stay in the hospital these days. The patients are sicker. The stays are shorter. The needs are more complex. And like every state outside of California, which has mandated nurse-to-patient ratios, there are simply not enough nurses at the bedside in Minnesota to monitor the patients, detect subtle changes in condition, and prevent devastating medical errors and preventable complications.
Yet management continues to push through elective surgeries when we don't have enough nurses to care for the needs of those already in the beds. They have systematically chipped away at contract standards in order to gain more control over our work and the environment in which we deliver care. They have hired consultants to institute the Toyota lean manufacturing philosophy in our hospitals, to increase the speed of care and try to replace nurses with less skilled workers. They want to keep the beds filled even when there are no nurses to safely provide the care. They want us to continually do more with less. But when it comes to the lives of patients, we can't rely on recalls to fix problems!
Despite much research that shows thousands of patients die every year in hospitals due to unsafe staffing levels, and many more suffer preventable injuries, our proposals for mandatory nurse-to-patient ratios and enforceable language to close overstretched units temporarily to new admissions are falling on deaf ears. Daycare centers have mandatory caregiver ratios in Minnesota, but hospitals somehow do not.
The hospital chains have other plans. They made a bid to return to 1984, when Twin Cities nurses had to strike for 38 days in order to protect seniority rights in times of restructuring, layoff, and recall. This time, the week before the strike vote, the employers dropped this take-back proposal, which had galvanized nurses like no other. But they left many additional demands on the table.
They want concessions across the board, economic and non-economic, trying to extract something in exchange for dropping other proposed cuts. It's as if someone walked into your house, stole your furniture, and then tried to sell it back to you for a higher price than you first paid for it.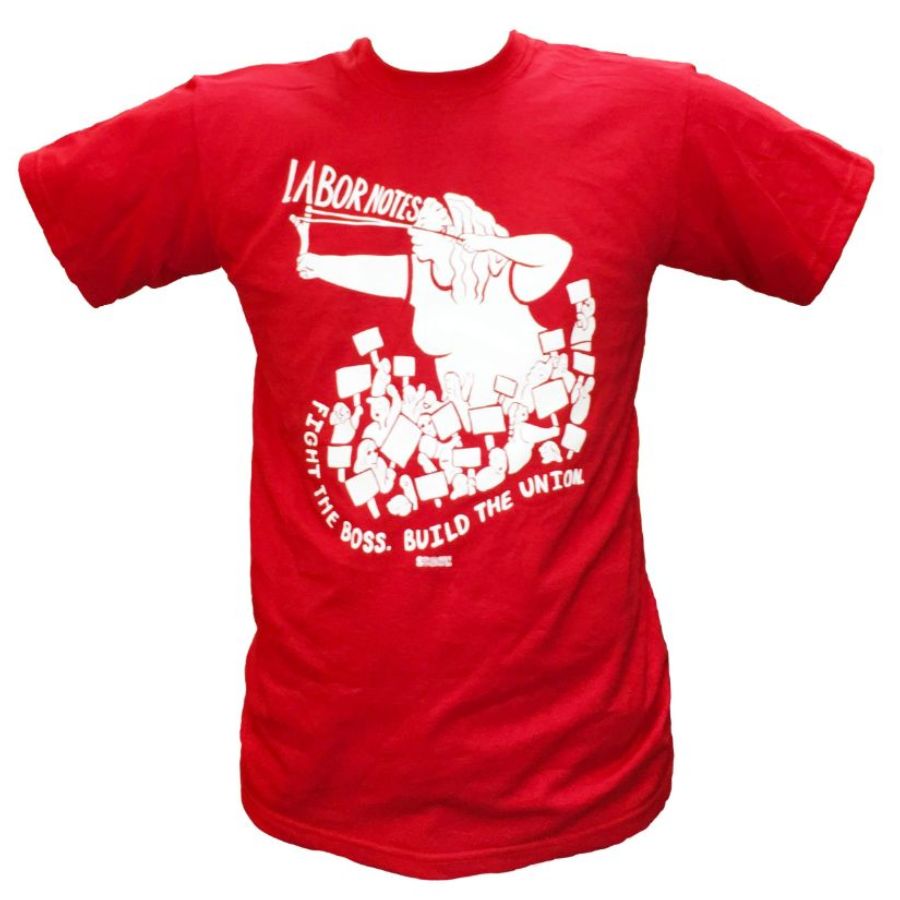 They want us to take six days off every year unpaid, so those working 12-hour days—as many nurses do—could lose 72 hours of pay, equal to a two-week furlough. They propose to slash the defined-benefit pension plan by more than one-third and eliminate all early retirement options. The hospitals are targeting part-time nurses—which they demand in the name of scheduling flexibility—especially hard, attempting to strip their health insurance, sick leave, and vacations.
These "not for profit" hospitals reported more than $700 million in profits in 2009, and have showered executives with bonuses, plump retirement schemes, and golden parachutes. They claim they are paying 60 percent of their revenue to labor costs—the same amount they say they paid in 1984.
The employers claim they need flexibility and expect nurses to float to other units and hospitals where they are not trained to work, somewhat like sending a carpenter across town and asking him to work on electrical wiring for the day.
CONCESSIONS COLLUSION
The employers have devoted significant resources to psychological warfare, hiring public relations firms and crisis-management teams in an effort to discredit the nurses and the union. They call us "emotional" and "dramatic" when we cite the numerous examples of patient suffering. They try to attack our pensions and health care coverage while claiming we demand too much in salary.
When asked why the hospital would not even engage a discussion of our patient care concerns, one manager spilled the beans, saying there was a power greater than those at the table that was making the decisions. MNA filed an unfair labor practice charge on May 17 against the employers' collusion to undermine collective bargaining.
We have worked hard to earn the public's trust, putting up billboards that question whether safety or profits is more important. Hundreds of "We Care For You" lawn signs have gone up around the cities. We put out YouTube videos explaining our campaign, and actively use Facebook, email, Twitter, and blogs to interact with members and the public. Labor and faith leaders have rallied in support.
We're getting support from our sisters and brothers in National Nurses United, the nationwide nurse alliance which Minnesota belongs to, because we're all in the same boat—these employer attacks are part of a national campaign by corporate health care. We've learned from NNU about strategies to win these kinds of difficult negotiations, and the union produced a video of nurses around the nation declaring their backing.
Whatever it takes, we will keep fighting for safe patient care and good jobs for nurses because these issues are inseparable.
---
Nellie Munn is an MNA steward, negotiator, and staff nurse at Children's Hospitals and Clinics of Minnesota. Mary McGibbon, a staff nurse at Methodist Hospital, contributed to the piece.