Reform Caucus Jolts Chicago Teachers Union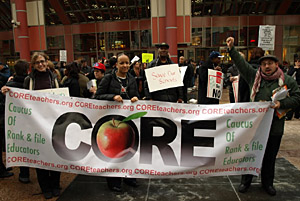 "Teaching is a privilege, learning is a right!" announced Karen Lewis, science teacher at King College Prep High School, at a January 9 community forum on education in Chicago.
Lewis, recently elected to head a slate running for control of the Chicago Teachers Union (AFT Local 1), joined 400 teachers, students, and parents organizing with the Caucus of Rank and File Educators to map a course for the next year of organizing inside Chicago Public Schools.
CORE is ramping up its bid to jumpstart the leadership of the Chicago Teachers Union. The electoral campaign is intertwined with CORE's effort to fight intensified waves of school closures and privatization and to reverse the erosion of teacher bargaining power that began when Mayor Richard Daley took over the schools in 1995. Since then he's appointed the school board and banned the union from bargaining over class size, restructuring schemes, and charter school expansion.
In the intervening years of ballooning class sizes and charter school proliferation, union rolls plummeted and teachers feared it was only a matter of time before the CTU ceased to exist.
CORE STEPS UP
The January summit was the latest effort by CORE to revive the union. The caucus built on a similar event held a year ago, when 500 people from 80 schools and dozens of community groups were spurred to action by an announcement the day before that 22 schools would be closed or converted.
The caucus has organized feverishly to move the union to fight Daley's bid to close 70 "low-performing" schools and open 100 new ones—two-thirds of them charter and contract schools.
This year, the school board postponed its planned announcement that 35 schools would be closed or have their entire staff laid off (euphemistically known as a "turnaround"). Weeks later, they announced that 14 schools would be on the block this year. At the forum participants focused on mobilizing teachers, students, parents, and elected Local School Councils for alternatives to closures, mayoral control, and the incumbent union leadership's handling of the battle for public education.
Union leaders responded to CORE's organizing efforts last year by claiming job actions would only allow the board to open the contract.
"Since our union leadership was not fighting privatization, CORE did," says Norine Gutekanst, a steering committee member, who emphasized the link between school privatization and gentrification. "We worked with community groups to show that students and families were being pushed out of neighborhoods by the double whammy of developers and school closings."
The partnership of students, parents, and teachers led to formation of the Grassroots Education Movement (GEM), which the teachers union leadership joined for a time. GEM organized two massive protests early last year and brought thousands out in opposition to the school closure plan.
In an unprecedented win, the board allowed six schools to stay open. After the photo-ops ended, so did the union's active participation in GEM.
CLAIMING CREDIT
At the next union House of Delegates meeting, members were handed a flyer insisting the incumbents had organized the protests single-handedly and that "other groups" were claiming credit. Hundreds had put hours of hard work into these actions.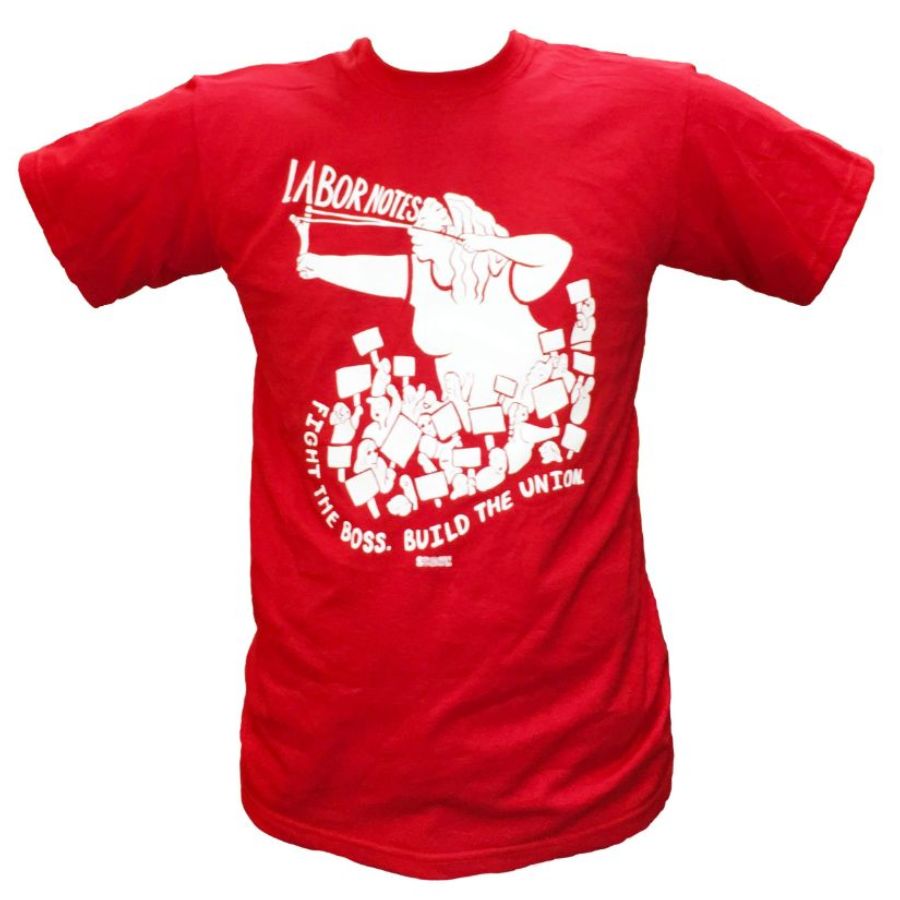 CORE pressed forward with its plan to fix the union. Members captured enough seats in the House of Delegates to propose actions from the floor and won a new voting procedure that allowed the House to physically divide itself on a vote, heading off any counting irregularities.
The current leadership decided to shut down the trend toward democracy, however, and has since not allowed new business from delegates to make it to the House floor. President Marilyn Stewart filibusters new business by giving speeches lasting more than 40 minutes. By the time she finishes, not enough remain for a quorum.
Public school teachers nationwide are seeing their pensions raided by state governments. In Illinois, Governor Pat Quinn endorses two-tiered pensions and Chicago's schools chief (his formal title is "CEO") takes every opportunity to blame teacher pensions for the budget shortfall.
SEIZING THE PENSION BOMB
Every teacher seat on the Chicago Teachers Pension Fund Board of Trustees was filled by a member of the incumbent union leadership. When an election for two seats was due in October, CORE candidates went school to school campaigning and won, the first time challengers have unseated members of the ruling caucus on the pension board. The new trustees, Jay Rehak and Lois Ashford, promise to keep the board accountable for funding pensions and financial managers accountable for sound investments.
The current leadership has sent out literature asking members to "Stop Mob Action, Stop Radical CORE!" and flyers attacking co-chair Jackson Potter—claiming he's ineligible to run for election. Potter took a board-approved one-year leave of absence after his school was closed. Union staff assured him he would remain in good standing by paying inactive member dues.
CTU and its lawyers have offered several justifications for striking his candidacy. "Our CTU leadership has adopted a moving-target strategy to disqualify me, regardless of the evidence," said Potter, who has filed suit.
CAMPAIGN TRAIL
CORE is on the campaign trail, despite Stewart's warnings that members violate board policy by distributing union literature in schools—unless it comes from incumbents. When that threat was unsuccessful, she warned principals they should not allow other caucuses to meet in their buildings.
Sensing a swelling disenchantment that has propelled three opposition caucuses to contest the May election, the incumbents are switching up and adding rhetoric defending teachers who face layoffs.
"In the past, they've gone to meetings and told the teachers to spruce up their resumes and look for other jobs," says Lewis, CORE's presidential nominee. "Our only question is what took them so long? They had no solutions, no ideas, and no clue before."
---
Kenzo Shibata is a teacher at John Hancock High School and CORE's communications secretary.
Version updated to reflect Chicago School Board's announcement of school closings and conversions this year.