Lucent Technologies Workers Fight Plant Closing to the Bitter End
The Merrimack Valley Works (MVW)--now owned by Lucent Technologies-- has a long history in North Andover, Massachusetts. It began fifty years ago with a 2 million square foot factory and has been this region's largest employer for a long time, with up to 12,000 total employees in the 1970s. Lucent drives the area's economy. Without us the community falls.
Since our beginning here at Merrimack Valley and through all the changes over the years, we have always been a manufacturing facility. It's what we know and do. Originally we were part of Western Electric, the manufacturing division of Ma Bell. After the Bell break-up we became the manufacturing unit for AT&T. AT&T wanted out of manufacturing: let someone else do it and they'd just purchase the product. About five years ago AT&T spun us off to form Lucent; the day Lucent was born it was the largest telecommunications manufacturing company in the world.
Not a bad start for a brand new company. Their stock was selling at over $100 a share and split a few times. "The future was so bright you had to wear shades," so said former CEO Rich McGinn, on stage with a pair of Blues Brothers sunglasses on.
Our plant manager told us, in captive meetings, that Lucent was going to make us all rich, rich, rich. He advised us to take everything we had and invest it in Lucent stock. Unfortunately, a lot of our members took his word for it. After all, he was a corporate executive with the thousand dollar suits; he must know what he's talking about. For a while everyone watched their savings plans explode. Everyone was getting high on the golden ride; no one stopped to look around. They were getting rich and that's all that mattered.
Then Lucent stock started to slip a little. Our plant manager held another captive meeting to tell us not to worry; he had the charts to prove it. "Just keeping putting everything into Lucent." The truth was, Lucent was putting it to us. The stock crashed. Overnight thousands of our members lost their entire life savings. We had members who couldn't retire because they lost everything.
NEW BUSINESS STRATEGY
Then came the second assault: Lucent declared a new business strategy. They would outsource some of our older product lines to make capacity for new product. That made sense-with only so much manufacturing capacity, we wanted to go with the new growth product instead of die with the old product. We bought it and believed them.
Then they told us they had to outsource even more product--and now it included newer start-up product. That outsourcing had to be done because we couldn't meet demand with our capacity. We were hiring a lot of new help and working unlimited overtime in many of our shops; a lot of workers bought the lie.
They assured us that if demand started to drop and work started to slow at the Valley, we could always call back our outsourced product. "So no one's job is in jeopardy here; we just have to make sure we can make our customer commitments."
Then they told us they had to remove one of the circuit pack manufacturing lines to make room for more test sets. Circuit packs had been our core business, taking up 70 percent of our floor space. We were assured there would still be plenty of manufacturing positions for current employees. During this announcement the plant manager was asked, in front of approximately 300 workers, if Lucent was getting out of the manufacturing of circuit packs. He said, straight-faced as hell, "…absolutely not, we are only removing that one line, and we plan on remaining a major manufacturer of circuit packs; but because of the changing market we need more testing capacity."
Soon after the first line was dismantled another one was dismantled, and soon the entire first floor of our plant was void of all circuit pack manufacturing. Overnight nearly eighty percent of our manufacturing capacity was removed; so much for bringing back the outsourced circuit pack work. They could bring back all they wanted to--we just didn't have any place to build it anymore.
It was probably at this point that the majority of our members let themselves believe that Lucent had been lying to us for the past three years, but we still had about two years to go to get to today.
It was then that they told us Lucent was changing their business strategy and getting out of manufacturing. Their new business plan would be to purchase product from vendors, do some assembly, test the product for field operation, market, and sell. The main focus of MVW would now be a test facility, with some assembly and a small amount of new product manufacturing. Once a product was developed and proven-in, it would then be built by a contract manufacturer and purchased by Lucent.
After they dismantled 80 percent of our circuit pack manufacturing lines, there was a lot of nothing for a lot of workers to do.
Then came the general telecom/dotcom market crash and there was no more market. When the layoffs first started, Lucent pretty much avoided MVW. We had lots of workers sitting around entire shifts doing nothing; there were no orders to fill. But all the sweatshops around us were still working, building our circuit packs. Low-wage, no-benefits, non-union sweatshops were doing our work while we sat idle waiting for the first ax to fall.
And fall it did. The first of April 2001 the company announced they would cut 725 union jobs. In July, 275. In late September 950 more. Though the company says no one was laid off in the September assault, because 1,211 members took the voluntary packages, the fact is we lost over 1,200 more union jobs, and the voluntary was actually a forced voluntary. In a six-month time frame we lost close to 2,300 union jobs! Try to think for a moment how long it takes us to organize 2,300 workers into a union.
During these layoffs we were informed that Lucent would be looking to sell the MVW facility to a contract manufacturer and would retain only 500-800 employees in a "Lucent Integration Center." Lucent/AT&T/Western Electric, which in the 1970s employed over 12,000, and as recently as two years ago close to 6,000, would now become an employer of 500 to 800 workers. And if we were lucky someone might come in and purchase the remaining unit, and we might have the opportunity of working for them, whoever or whatever they might be.
Soon after the announcement of the second round of layoffs a group of us decided we could no longer stand by silent. I don't know why we took so long getting our mobilizing efforts started. Maybe everything happened so fast that we were caught off guard--we went from being the world's largest telecom manufacturer to junk bond status in less than three years.
FIGHT BACK
It started small, only a few of us, with a letter-writing campaign to Lucent CEO Henry Schacht and Mike Jones, Vice President of Manufacturing. We wrote sample letters for our members, community people, politicians, anyone and everyone to sign. The letter urged Lucent to include union recognition and contract migration in any sales agreement.
Schacht and Jones received thousands of letters, from workers at the Valley, politicians, other union members, international union officers, clergy, people of different congregations, even from the Union Network International, the confederation of unions representing over 15 million members in Europe. Everyone was now talking about the plight of the workers at MVW, and they were talking from our point of view, not the company's.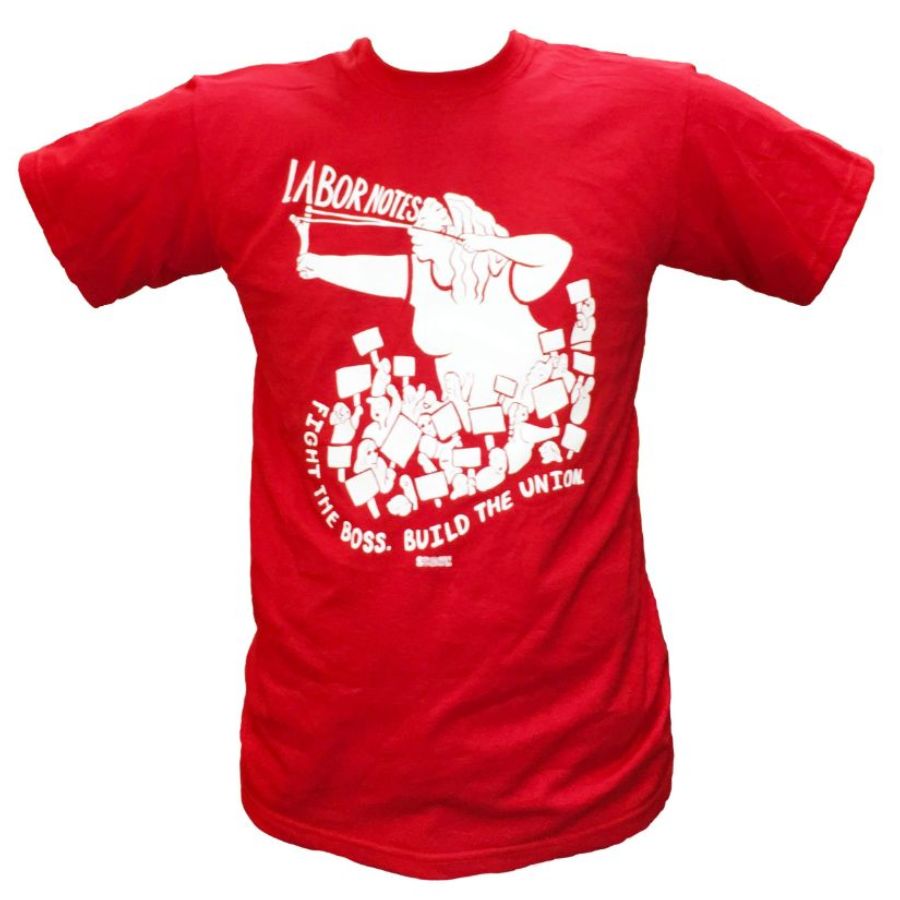 That inspired us to look further into mobilizing efforts. We decided to form a coalition of union, labor, community, and religious groups from the area. The response was fantastic. The Crisis in the Valley Committee (CVC) was created and consists of local unions, Jobs with Justice, University of Massachusetts-Lowell Labor Extension, Massachusetts AFL-CIO, Merrimack Valley Project, United Way Labor Liaison, and several clergy members, a cross-section of the community.
The CVC's slogan was "Tell Lucent…Keep Family Wage Jobs in the Valley." That slogan was printed on bumper stickers, buttons, lawn signs, and 3,000 red T-shirts.
Our first action was a rally on the sidewalk in front of the Lucent facility--200 people, all wearing the red shirts. We had the Teamsters Local 25 18-wheeler strike truck there, with sound system. Several politicians, local dignitaries, labor representatives, and union members spoke, and we had extraordinary media coverage.
Our second action was a public meeting on October 21. Two Congressmen, a U.S. Senator representative, two CWA vice presidents, Massachusetts AFL-CIO President Bob Haynes, a retired Western Electric worker, and a laid-off Lucent worker made up one panel. Mike Jones and a Lucent financial officer and public relations officer were another panel. Panel members gave testimony and then elected officials and Lucent reps were asked to agree to three demands each:
Elected Officials: Will you agree to mediate discussions between any successor company and community stakeholders; will you work for legislation to guarantee negotiated retirees' medical benefits; and will you participate in a blue ribbon panel that will oversee a worker's Right to Organize?
Lucent: Will Lucent make the preservation of production and jobs a condition of sale of the MVW facility; will Lucent make the migration of the current union contracts part of any agreement reached with successor firms; and will Lucent arrange meetings between community stakeholders and senior management of potential successor companies?
Lucent said no to all three demands, but we got a hundred percent backing from our elected officials. The night was filled with fiery speeches and testimony. The Lucent reps were not let off easy and were held accountable for their actions; it was truly an inspiring night. Well over 300 people packed a middle school cafeteria, and the majority were wearing the red "Tell Lucent…" T-shirts. Media coverage again was excellent.
A third action was a "Red T-Shirt Day" inside the MVW plant. We learned that the contract manufacturers would be in our plant all one week, so we had shop stewards passing out the T-shirts on all three shifts. It was literally a sea of "Tell Lucent…" T-shirts when the tour came through.
November 15 through 19 CVC members leafleted plants belonging to the contract manufacturers who were in the running to buy the MVW plant. The leaflets informed workers-all of whom are non-union-that the CWA members wanted family-wage jobs to remain at the Merrimack Valley Works and a union contract: "We are all in this together….We hope you'll join us so together we can improve wages and job security for all manufacturing workers in Massachusetts!"
THE END
On December 4, 2001, we learned that Lucent had made their final decision on the fate of the workers and the plant. None of it was good news; in fact, it was worse than we had hoped. Lucent had decided on Solectron as the successor company for the product lines that were not to remain with the Lucent Systems Integration Center (SIC).
Many of us consider Solectron to be one of the most anti-union, anti-worker companies out there, a classic example of a modern-day sweatshop. Solectron was to buy the product lines, but not the facility. They would take all the work out of the building, to a facility about an hour's drive away.
Not only will Selectron move the work out of our facility and community, they will only be taking a small number of our workers with them: about 288 of the nearly 1,000 members left in our local. They will be taking no production associates, the largest group in our local. Production associates are entry-level factory workers such as bench hands, assemblers, and machine operators.
The numbers for the Lucent SIC have also been getting smaller and smaller as days go by. We are now hearing that Lucent will be taking only 400-plus employees to their SIC, of which maybe half will be union-represented workers. We have learned that a third group will be hired by a third (undisclosed) party. This third group will do work that is scheduled to go to Asia. Between 316 and 360 workers will be retained at the MVW facility until that work can be moved overseas.
This appears to be the final assault by Lucent, not that it is a real knockout shock to any of us. Many of us, though, had hoped and thought that maybe, even if they moved our work out of the facility, our workers would at least have the opportunity to follow the work; that is not the case now. Those few union workers who will be following our work to Solectron will be put in a facility separate from the one Solectron is already operating, segregated from the non-union Solectron workers. Solectron has also made it known that they will reject the current union contract.
We have stepped up our efforts at Solectron, now focusing on organizing. Though that effort will not help the majority of us here today, we refuse to go away silently. It is our intent to organize Solectron first and then focus on other non-union contractors that regularly steal union work, with the hope that we might prevent another Lucent crisis from happening elsewhere.
ORGANIZE, ORGANIZE, ORGANIZE
The only chance we have of maintaining decent family-wage jobs is to organize the unorganized. If we fail, more and more workers will see their jobs sold to the lowest-wage bidder, as ours have been.
Many of us here, even knowing our future is not with the work we have done most of our adult lives, are determined to carry the battle forward until our very last day here. If we are to go down we will go down with a thundering bang. And if we can give any advice to anyone out there, it would be this: don't wait, as we did, until it's too late to save your jobs. Get out and organize today and tomorrow and the following day. Our greatest enemy was waiting too long, and by the time we acted the battle was already determined.
As has been said many times in the past…Organize, Organize, Organize! It may be too late for the majority of us here at MVW, but it isn't too late for the workers down the street, across town, around the state, and throughout this country. Don't let it be too late for you.
Without the union presence we have nothing else: no voice at work, no family-wage jobs, no dignity in retirement, no benefits, and especially no protection against the monsters like Lucent for whom "employees" is just another word for "disposable inventory." In this world of corporate terrorism on workers, we are simply collateral damage in a game of high-stakes business strategies where human life, families, and communities are of no consideration. And until we organize all our brothers and sisters in every factory, plant, facility, and location we will forever be the victims. In the end our victory must be a union recognition victory that we carry across all the lands.