Rite Aid Campaign 'Poster Child' for Faltering Employee Free Choice Act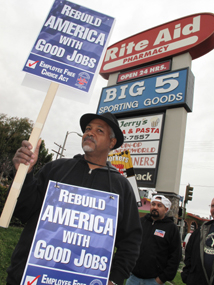 As debates behind closed doors in Congress look to compromise the Employee Free Choice Act, attention is turning to a million-square-foot warehouse in California's Mojave Desert town of Lancaster.
Inside the giant complex, more than 550 employees work shifts around the clock, picking merchandise to ship to several hundred Rite Aid stores throughout six Southwestern states. For many observers, the three-year campaign by workers to join a union—and the employer's blistering response—has become the poster child for the need to reform federal labor laws and restore workers' freedom to join a union.
Carlos Rubio was active early in the organizing drive. He had loved his job and later told a reporter, "I put in so many hours my wife thought I was cheating." But after new management came in, everything changed. "They talked to you like you were a kid," he said, adding they told workers, "If you don't like it here, you can work at McDonald's."
Pay wasn't a top issue for most workers—whose pay was better than many low-wage jobs in the high-desert community. But working in the warehouse had other problems that seemed a big step down from fast food. Workers faced triple-digit heat in the summer and freezing temperatures in the winter, a lack of job security, and production demands they considered arbitrary and unsafe.
Management also insisted on mandatory, last-minute overtime that was unmanageable for many families.
In spring 2006, Rite Aid workers contacted the Longshore Workers (ILWU) Local 26 and started organizing. Rite Aid responded with an all-too-familiar heavy hand, threatening, harassing, and firing employees who supported the union.
PENALTIES ARE TOOTHLESS
The National Labor Relations Board was prepared to charge Rite Aid with 49 violations of federal labor laws two years ago. But instead of facing a trial before an NLRB judge, Rite Aid was allowed to settle the charges with a typical slap on the wrist.
Rite Aid was only required to rehire several workers who had been illegally fired or suspended, and had to provide back wages minus any wages the workers had earned to survive in the meantime.
Rite Aid was also required to post a notice in the plant for 60 days, promising not to violate the laws again—a promise they broke almost immediately.
Despite management's attacks, workers pressed on. Rubio and dozens of his co-workers spent hundreds of hours organizing the union, designing and distributed scores of their own flyers, and putting together events. Their campaign went to a vote in March 2008, and a majority chose "union yes" by a vote of 283-261.
The union victory was the largest organizing victory for warehouse workers wanting to join the ILWU in many years. And as predicted, it brought on the next phase of union-busting: Endless foot-dragging that employers often use to delay a contract for a year, when it becomes legal to decertify the union if a contract is not reached.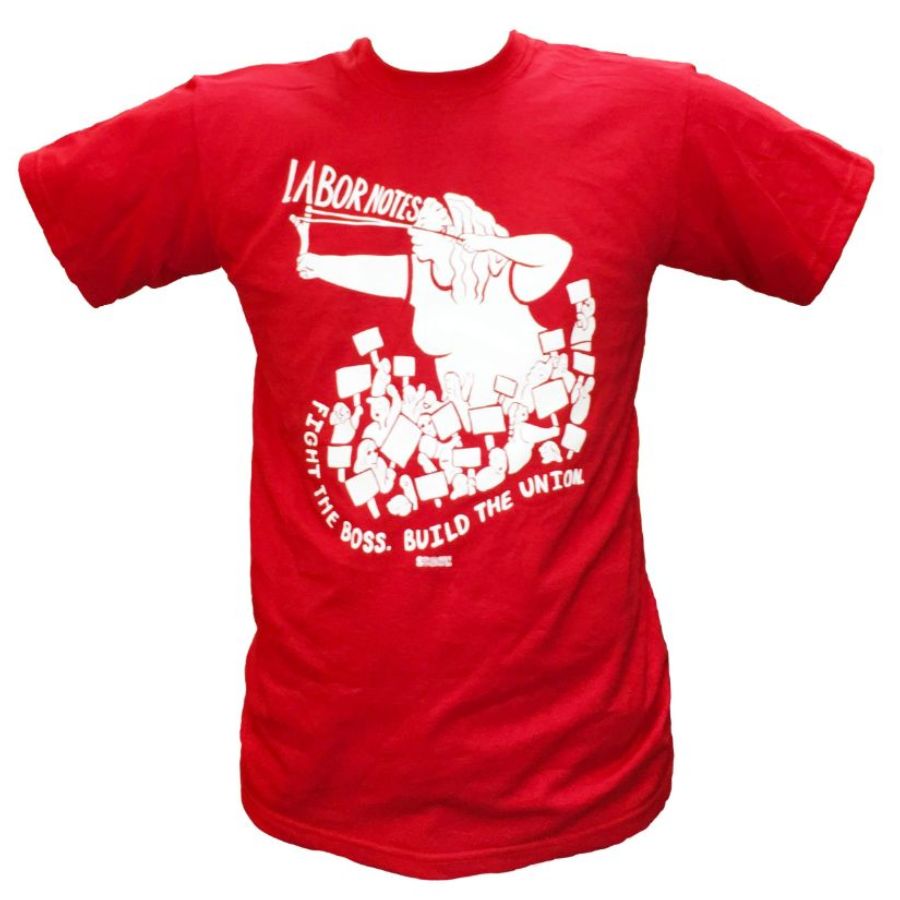 Rite Aid has met with the workers' negotiating committee 30 times, and has agreed to little more than bulletin boards, seniority, and a few minor issues—just enough to claim that they're "bargaining in good faith."
Meanwhile, Rite Aid continues to engage a notorious anti-union consulting firm, Oliver J Bell and Associates, which is now guiding a small group of employees and coordinating a decertification petition drive.
Rank-and-file negotiating committee members have organized a petition of their own saying they want the company to reach a union agreement. More than 360 have signed.
SURVIVAL STRATEGIES
In December, Rite Aid's distribution center employees sent their worker representative to attend the company's emergency shareholder meeting in New York. CEO Mary Sammons received their invitation for her to visit the Rite Aid's distribution center in Lancaster.
Nationwide, the campaign has garnered support from workers and community groups, including at 14 events at Rite Aids in four states in February and more than a dozen similar visits on the East Coast planned in coordination with Jobs With Justice affiliates in April. Volunteers encouraged Rite Aid shoppers to keep shopping, but get educated about what the company is doing to destroy good jobs.
Workers from more than 35 unions came in solidarity with the Lancaster workers at these events. One of them, the Food and Commercial Workers, is especially key, because thousands of UFCW members serve customers in Rite Aid retail stores. UFCW locals have stepped up to defend the Lancaster warehouse workers, sending representatives to negotiating sessions, meeting with Lancaster committee members, and writing letters to Sammons.
Longshore workers at the nearby ports of Los Angeles and Long Beach have thrown in support, too, hosting a waterfront "telethon," in which more than 100 of them paused during lunch to call Sammons—and also their senator, Dianne Feinstein, who along with Democratic Senators Tom Harkin and Arlen Specter, is leading the negotiations to compromise the Employee Free Choice Act.
Press reports suggest the senators could eliminate card check provisions from EFCA, instead speeding up the timetable for union elections or having workers mail in their representation ballot.
FINALLY BREAKING THROUGH?
The NLRB has recently indicated to Rite Aid and the union that the Board is prepared to issue a complaint against the company for illegally laying off employees, reducing hours, sending workers home early, and involuntarily transferring staff. The workers' negotiating committee continues to bargain and reach out for community support.
Many workers would have been crushed by three years of Rite Aid's brand of attacks. But by reaching out for community and labor support, and maintaining a strong rank-and-file organizing committee of workers on the ground, they've stayed strong.
"We know our story is being told around the country," Rubio said, "and we hope it helps reform our country's labor laws so that other workers can join a union without going through what we've been through at Rite Aid."
---
Sargent is ILWU's Northwest communications coordinator.