Global Actions on Black Friday Unite Workers to 'Make Amazon Pay'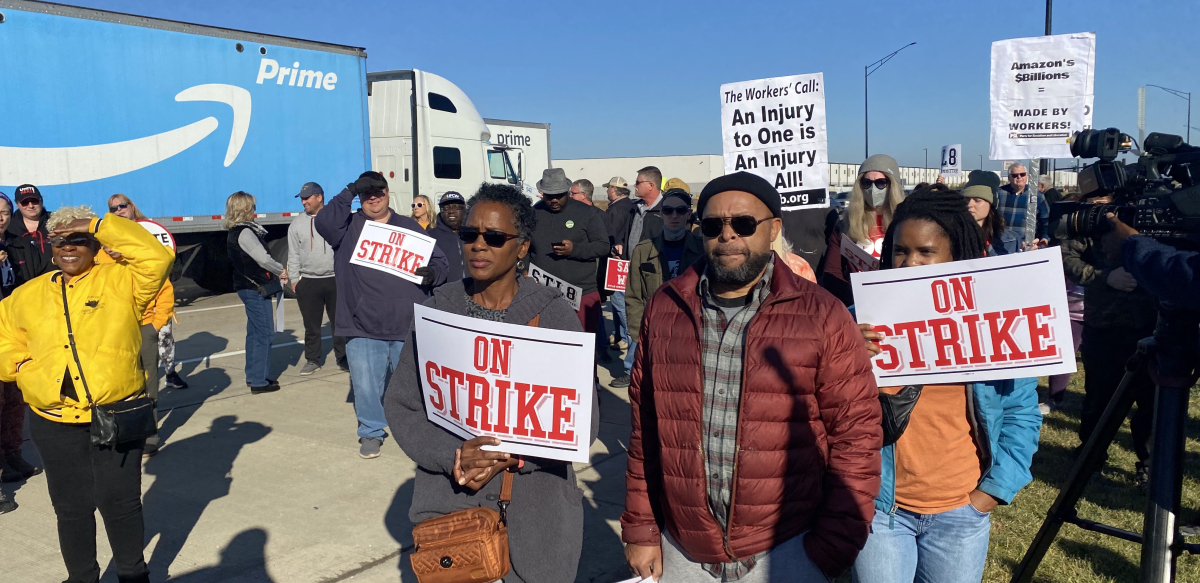 Over the last 27 years Amazon has grown from a little-known online bookseller to a global sprawling logistics and delivery empire, overtaking brick-and-mortar retailers with its e-commerce offerings and threatening to make serious inroads on last-mile carriers like FedEx, UPS, and the Postal Service. Recently Amazon even established a virtual health services company: Amazon Clinic.
As the company's tentacles reach around the world, organizing its massive 1.5 million workforce necessitates new levels of international union cooperation and solidarity.
UNI Global Union, a federation representing logistics and service workers headquartered in Geneva, Switzerland, stepped up for the third year in a row to coordinate worldwide actions on one of the busiest shopping days of the year, Black Friday.
Under the banner of "Make Amazon Pay," Amazon workers and allies organized 140 industrial actions and protests in 40 countries, with the broadest and most militant actions taking place in France and Germany, where union federations jointly led strikes at 18 warehouses, according to Nick Rudikoff, UNI's campaigns director.
In Berlin, 100 workers and supporters rallied and used a projector to emblazon an Amazon warehouse with the words, "The wrong Amazon is burning!" The workers in Germany were demanding that the company recognize national collective bargaining agreements with their union, covering retail and the mail-order trade sector.
In Delhi, India, 40 workers went on strike at a new facility. Actions also took place in Australia, Japan, South Africa, and South America.
A DOZEN U.S. ACTIONS
Past Black Friday actions have had little participation from U.S. Amazon workers. However, at the Labor Notes conference in June, workers came together from a range of unions—Teamsters, Postal Workers (APWU), Retail and Department Store Workers (RWDSU), the Amazon Labor Union, Ver.di, Carolina Amazonians United for Solidarity and Empowerment, Amazonians United—and vowed to stay in touch to learn from each other.
The planning paid off: a dozen actions led by U.S. Amazon workers, plus many other community-backed protests supported by the Athena coalition and Good Jobs First, took place on Black Friday.
In Alabama, Amazon workers—joined by Starbucks and mine workers—flyered at the fulfillment center in Bessemer—part of the campaign to keep the organizing momentum alive there, after workers lost a second union authorization election earlier this year, with a narrower margin than the first one (though the results still have to be certified by the Labor Board).
A chapter of Amazonians United in Upper Marlboro, Maryland, reported that they wore Make Amazon Pay stickers with 70 percent participation from fellow workers. Workers and allies protested outside Amazon headquarters in Seattle and Jeff Bezos's penthouse in New York City; protests at Whole Foods stores were organized by Our Revolution.
STRIKE SNARLED PRODUCTION
The most notable action was in the St. Louis suburb of St. Peters, Missouri, where Amazon workers at the fulfillment center STL8 went on strike to demand safer working conditions and better pay. The strike began with a worker chanting, "Clock out, walk out!" They were joined outside by a large group of community supporters.
"We're the ones who fill the trucks—so Bezos makes a billion bucks," workers chanted, referring to Amazon's founder and executive chairman.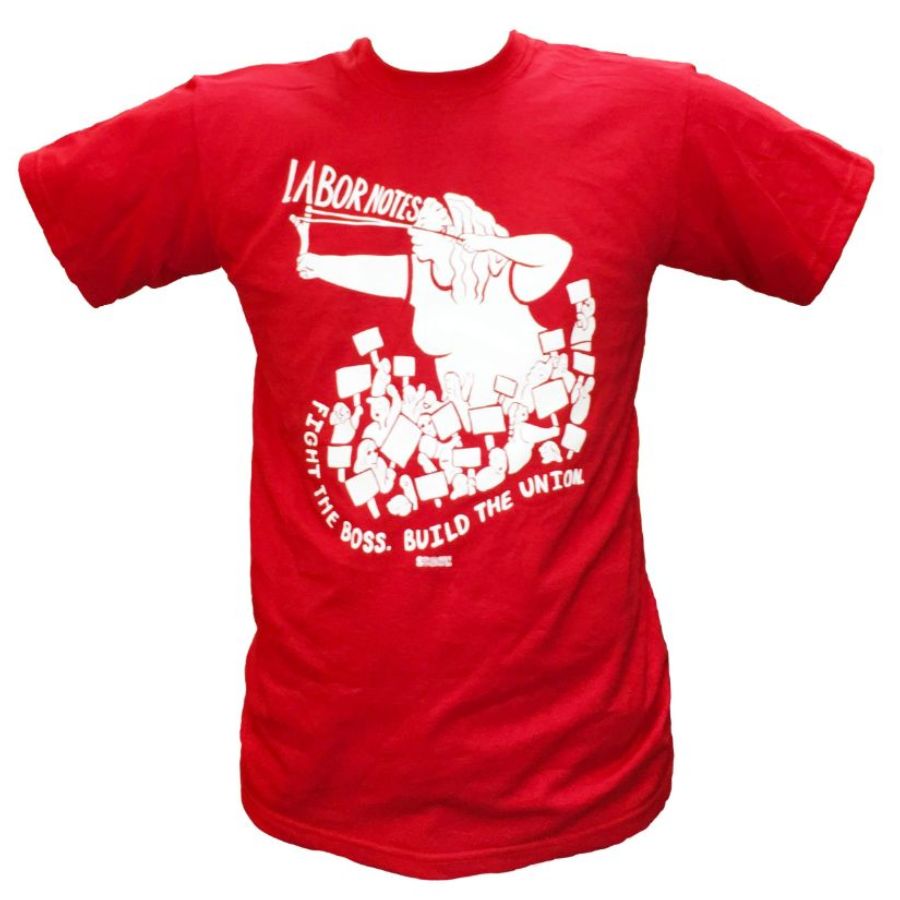 "We need safer work," said Jennifer Crane, a worker at the facility. "Things don't need to be this way. Amazon can afford to give us a living wage and to provide us a rate of work that doesn't lead to injuries or death."
The walkout had snarled production, according to a screenshot from a manager's text message on the company app, which read, "Its gonna to be a tough day today across the board. HC [head count] is low."
The workers are demanding $10-per-hour raises, the removal of a 36-month cap on raises, and an additional $1 per hour for each job employees are cross-trained on. They also called for a worker-led committee to ensure better job accommodations for injured workers..
Amazon workers at a fulfillment center in Detroit affiliated with the Postal Workers also staged an action. The "DTW1 YOUnion" organizing committee distributed a special Black Friday edition of its newsletter. Then, wearing bright "UNION" shirts, they marched on the H.R. department with a comprehensive set of demands for better wages and working conditions. Members reported that as they marched, more workers spontaneously joined in.
Since the onset of the pandemic, the price of everything you can imagine has increased," said Denise Jones, a member of the organizing committee. "The state of our cost of living is soaring! We can barely afford to feed ourselves and our families. Yet we give, we give, we give, and receive little in return."
PLANNING FOR 2023
While the U.S. participation was still small and uneven, we took a step forward to unite many of the forces organizing at Amazon (unions, nonprofit groups, solidarity union networks). That unity bodes well for nurturing an ecumenical organizing strategy to build Amazon workers' power.
Each group has its own approach, with some focusing on winning NLRB elections, others on last-mile delivery stations in metro regions, others still on air hubs and fulfillment centers.
Most of the U.S. organizers reported that numerous and more militant Black Friday actions at Amazon worldwide really inspired their co-workers and raised new awareness of the global nature of their work.
Even in Italy, where there were no strikes on Black Friday, there were solidarity assemblies and leafleting in support of the actions taken internationally. The Italians launched the first strike against Amazon in 2017, and their national strike in 2021 got Amazon to adhere to their national collective agreement for warehouse workers.
Planning has already begun for Black Friday 2023, as all parties recognize that organizing Amazon will require the broadest possible forces coordinating their actions nationally and internationally. Logistics workers of the world, unite!
Peter Olney is retired organizing director of the Longshore Workers (ILWU) and is currently working with a national network of Amazon employees and organizers. Rand Wilson has worked as a union organizer and labor communicator for more than 40 years, most recently as chief of staff for SEIU Local 888 in Boston. Olney and Wilson co-authored a chapter in The Cost of Free Shipping: Amazon in the Global Economy, edited by Jake Alimahomed-Wilson and Ellen Reese, Pluto Press, 2020. Read a review of the book from Labor Notes here.