Education Reform the Union Way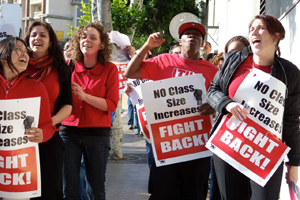 Progressive Educators for Action has a vision for public education that's directly counterposed to the billionaires' agenda. PEAC is a caucus working to transform the 45,000-member United Teachers Los Angeles (UTLA) into a social justice union so that it can powerfully represent its members, and go much further.
We want a union that collaboratively represents the interests of all who depend on a truly public, high-quality education. Public schooling and teachers are weakened when students and communities are attacked through budget cuts, one-size-fits-all reform, privatization, and institutionally racist urban policies that contribute to pushing students out of school.
Kirti Baranwal is a middle school teacher in Watts. She says PEAC wants a union that understands building coalitions of parents, students, and community organizations to create high-quality schools is not only the right thing but also the best way to protect union members' interests.
PEAC members are organizing with co-workers on the ground and winning many over to the ideals of this model of social justice unionism.
PEAC, and increasingly UTLA, see three campaigns as foundations of our work: fighting for full funding of schools and social services, creating schools that teach and represent social justice, and supporting the improvement of teachers and teaching in a pro-union environment.
Each campaign develops new leaders, educates about political realities, and forms authentic partnerships with parents and community. PEAC pushes for campaigning to be anchored by bold actions that escalate towards work stoppages and strikes if necessary.
Labor Notes Special Report:
School Wars
California hovers between 43rd and 50th among states in per-pupil spending (while it is first in prison spending). Ahead of last November's elections, PEAC helped UTLA join the California Alliance, a coalition of 27 community and labor organizations, to press for two ballot propositions. They sought to open up more money for schools and social services by closing corporate tax loopholes (which failed) and allowing the state legislature to pass a budget with a simple majority rather than two-thirds (which passed).
"Those propositions move in the right direction, towards real progressive taxation," said Gillian Russom, a high school social studies teacher in East Los Angeles, adding that prison spending should be redirected to social needs.
Linking with California Alliance helps UTLA approach elections differently. We can systematically develop relationships with voters and organizations in communities of color over several election cycles, around reorienting budget priorities, authentic school reform, and the dangers of privatization.
SOCIAL JUSTICE SCHOOLS
The campaign to stop privatization and create social justice public schools begins with a vision for authentic school reform—equity and access for all students; curriculum based on relevance, community connection, and social justice; democratic control of schools; union and collective bargaining rights for employees; and sustained efforts at reform that meet the needs of students.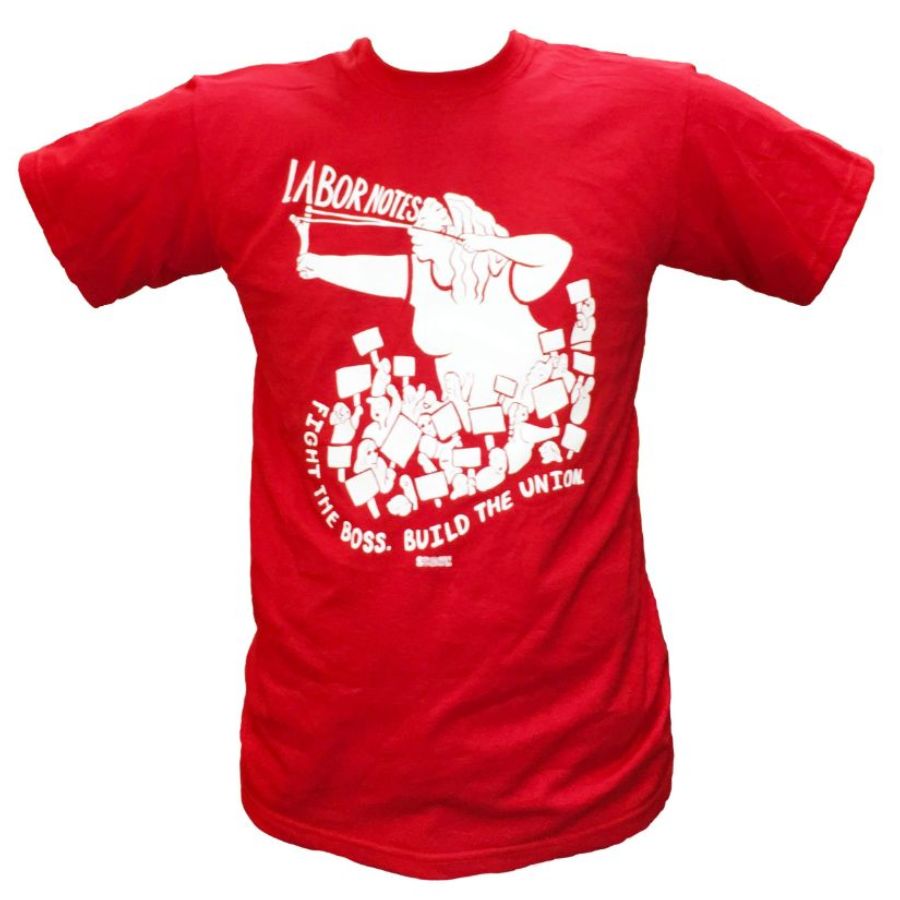 PEAC and UTLA support reform projects that bring this vision to life—programs like the reading workshops at Gompers Middle School. They engage struggling readers by helping them choose their own set of books they'd like to read, apprenticing them in reading strategies, and aiding them in applying themes from the reading to their lives and communities. Students are assisted in taking action around changing something in their lives or community that they feel strongly about and have new insights about.
Privatization works against social justice schools. Most California charter schools, particularly the chains funded by the billionaires' club, cream off the most motivated public school students and push out others who struggle academically. Most are not democratically controlled, but run by private boards. Most turn teachers over at dramatically high rates and do not have unions—making deep, authentic reform efforts next to impossible to institutionalize.
The Los Angeles school district has begun soliciting bids from private organizations and charters for upwards of 100 schools. Supported by PEAC, UTLA worked with parents and community to write plans for schools, organize, and dominate the first round of this attempted privatization. The union/parent plans, rather than charter applications, won the vast majority of open bids.
So while PEAC and UTLA pressure the school board to end the "out for bid" policy, we also work within the policy to develop the most progressive plans possible, not only to defeat the charter chains but also to institutionalize social justice at schools.
While the largest corporate charter chains, along with Mayor Antonio Villaraigosa, heavily pressure the school board to give more schools to charters, PEAC hosts community forums to educate about the threat of privatization, organizes at schools affected by this policy, and works with parents to generate our own vision of school reform.
SUPPORTING TEACHERS AND TEACHING
The charter push is urged along by nonstop teacher-bashing. Recently the school district "reconstituted" a high school, scapegoating teachers and making all employees reapply for their jobs, creating enormous instability for students.
At the same time, the Los Angeles Times published teacher effectiveness rankings based solely on a standardized test-based model called "value added," which has been shown to have tremendous problems of reliability.
And now the mayor and school administrators, under the guise of increasing stability at schools and unfortunately aided by the ACLU, are trying to undermine seniority and introduce "value added" teacher evaluation at 45 schools, while not addressing at all the chief reasons for teacher turnover and school instability: difficult conditions for teachers to teach and students to learn.
PEAC has been a leader in demonstrating against these attacks on teachers and the union, said Rebecca Solomon, who teaches history near downtown Los Angeles, "from aggressively helping to build the UTLA picket at the Times to helping organize protests against reconstitution."
The caucus has been critical to UTLA's efforts to help teachers stay in the profession and to create teacher evaluations that are useful. This involves more time for peer support through on-site mentoring: time for teachers to observe each others' classrooms, examine student work, and provide feedback. It involves formal mechanisms for parent and student feedback to teachers.
In bargaining, the district will counter UTLA's plan with one based on "value added."
PEAC has also helped UTLA prepare contract demands around reducing teacher turnover and school instability. Teachers need to be more deeply involved in decision-making about school budgets, reform plans, and curriculum innovations. Training for teachers must be created by teachers, and vacancies should be filled in a way that builds a mix of experience levels within schools, to facilitate mentoring.
More resources should be brought to the hardest-to-staff schools and additional pay should be considered for teachers who stay at them.
While the attacks threaten to devastate the promise of a high-quality, truly public education for all, they also make clear that the only effective approach for unions is a social justice model—an approach that intentionally builds a social movement for public education and that lifts up students, communities, and teachers.
---
Alex Caputo-Pearl teaches high school history and serves on the UTLA board of directors. Cathy Garcia teaches mathematics and is the UTLA chapter chair at Crenshaw High. Both are members of the PEAC steering committee.