Stung by Ascension's Union-Busting, Michigan Nurses Gird for Contract Battle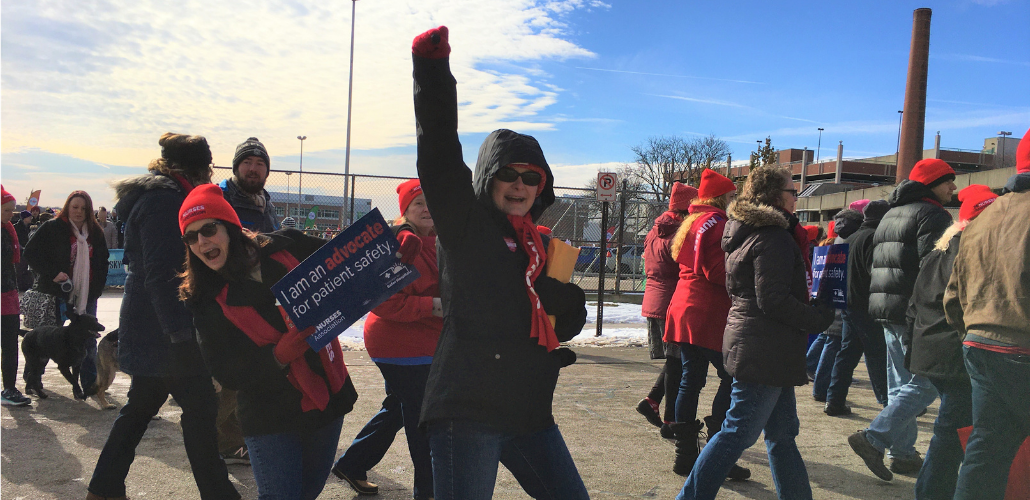 The recent surge in union action has been met by an increase in union-busting by greedy employers—even in companies whose purpose is to serve and heal, such as hospitals.
The pandemic has put an acute strain on an already chronic problem: short staffing. For years many hospitals have adopted tools from the hospitality and the assembly-line production industry.
The hospital I work for—Ascension Borgess in Kalamazoo, Michigan—is an example of all of these dynamics. We were stretched thin even before the pandemic; Covid made the situation worse.
Ascension Borgess executives have tried to use this situation to break our union by shorting us on premium pay while trying to entice members to take handsomely paid nonunion positions.
At the same time, we have been coming together as nurses to push back, and have seen an increase in organizing from members.
A UNION-BUSTING MOVE
For a little bit of context: we are organized with the Michigan Nurses (MNA). We have a solid collective bargaining agreement and a dedicated local executive team of which I am proud to be a member.
We have consistently pushed back against Ascension's moves to force nurses to do more with less. By speaking out publicly and sharing our stories, we were able to stop its plan in 2020 to force nurses to move to work at different hospitals. Instead, we negotiated a premium incentive for nurses to voluntarily relocate if they were able to do so.
We also fought hard to win some of the best incentives in southwest Michigan, to compensate nurses for the sacrifice of picking up extra shifts, especially high-need shifts on nights and weekends.
But as the pandemic surged on, the crisis of recruiting and retaining nurses continued to accelerate as more nurses left our hospital. We knew that Ascension had resources, because they were offering large incentives and paying top dollar to attract travel nurses (who are non-union) to help fill the gaps.
Our MNA local team requested negotiations on a retention bonus and to reopen our contract on wages. After all, members were (and still are) working alongside nurses from just a few miles away. Local travelers are earning twice the wages, sometimes more, plus the hard-fought union incentives to pick up extra. What was Ascension's answer to our request? "No."
Instead, when faced with the resignations of nurses, managers offered a "short-term" option. For sacrificing some of their benefits and leaving a union position, MNA nurses were offered temporary positions in Ascension's local staffing agency. They can do the same job they have been doing for a lot more money, but without a contract or union protection. This is a union-busting tactic.
'A NURSE IS A NURSE'
Ascension executives also sought to take advantage of the pandemic to erode our contract, which states that nurses get paid an extra $2 an hour on 12-hour shifts when they are reassigned to another unit. This became especially relevant during Covid surges, when we would often get reassigned.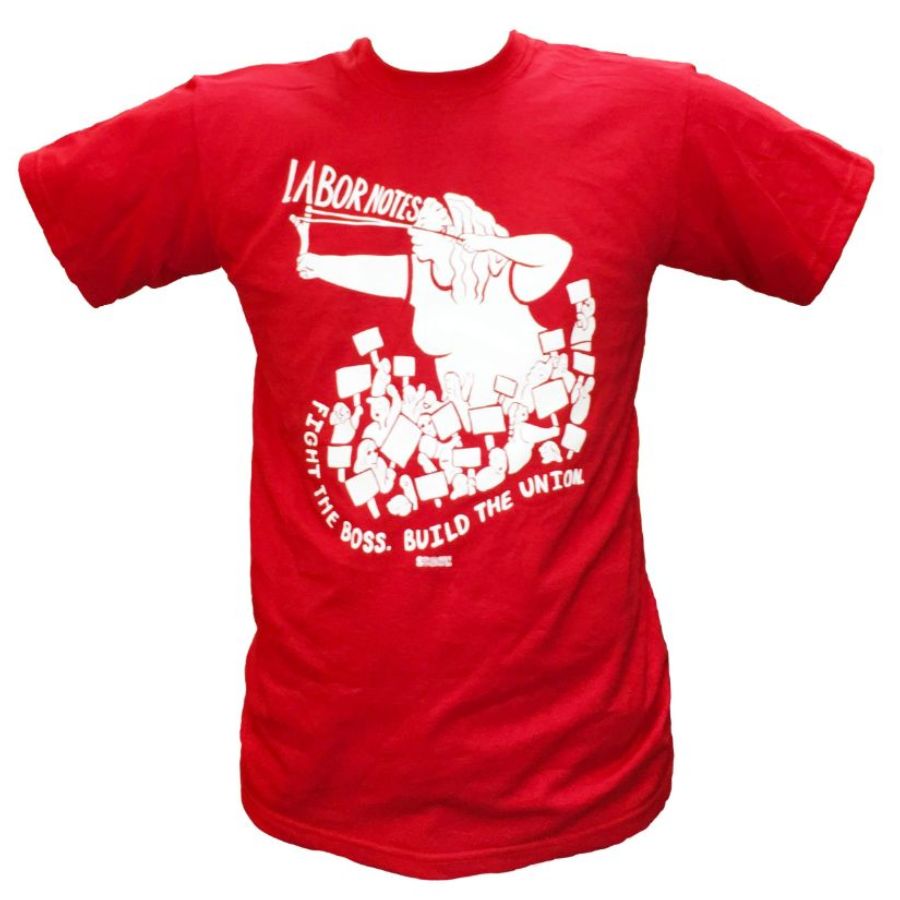 Suddenly a new director tried to deny our pay, claiming it wasn't a reassignment—it was a "relocation." When nurses pushed back, Ascension escalated by exerting "management rights" and merged what had once been two ICU departments into one department. ICU nurses felt it was a slap in the face.
Could we at least get the $2 reassignment pay for working in the Covid unit? "No."
Aside from the income loss, this is a real threat to nurse specialties in our ICU departments. We have every assurance from management that we will not do away with specialty nursing—yet they also say nurses will have the "opportunity" to complete competency requirements in all areas. Sounds like "a nurse is a nurse is a nurse," no matter their assurances to the contrary.
TIRED OF HEARING 'NO'
Nurses at our hospital have had enough. We are laying the groundwork now so that we will be in a stronger position in the future to fight back.
In the lead-up to our next contract negotiations—the contract expires in November of 2022—we are prioritizing getting everyone involved. One way is by reinventing our new member orientation to educate our new members on the value of an enforced contract.
We have also acquired the help of an additional labor representative and a full-time organizer. And as our Michigan weather slowly gets warmer, we are hoping to host social events outdoors to cultivate the sense that our union is a community, especially after these years of stress and isolation.
We are rebuilding our department-based councils and committees to ensure that every nurse in every department has a voice. We want to hold meetings to discuss the specific issues each unit is facing, and start fighting to address them immediately. One of our recent department meetings had a record-high turnout.
We believe that this work is important both for fixing urgent concerns in the short term and for inspiring new leaders to step forward, so that we will have a network of many strong union activists as we approach our contract campaign.
We will use our voices to rail against the "a nurse is a nurse is a nurse" staffing model. We will defend the importance of our knowledge base and the value of specialty nurses.
And as our current contract nears expiration, we will demand a contract with real retention incentives and fair compensation for the work nurses do every day—a contract that represents the respect and credit we deserve.
Lori Batzloff BSN, RN is the vice president of the Borgess Nurses Staff Council and a member of the Michigan Nurses Association. Lori has been an RN for 11 years and in the Neuro/Trauma Intensive Care Unit since 2017.