Buffalo Hospital Workers Beat Concessions, Win on Staffing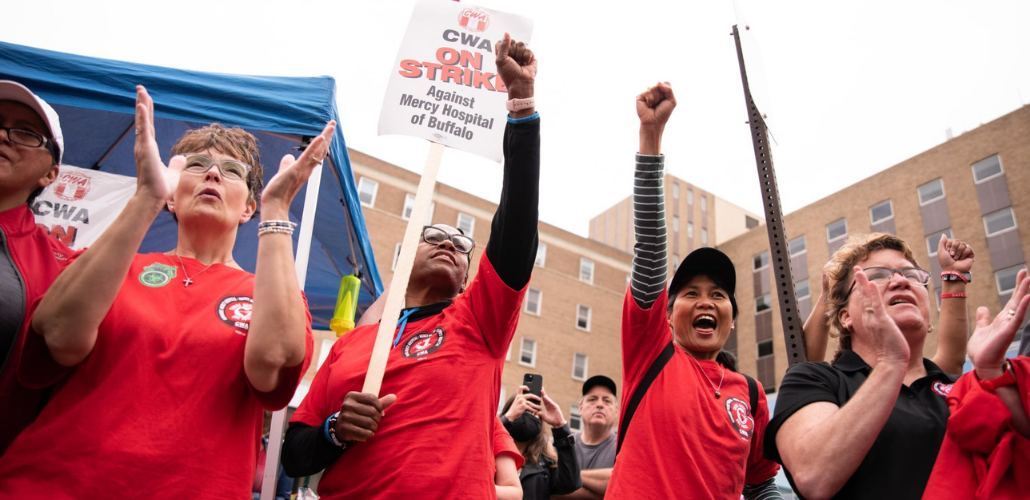 After five weeks on strike, 2,000 Buffalo hospital workers returned to work November 10 with what they are calling a "landmark" agreement on their top demand: safe staffing ratios.
The four-year contract sets staff-to-patient ratios for most positions—including nurses, nursing assistants, clerical staff, and X-ray techs—taking full effect by the beginning of 2023. Nurses in critical care units will be staffed at 1:1 or 1:2, depending on the severity of the patient's condition, with ancillary staff at 1:5. Medical/surgical unit ratios will be 1:4. Workers will get bonus pay of $6 to $10 an hour for picking up additional shifts to help meet these ratios—and an additional penalty on top of the bonus if the hospital fails to meet them.
The agreement covers 2,000 members of Communications Workers (CWA) Local 1133 at Mercy Hospital of Buffalo, plus another 500 workers in that local and CWA Local 1168 at two other facilities that are part of the same local chain, Catholic Health. The unions at the three facilities secured coordinated bargaining in 2019 negotiations, though the deal barred them from striking all three at once—which is why only Mercy Buffalo workers went out.
Catholic Health was pushing to convert workers' pension to a 401(k) and force them onto high-deductible health insurance plans. The strikers beat back those concessions. The new contract does introduce a high-deductible plan, but it's voluntary.
"It felt good to know that they wanted to take so much from us, and they weren't able to take any of it," said Becky Chadwick, a patient access specialist in the ER at Mercy. "My insurance, my pension, my vacation time, my PTO [paid time off]—the fact that I didn't have to give any of that up was a huge win."
OVER THE EDGE
Pay and benefits at Catholic Health have long lagged behind a rival local chain, Kaleida Health. Under the new agreement, registered nurses will see an average 6.3 percent raise retroactive to June, while service, technical, and clerical employees will get an average bump of 8.4 percent. The agreement also raises the hospitals' minimum wage to $15 an hour. Workers hope this will help attract more staff.
This was the first strike ever at Mercy Hospital, though they've come close before.
"This time there wasn't much chance of us not going out on strike, " said Bob Scime, who's been at Mercy for 40 years and currently works in billing. "People had just reached the point where they can only work so hard."
Scime has been active in organizing the local's mobilizing structure at the hospital, which was initially built during the 2016 contract campaign. There are 200 unit mobilizers, each assigned 10 members to inform and involve; 20 lead mobilizers work with 10 unit mobilizers each. The structure is tested routinely by passing out buttons, filling out questionnaires, and circulating petitions.
The campaign got a big boost when Catholic Health management opened bargaining by offering concessions and a 1 percent raise.
"It put people over the edge," Scime said, "the frustration building, and the hospitals' reaction of ignoring the frustration."
KEEPING UP THE PRESSURE
Buffalo weather is notoriously tough: To keep their spirits up in the dreary October rain, strikers played "These Boots Are Made for Walking" and "We're Not Gonna Take It" and held "tailgate parties" with Local 1168 members chipping in for hot dogs.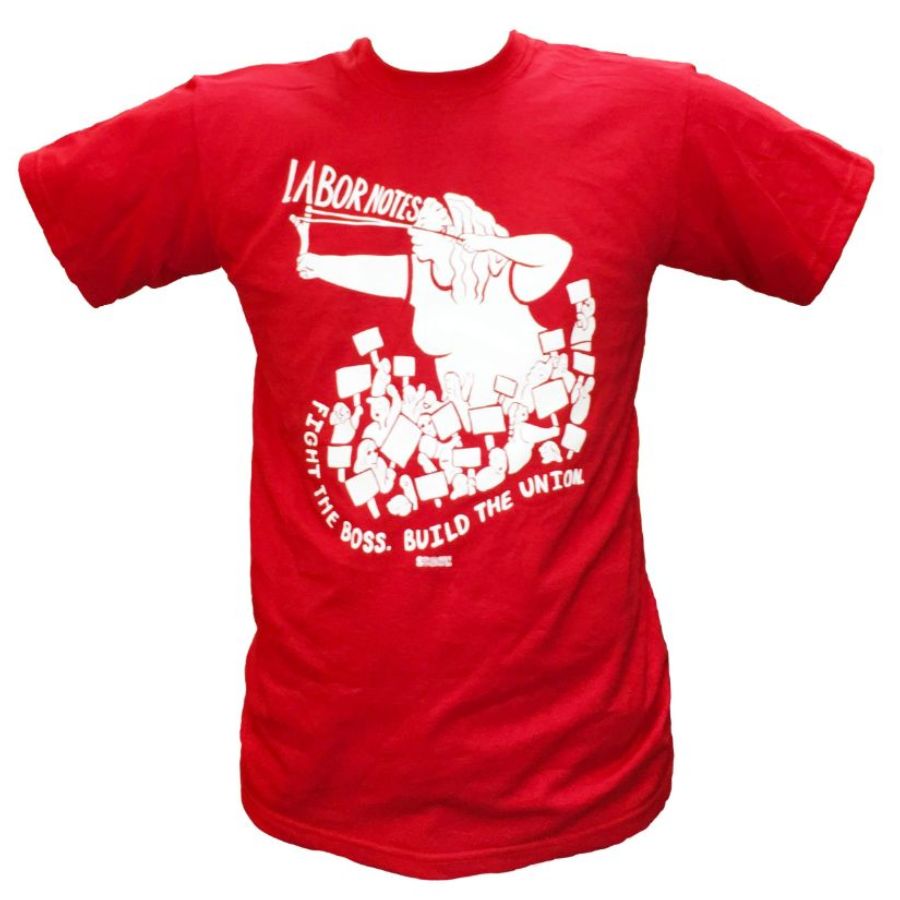 "We tried to have some fun," said Chadwick. "It's hard to walk in a circle; it's painful on your body. When the weather was bad, it was hard on your mind, your body, and your soul."
To build the pressure on Catholic Health to settle, CWA bought radio and television ads, and worked with the corporate watchdog LittleSis to research the chain's board members and identify ways to target them.
Among these targets were vice presidents of the supermarket chain Wegman's and the natural gas distributor National Fuel, and a lobbyist for M&T Bank. Workers leafleted outside the supermarkets—and when they got kicked out of a parking lot, they'd go to the nearest street and hold up their nine-foot banner. Their 15-foot inflatable "Fat Cat" (a comrade of Scabby the Rat) visited the fuel company headquarters and the bank, where strikers bannered and leafleted around check-cashing time. The leaflets included the board members' cell phone numbers.
A few days before a settlement was reached, when medical-surgical unit staffing ratios were the final sticking point, the union's bargaining committee left the table. "Call us when you're ready to settle," they told management. Local 1133 suspended part of the picket line; strikers piled onto buses and fanned out to shopping areas and farmers markets to talk with community members about their demands. They came back with 2,000 postcards signed to the CEO.
THE NEXT FIGHTS
The day after the tentative agreement was ratified, Local 1133 and 1168 members drove an hour and a half to support another strike: Teamsters Local 264 at Friendship Dairies.
"We were like, 'We know exactly what they're feeling now,'" Chadwick said. The health care workers brought lunch for the striking Teamsters—and took over their picket duties so they could eat it.
Back in Buffalo, hospital workers have their sights on their next target. The contract covering 7,000 members of CWA Local 1168, SEIU Local 1199, and Operating Engineers Local 17 at Kaleida expires on May 31.
Kaleida workers were a frequent presence on the Catholic Health picket lines; they took up departmental collections to support the Mercy strikers.
"We knew that this was the first piece of the story," said Kaleida CT technologist Patrick Weisansal, vice president of Local 1168. "What happens at Catholic Health is coming to Kaleida next."
Admiring the strikers' signature red T-shirts, Kaleida workers even organized wear-red days in their own hospital departments. "Not only was that good for solidarity, but it's still to this day freaking Kaleida out," Weisansal said. "They're trying to change their dress code so people can't wear those shirts."
CORRECTION: This story originally stated in error that the unions at the three hospitals had secured a master agreement in their 2019 negotiations. What they secured that year was coordinated bargaining, setting them up to win a master agreement this time around—which they did.