U.S. Labor News Roundup: Volkswagen, Moral March
Week of February 10, 2014
Volkswagen Workers Vote Down Union
A win for the United Auto Workers at Volkswagen looked likely as 1,550 workers voted on union representation last week. The UAW had previously gathered a majority of pro-union signatures.
At joint meetings of VW management and UAW leaders with workers, management said, in effect, "We want you to have a works council, the only way to have one is to have a union, and the only union you can vote for is the UAW."
But workers voted the union down 712-626. The vote took place in a tense atmosphere in which Tennessee politicians, major media, and national anti-union groups all urged a "no" vote. A state senator said a "yes" would lead the senate to turn down any additional subsidies to VW.
The Center for Worker Freedom, a new right-wing project, erected 13 billboards in the area, claiming the UAW would destroy Volkswagen jobs as it supposedly destroyed Detroit.
VW headquarters in Germany agreed not to oppose the UAW because the company's Global Works Council, with representatives from factories around the world, pressured them to allow one in the U.S. The Tennessee factory was the only major VW plant without a works council.
Under German law, a works council must work for the interests of both workers and company, finding non-conflictual ways of dealing with new technologies, reorganization of jobs, and plant closings. Works council members are elected by non-management employees and paid by management.
But that job description goes against U.S. labor law, which says management may not "dominate" a labor organization nor "contribute financial or other support to it." A works council would be legally possible under U.S. law only if the workers also had their own independent representative: a union.
Ironically, the UAW's organizing tactics at VW called that independence into question, politically if not legally. The union repeatedly stressed that its goal was a stronger company, to improve job security. And it promised, in writing, not to seek higher wages that would lessen VW's cost advantage compared to its competitors.
A majority of workers apparently felt no need for a union that had already decided to put the company's interests first.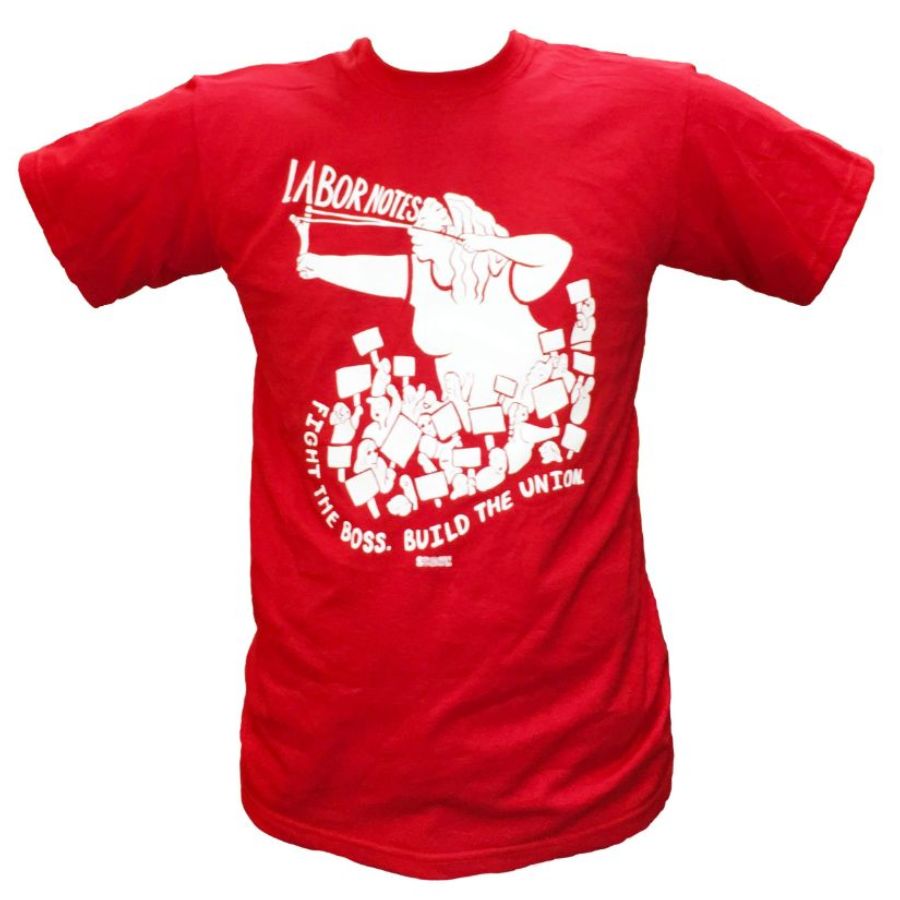 [Excerpted from an article by Jane Slaughter]
Tens of Thousands in North Carolina Vow 'Not Now, Not Ever'
Tens of thousands of marchers took to the streets of Raleigh, North Carolina, February 8 to show their opposition to the extreme right-wing agenda that has gripped the state since right-wing Republicans gained control of the legislature and governor's office.
The march and rally were called a Moral March, in connection with the sustained Moral Monday protests that resulted in nearly 1,000 arrests for civil disobedience during the spring and summer of 2013.
The diverse thousands who descended on the Capitol came from all over North Carolina and 32 other states. Labor, environmental, women's rights, youth, LGBT, health care, and teachers groups joined with civil rights and faith-based organizations.
This year's phenomenal numbers can be attributed to the outrage of North Carolinians in response to, among other things, the governor's refusal to accept federal money to extend Medicaid for 500,000 uninsured people, cutting extended unemployment benefits for 150,000 workers, and passing an extremely restrictive voter suppression bill.
With attacks on women's reproductive rights, labor rights, and LGBT families added to the toxic mix, thousands decided to take a stand.
United Electrical Workers (UE) Local 150, Food and Commercial Workers, Teamsters, and Farm Labor Organizing Committee had the most notable labor groups.
A large teachers delegation wore red, calling on teachers not to sign individual employment contracts that would require them to give up tenure in exchange for five yearly bonuses.
The crowd responded with cheers when Rev. Barber said the march and rally were the start of a new season of mobilization that will include civil disobedience, voter registration, and legal action.
[Excerpted from an article by Ajamu Dillahunt.]