A Third Wave of Strikes Crests at Los Angeles Hotels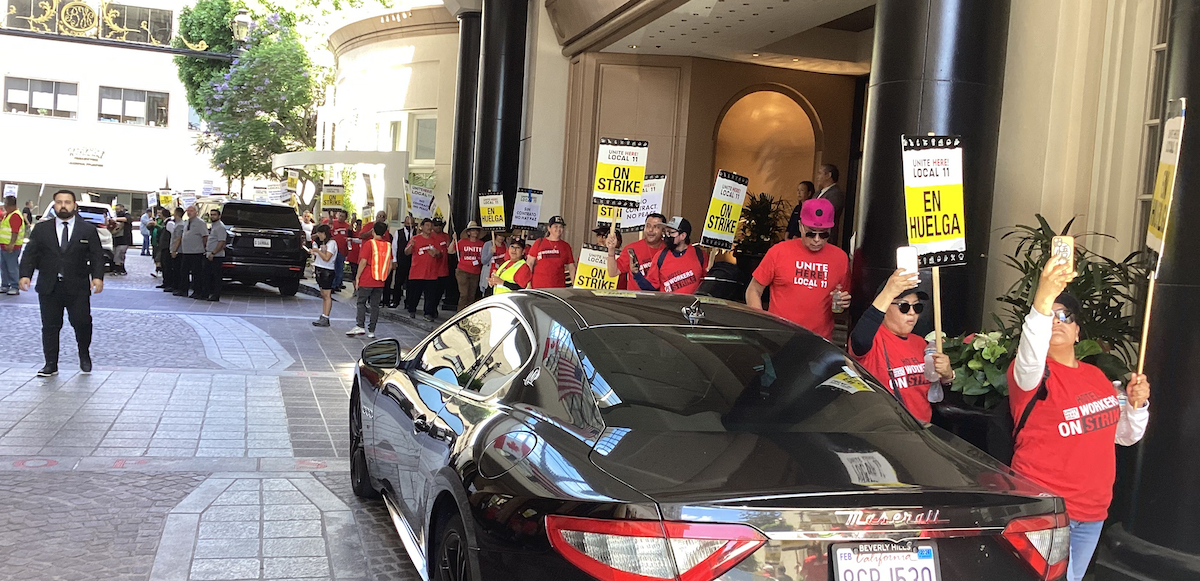 Shouts of "No contract, No peace," pounding drums, and a raucous band pierced the usually quiet, tony city of Beverly Hills, California, as 250 hotel workers picketed the luxurious Waldorf-Astoria on July 26.
The primarily Latino crowd then marched several blocks down Wilshire Boulevard to picket the posh Beverly Wilshire hotel entrance, flowing around Porsches, black Cadillac SUVs, and a Mercedes Maybach containing a terrified pug.
The Beverly Hills action was part of the third wave of strikes against 62 hotels in southern California after contracts expired June 30. The rolling strikes strategy targets segments of the city instead of all workers walking off the job at once. The first wave targeted downtown hotels starting July 2; the second wave hit hotels near the Los Angeles airport. After a week's pause for negotiations that eventually stalled, the third wave targeted hotels in Beverly Hills, Hollywood, West Hollywood, nearby Pasadena and Glendale, and Orange County to the south.
The workers are asking for raises to afford rising costs in the Los Angeles area, particularly rents. Los Angeles has some of the highest housing costs in the country, and landlords are raising rents and moving forward with evictions as pandemic protections for renters are being phased out.
The union proposes an immediate $5 hourly wage increase and a $3-an-hour annual increase across two years. The hotel companies counteroffered $2.50 an hour for the first year and a $6.25 raise over five years. The hotels also seek to shift some of their health and pension costs to workers.
MOVED FAR AWAY
Housing costs in Los Angeles have forced many hotel workers to move far outside the city. In a union survey of its workers, 53 percent said they either have moved in the past five years, or will move soon, because of soaring housing costs.
Olga Sanchez, a housekeeper at the Beverly Hills Hilton for 34 years, moved to Sylmar, at the northern tip of the Los Angeles basin. "I just can't afford L.A.," she said. She commutes 90 minutes each way.
Some hotel workers travel even further. Gladis Avila, a housekeeper at the W Hotel in Hollywood, used to walk five minutes from a Hollywood apartment to her housekeeping job until the sharply rising rent forced her out. She and her husband eventually bought a house in Victorville, a desert community 90 miles northeast of Los Angeles. Avila spends one to three hours commuting each way and $750 a month on gas. "It's a sacrifice," she said.
The need for greater pay for increasing housing costs is a pillar of the union's negotiations, explained Zoila Margarita Ramos, a shop steward and a 34-year housekeeper at the Fairmont Century Plaza in Century City, a community adjacent to Beverly Hills.
She is also striking to preserve the pension and health care plans. "I am about to retire, and I want to have these so I can survive," Ramos said. She wants all hotel workers to "retire with dignity."
NEVER FULLY STAFFED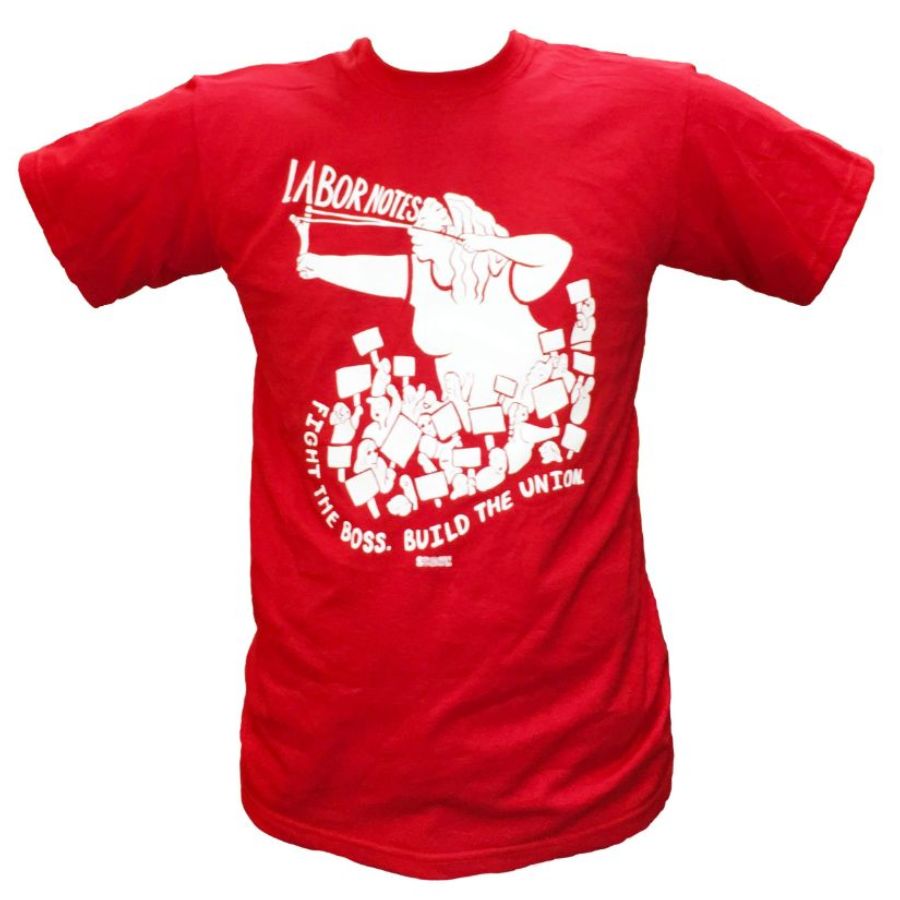 Many workers also complained about the increasing workload after the pandemic. The hotels rehired only some of their laid-off workers, forcing a smaller staff to work harder to take up the slack.
Some hotels stopped the practice of cleaning rooms every day and instead have them serviced after guests check out, making the rooms harder to clean. "It's a disaster how dirty they are then, but we have the same daily quota," explained Avila.
Only one hotel, the 1,300-room Westin Bonaventure in downtown Los Angeles, signed a contract before the August 1 expiration. Union officials are quick to point out that if the largest hotel in the city is willing to sign, others can too.
The co-president of Local 11, Kurt Petersen, emphasized this point in a rally in Beverly Hills, "If the Bonaventure, at $200 a night, can sign a deal," he told the crowd, "then the hotels that charge $1000 a night can sign this deal as well."
The union says that hotels are flush with pandemic relief money and profits and can well afford to give the workers raises. Maria Hernandez, a union spokesperson, said that during the pandemic, Los Angeles area hotels received $15 billion in federal bailouts, with none of this money going to workers.
According to the union, tourism is up in 2023, and hotel profits in the Los Angeles area surpassed pre-pandemic levels. Like the Bonaventure, the hotels could afford to sign "if they wanted to," said Hernandez. She attributes the hotel's refusal to give workers a decent wage to "just greed."
Local 11 represents 32,000 hotel workers in Southern California and Arizona; about half of these members are under expired contracts.
The union says it intends to lift the low standards of service workers as Los Angeles prepares for the World Cup in 2026 and the Olympics in 2028. "We are ready to welcome millions to the region, and we intend to seize the moment to ensure our place in the economic boom headed our way," says Hernandez.
Marc Wutschke is a retired United Teachers Los Angeles member and a former UNITE HERE Local 26 member in Boston. He writes on labor, education, and technology issues.