In Heat and Smoke, Workers Fight Negligent Bosses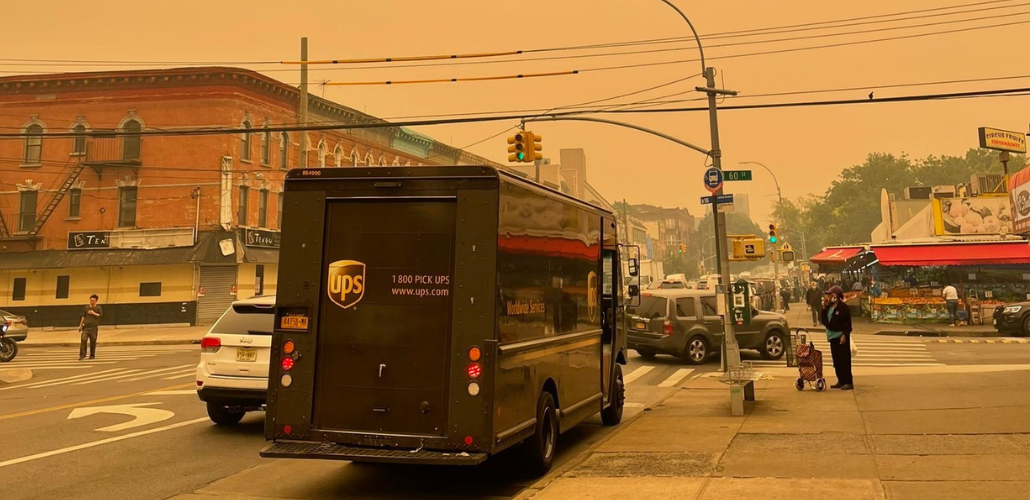 On June 29, the air quality in Detroit was among the worst in the world.
"Outside it smelled like burnt plastic, almost like trash," said UAW member Cody Zaremba, who works at a General Motors plant in Lansing, Michigan. He and his co-workers were experiencing coughing, runny noses, watery eyes, and trouble breathing.
But GM didn't even acknowledge the smoke, Zaremba said, much less offer any protection.
"Everybody just had to go about it their own way," he said. "We can all see it and smell it. But what are we going to do about it?"
As wildfires, drought, floods, and scorching heat disrupt the supply chain, the logistics industry is starting to worry about the impact of climate change…on profits.
But workers are the ones bearing the brunt—forced to work through extreme weather events, induced by climate change, that are getting more frequent and more severe.
Wildfires in Canada this summer have spread hazardous smoke through the U.S. East Coast and Midwest. Semi-regular wildfires throughout the West Coast have produced what are now known as "fire seasons."
Outdoor workers like those in delivery, construction, and farming are among the hardest hit. On the frontlines of the climate crisis, some workers are standing up to their employers' negligence.
'UPS'S PLAN WAS HOPE'
Teamsters say UPS was unprepared this summer when New York City's Air Quality Index spiked to a record high of 484 as smoky air clogged the city.
An AQI above 300 is categorized as hazardous. Besides the immediate effects of burning eyes and coughing, particulate matter from wildfires can damage the lungs and heart, triggering asthma and heart attacks.
"The company didn't do anything. We went out there, business as usual," said UPS driver Basil Darling, an alternate steward in Teamsters Local 804. "It was only customers who were concerned. Customers offered me masks."
One co-worker at his hub in Brooklyn was taken to the emergency room after working half the day in the smoke.
Local 804 members did what the company should have done—distributed KN95 masks to UPS workers in Brooklyn and Queens.
This wasn't the first summer that UPS ignored this problem. Geoff Donnelly, a package delivery driver in Reno, was still making deliveries even after his family had packed up their belongings in preparation to flee the Caldor fire in 2021.
The fire blazed across Nevada and Northern California, burning more than 220,000 acres and lasting nearly two months before it was contained.
"UPS's plan was hope," said Donnelly, a Teamsters Local 533 shop steward: "We hope that the fire isn't coming our way."
The company lied, he said: "They told me that they had a plan, but they didn't." UPS handed out surgical masks, not high-quality N95s—even as the AQI shot up to a record high of almost 700 in Tahoe City, California.
DODGING OBLIGATIONS
When AQI reaches 500, under California OSHA guidelines, employers must not only offer but require employees to wear respirators such as N95 masks. But Donnelly emphasized that UPS suffers no consequences for dodging its safety obligations.
"You can say the company must provide masks or respirators, but if they don't, there's no penalty," he said. "If there's no penalty, why have the language? What good does it do?"
Like California, Oregon and Washington have passed statewide OSHA guidelines requiring the provision of respirators.
But "workers don't just need respirators," said Peter Dooley of the National Council for Occupational Safety and Health (COSH). "The idea that outside workers are going to be wearing respirators all day is just not realistic."
"When you work outside, there is really no escape," said a Postal Service (USPS) letter carrier in Washington state who asked to be anonymous and has worked through both high heat and wildfire conditions. "The actual solution is, if the AQI is 300, 500, we should just be able to go home."
There are still no federal regulations to protect workers from heat exposure or unhealthy air quality. And since letter carriers are considered federal employees, state-specific OSHA protections don't apply to them either.
WE KEEP EACH OTHER SAFE
Despite several years of wildfires, companies on the West Coast still lack coherent safety policies on air quality.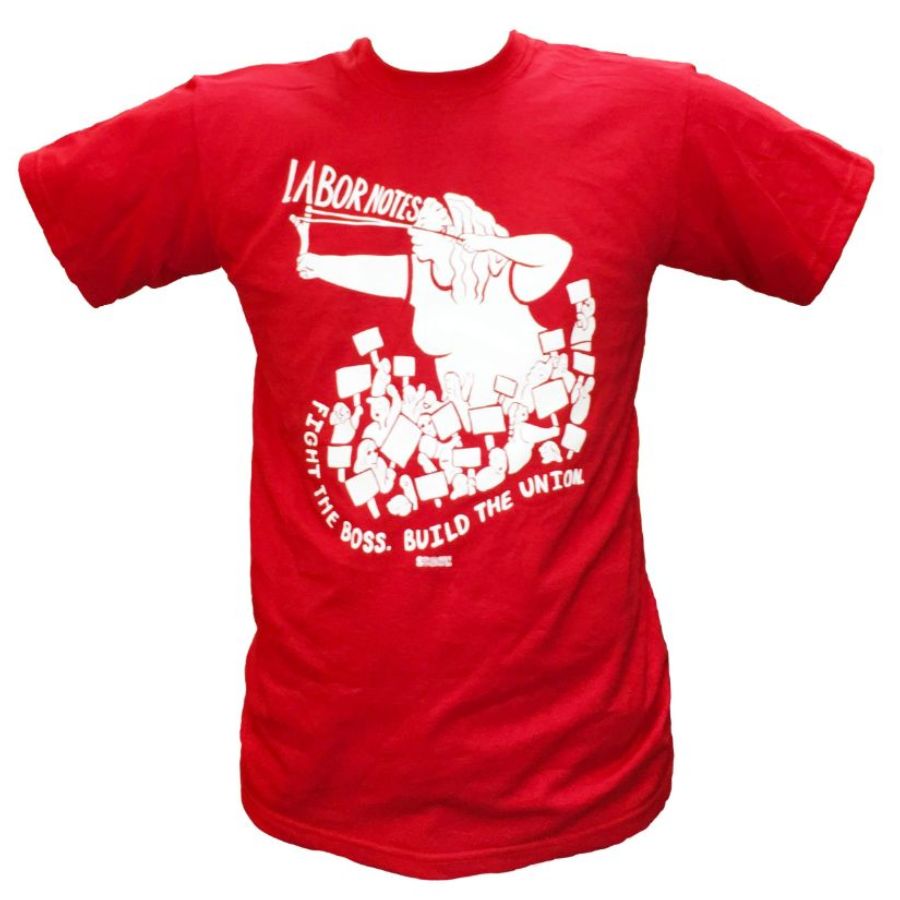 Jorge Torres, an electrician with IBEW Local 46, was working on wiring a new Microsoft office compound in Redmond, Washington, last year when the skies got smoky.
The general contractor told workers they could use their sick leave to take the day off if they felt unsafe, or take an unpaid day. The electrical contractor's plan consisted of providing three face masks for nearly 20 people.
Torres called his shop steward, but was told to wait until the union hall opened at 9 a.m.—two hours later—to be advised on what to do.
Torres decided not to wait. He went around the worksite talking to fellow workers. Everyone wanted to go home, but people were apprehensive about being the first to leave.
After he rallied his co-workers one by one, all 10 workers at his building walked out together and went home. The remaining six members of the electrical crew, who were working in another building, followed their foreman out shortly after.
SAFETY WALKOUT WORKED
Torres made sure to develop a paper trail in the form of text messages to his steward, documenting his initial discomfort with the smoke as early as 7 a.m., and explaining why he and his co-workers had walked out.
"If the union takes the company's position and tells us that it's up to each individual, the union is telling its members that the union isn't there for them," Torres warned the steward. "[The contractor] can consider the crews of [the building]'s decision to perform a safety stop work as an opportunity for [the contractor] to spend the rest of the day planning out and implementing a robust and clear health and safety plan for wildfire smoke conditions."
As he drove home, Torres received an update from a foreman—nobody would be docked sick time, and everyone would get a full day of pay. When the AQI remained dangerously high the following day, the general contractor paused work for the entire jobsite.
Other members of his local couldn't believe they had done it. Torres attributed the surprise to a culture of "passivity, deference, a sense of inability to assert what you need or what you deserve."
DEADLY HEAT
The dangers of unhealthy air are compounded by extreme heat, another result of climate change.
Last year, as temperatures in the Los Angeles area climbed to the high 90s, 24-year-old UPS driver Esteban Chavez Jr. collapsed in the back of his truck while working and died.
UPS workers rallied to demand fans and air conditioning instead of surveillance cameras on their trucks. In this summer's bargaining, ahead of an August 1 strike deadline, the Teamsters have won air conditioning in new trucks and the installation of fans and heat shields in existing ones.
Meanwhile in June, 66-year-old Postal Service letter carrier Eugene Gates Jr. collapsed and died on the job in Dallas, where the heat index had reached 115 degrees that day.
According to a Public Citizen report last year, environmental heat is likely responsible for more than 170,000 work-related injuries every year and 600 to 2,000 fatalities, making it one of the leading causes of death on the job.
'KEEP IT MOVING!'
A month before his death, Gates Jr. had received a disciplinary letter for what USPS calls a "stationary event."
A stationary event occurs when a letter carrier's scanner registers as standing still for a few minutes—there's no announced definition of exactly how long. Supervisors harass carriers about these events and push to minimize them.
Basic safety measures any worker should take in extreme heat—stopping in the shade to cool down and drink some water—could register as stationary events.
A scanner message sent out to carriers by management in one Dallas post office, shared with local news by the union branch president, says, "BEAT THE HEAT!!! NO STATIONARY EVENTS; KEEP IT MOVING!"
During a daily "stand-up" meeting at USPS, when supervisors warned about stationary events, the Washington letter carrier quoted above spoke up, informing co-workers that the union contract bans covert surveillance and that any disciplinary action on the basis of scanner data wouldn't hold up. A supervisor spoke over her, apparently trying to drown this information out.
The Postal Service has touted its heat safety training. But many workers report they never received the training—even though management marked them as having received it. Virgilio Goze, an officer and steward in Letter Carriers Branch 79 in Seattle, has been helping members file grievances over this.
Since postal management routinely pays out grievance penalties without changing its behavior, Goze has gotten more creative in developing remedies. Rather than taking payouts, he combined monetary remedies to get an ice machine for his station. At least it's "something communal," he says. "You can point to it and say, 'We won that.'"
Public Citizen estimates that California's heat regulations, while imperfect, have reduced injuries by 30 percent. In New York, members of Local 804 are canvassing door to door to help pass the Temperature Extreme Mitigation Program (TEMP) Act, which would require employers to guarantee access to water and shade, and increase rest times for outside workers.
Still, much more is needed. The deadly combination of rising temperatures and wildfire smoke has to be understood as "climate injustice," says Nancy Lessin, an advisor with National COSH. "This is yet another reason why the labor movement and the climate justice movement need to come together stronger than ever, to look to the future for the kind of prevention needed."
Caitlyn Clark is a Teamsters for a Democratic Union organizer and a Labor Notes writing fellow.