How to Get Un-Fired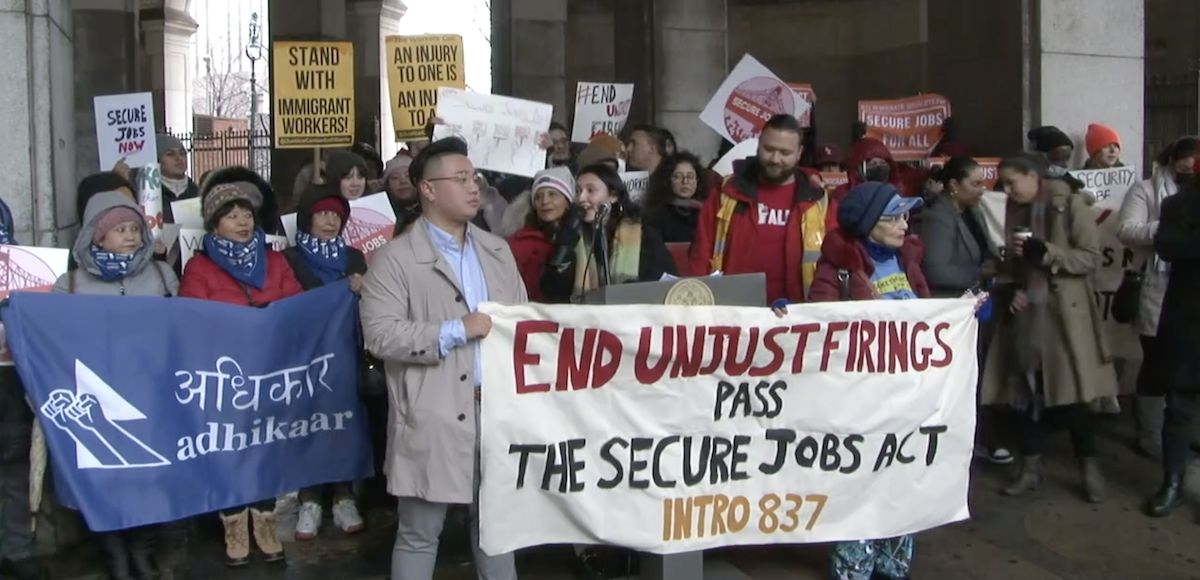 In a few days Austin Locke will walk back into the Queens, New York, Starbucks store he was fired from seven months ago. He'll also get a wad of back pay, and money from civil penalties.
Locke had a target on his back because he was involved in a union drive at the store, but his reinstatement didn't come from the National Labor Relations Board. Instead, his case was taken up by the New York City Department of Consumer and Worker Protection (DCWP), under a city law passed in 2021 which makes unjust firings in fast food illegal.
Two recent city laws protecting fast food workers, the 2017 Fair Workweek Law and the 2021 Just Cause law, have resulted in 230 investigations, resulting in nearly $27.1 million in combined fines and restitution for more than 20,100 workers, according to Michael Lanza of the DCWP. Chipotle paid $20 million in September.
Now the city council is considering extending this just-cause protection to all New Yorkers through the Secure Jobs Act.
In Illinois, a coalition of unions and worker centers is lobbying for a similar law statewide. The proposed laws also provide for severance pay for layoffs.
Most U.S. workers not covered by union contracts are considered "at-will employees," meaning they can be fired for almost any reason.
There are some important exceptions: It's already illegal to fire someone for racist, sexist, or ageist reasons. Labor law also bars employers from firing workers for engaging in "concerted activity," meaning getting together with co-workers to improve job conditions. But it's hard to prove intent when a manager can legally fire you because he doesn't like your hairstyle or your attitude.
With just cause laws, which require a due process for terminations, "the U.S. would just be catching up with the rest of the world," said Paul Sonn of the National Employment Law Project. "In many Canadian provinces, the U.K., Mexico, Colombia, there are systems where you need to be given a good reason and advance notice, and typically guaranteed severance pay."
In surveys conducted by NELP, two-thirds of Americans think there should be similar laws protecting workers.
Un-fired by Direct Action
There is a faster way to get your job back, and if you and your co-workers are organized enough, you can do it. After dozens of workers at three Via 313 pizzerias in Austin, Texas, came down with Covid in January of 2022, 43 workers signed a petition requesting sick pay and stricter Covid safety. Seven of them then presented it to management.
One member of the delegation, Henry Epperson, had to forgo two weeks of pay when he had Covid. The day after the petition was presented, he said, an upper-level manager showed up at work and pointed out workers who had been in the meeting. Five of the seven were suspended. "They claimed we were being hostile to the person we delivered the petition to," said Epperson.
The workers quickly spread the word and held a demonstration which got substantial press coverage. They gave the press their audio recording of the meeting which "tarnished the company's claim that we were being aggressive," Epperson said.
Customers informally boycotted the stores, and flooded the company's social media channels with criticism. The publicity caused the stores to walk back the suspensions within a week and provide back pay.
Months later, the workers went public with a union organizing drive, and won an election in one of the stores with the independent Restaurant Workers United.
(For another inspiring example, see this article by Amazon air hub worker Sara Fee on how she was reinstated after her co-workers raised a ruckus, including wearing stickers saying "Where is Sara?")
If properly enforced, just cause protections would give all workers more security to stand up to dangerous working conditions, sexual harassment, bullying, speed-up, and wage theft.
But the New York City law indicates it could help workers who want a union, too. "It's helpful," said Locke. "You need to use every sort of avenue you can to fight these companies."
Locke was fired for falsely reporting workplace violence and for missing part of a multipart Covid screening protocol. Video vindicated him on the first charge and the second had been breached regularly with no repercussions except in his case.
The complaint process was simple. He said he filed paperwork and the city did the rest. Starbucks eventually settled, but not before trying to place Locke at another store. He refused. An NLRB case challenging his firing was dropped as part of the settlement.
A FIRING STRATEGY
Starbucks management has fired 200 workers in the course of an organizing wave that started in Buffalo, New York, in December 2021. So far workers have filed for union recognition in 360 stores and won in 285.
Starbucks didn't start firing workers right away, according to Casey Moore, a Buffalo barista who now works for Workers United, the division of the Service Employees (SEIU) backing the campaign.
But three months into the union wave, she said, corporate managers realized, "'Oh, crap, we have a big problem here,' and they did some calculus where they said, 'Well, we're going to fire these workers. We might face legal repercussions, but those aren't as bad as the benefit from scaring workers.'"
On February 8, 2022 Starbucks managers in Memphis, Tennessee, called seven workers in to individual meetings and fired them all on various pretexts, one of which was that they had held a press conference in the store.
Beto Sanchez, one of the 7, said he was additionally told he was being fired for failing to wear a mask while off-duty—although the rule they cited only required masks while working.
The Memphis workers had gone public with their union drive three weeks earlier, on Martin Luther King Day. The firings were designed to halt the drive by removing the majority of the organizing committee.
But it didn't work. Although Starbucks hired a bunch of new people in, they still voted for the union, which won overwhelmingly.
"It backfired on them completely," said Sanchez, a shift manager. "Starbucks was hoping to use our firings as a way to squash the fire, to scare people from organizing, but instead it fired people up to organize even more."
Soon after the 7 were terminated, Sanchez said, they saw photos of workers in faraway stores marching on the boss or walking out on strike holding "Reinstate the Memphis 7" signs.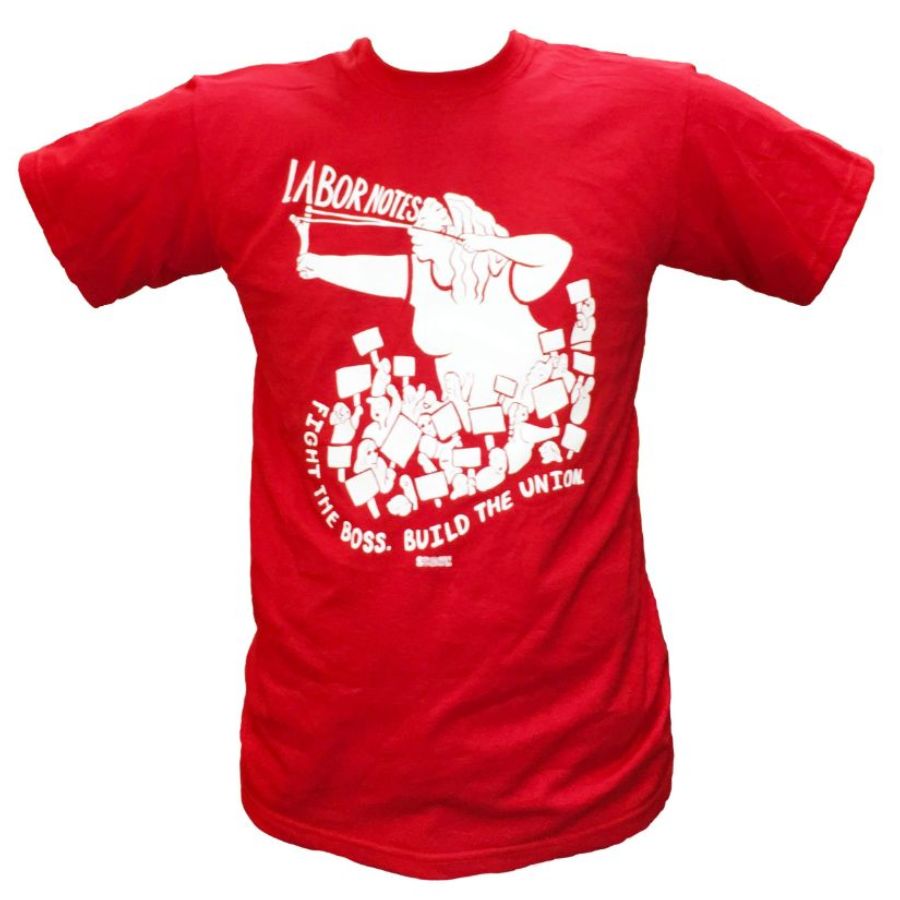 Other firings took place after union votes, whether the union won or not. Victoria Conklin, a shift supervisor at the East Robinson store in Buffalo, was fired on June 22, a week after her store voted to unionize. She led a walkout one morning when six co-workers called out due to Covid. At first her manager had allowed them to close the store, but then he backtracked and required them to fill mobile orders.
Managers claimed Conklin was fired for being 30 minutes late, once, weeks earlier. She was late, she said, because she was exhausted from working too many early shifts and clopenings (closing at night and then opening in the morning). She had repeatedly asked for a different schedule and been denied.
Conklin expects an NLRB hearing in mid-April, nine months after her firing. The delays are because Starbucks is "fighting us every step of the way," Moore said.
ONE MILE OUT
Joselyn Chuquillanqui is still waiting for justice, too. She was fired July 27, three weeks after Locke, because she was a leader in the organizing effort at her Starbucks store in Great Neck, just outside New York City. "Even one more mile in, I would have had just cause to protect me," she noted.
The whole Great Neck store signed union cards and they went public in February 2022. But after management conducted a ferocious anti-union campaign, the union lost by one vote. After that, "I had known [my manager] was trying to fire me and was just waiting for an opportunity," Chuquillanqui said. She was eventually fired for losing her key (she reported it and followed protocol) and for being a few minutes late.
The NLRB process is cumbersome and only works if workers can prove they were fired for taking collective action. It also depends on judges who may identify with management. And unlike the New York City law, there is no provision for punitive damages against outlaw employers, only back pay.
Starbucks also regularly opposes fired workers' unemployment claims. Chuquillanqui had to fight to get her unemployment checks. "Starbucks tried to appeal twice," she said. "They were just trying to run me dry with my resources." She finally won her claim.
Conklin appealed a negative unemployment decision and eventually won, too. But Sanchez said Starbucks blocked the Memphis 7 from receiving unemployment compensation.
ORIGINS IN FIGHT FOR $15
The Just Cause law in New York was championed by SEIU and followed logically from the Fight for $15. Fast food companies in New York City are now required to pay $15 an hour, but they still inflict unstable schedules on their workers, negating the benefits of higher pay.
To curb abuses, SEIU mega-local 32BJ worked with fast food workers to pass a city Fair Workweek Law in 2017, which requires two weeks' advance notice of schedule changes and premium pay when there are violations. Similar laws are in force in San Francisco and Seattle.
Fair Workweek posters are required in every fast food joint. Locke said his managers "hoped nobody reads the poster." He pointed it out to co-workers, but even with the premium pay schedule listed in black and white, it was another matter to get management to pay up.
Some Unions Don't Like It
"Just cause" is a feature of most union contracts, but if you don't have a contract, U.S. law allows your employer to fire you without reason or warning.
Precisely because union contracts are the only way most workers gain job security, some unions are unwilling to support just cause laws. "It's considered a selling point in a union contract, and a law would undermine what we're selling," said Rand Wilson. The unions leaders "see themselves as insurance salesmen."
But as with health care, it turns out that failing to extend what unions have won to the non-union workforce doesn't help people join unions so much as it lowers standards for everyone and makes it harder for unions to hold onto what they've won. According to retired union lawyer Robert Schwartz, employers are increasingly attacking the basic job security protections in contracts.
On top of that, the "union difference" increases incentives for employers to keep unions out at all costs.
In New York, 32BJ was the main local campaigning for just cause in fast food. Some other unions looked askance, said people involved in the campaign. The Illinois Employee Security Act has received support from SEIU, the Chicago Teachers Union, Cook County College Teachers, Transit (ATU) Local 308, and the United Electrical Workers (UE).
Besides 32BJ, the proposed Secure Jobs Act in New York City has garnered support from the Communications Workers, Teamsters Local 804, and Auto Workers Region 9A, as well as worker centers and immigrants rights groups. The campaign officially launched January 23.
The city's Democratic Socialists of America chapter is currently canvassing door to door for the Secure Jobs Act.
The money is significant. For example, the law provides $45 if you are given less than a week's notice of reduced hours. There's a $100 premium for clopening, and you can refuse the shift. In September, Chipotle agreed to pay $20 million to 13,000 New York City Chipotle workers for workweek violations under the law. The workers at the chain are organizing with help from 32BJ.
The fast food Just Cause law passed in 2021 was intended to give workers some backup when they demanded their scheduling rights and premium pay. The bill also provides penalties for involuntary cuts in hours—a loophole in the Fair Workweek statute.
The Just Cause law says that after you have passed your 30-day probationary period, you can only be fired after you get warnings, an opportunity to improve, and retraining. (There are exceptions in cases where a worker endangers co-workers or the public.) And if your firing was unjust, you can be reinstated with back pay.
"Reinstatement is the key to making these laws useful in organizing," said Rand Wilson, a longtime just cause advocate who currently works for Teamsters for a Democratic Union.
Montana is the one U.S. state with a just-cause law. Wrongly fired workers there can win up to four years of back pay and recover legal fees, but they "never had reinstatement, so their just cause is not so great," Wilson said. "If you can march somebody back into work after they've been fired, they will feel a lot different about the union."
POWER OF REINSTATEMENT
That power was on display when the Memphis 7 won reinstatement in September. Starbucks' actions were so egregious that the NRLB asked a judge to order them hired back while other aspects of the case continued through the courts.
"It's pleasant to know they're taking it seriously, and not listening to Starbucks' whining," Sanchez said. Their back pay case is still pending.
When they got reinstated, Sanchez said, there was an uptick in filings at other stores, "because people saw, hey, these people got their jobs back."
Sanchez noted that the NLRB is understaffed, just like Starbucks stores, and that has led to delays. Still, the cases grind forward. "We're getting them little by little. Each of them have their court dates. We're just very ready for them to all get their jobs back."
In Buffalo, Conklin said if her NLRB decision is favorable and she is offered reinstatement, "I would definitely go back. I want to look them in the eyes: I'm not leaving, and there's nothing you can do about it."