Buffalo Baristas Touch Off a Starbucks Organizing Wave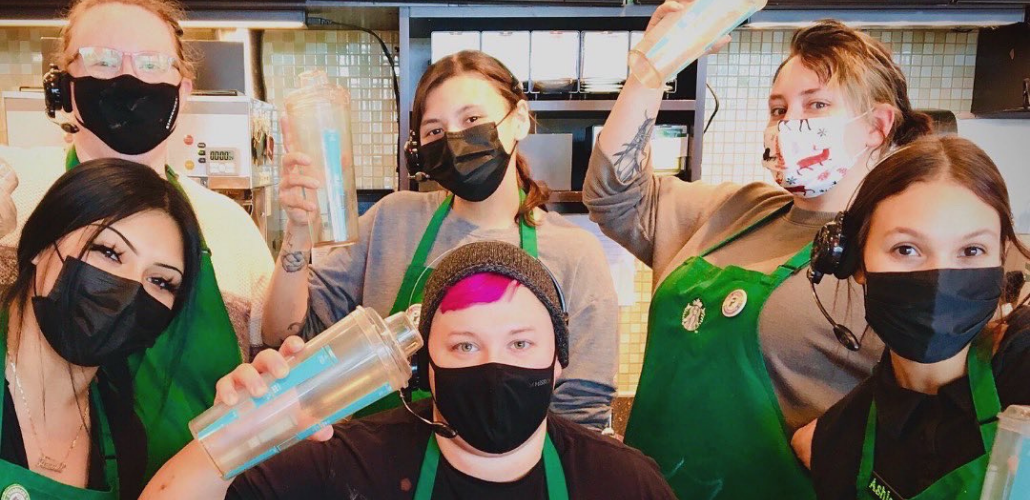 Twenty-year-old Starbucks shift supervisor Gianna Reeve is a firebrand who doesn't hesitate to speak up for the co-workers she loves. So when former CEO Howard Schultz came to Buffalo to give an anti-union spiel, Reeve stepped up to confront him.
Workers were in a hotel ballroom to hear him. "Wouldn't it be crazy if someone asked Howard Schultz to sign these after he speaks?" suggested fellow organizer Casey Moore, with a copy of the neutrality principles that Starbucks Workers United (SWU) was asking corporate to sign.
Reeve took the paper and grabbed a seat in the front row. She waited respectfully through the billionaire's hour-long talk as he discussed "the crisis of capitalism" and compared Starbucks' company culture to Holocaust victims sharing a blanket in an extermination camp.
Then she locked eyes with a co-worker who gave her a little nod: "Do it."
So Reeve spoke up, introducing herself as an organizing committee member who cared about the company just like he did. "The strength we have is our strength with each other," she said.
Several executives, including Starbucks' North America chief Rossann Williams, surrounded her and tried to interrupt—one even grabbed her—but Reeve danced around them. "How many of us are wearing Workers United pins right now?" she called out. "Please let partners speak. I have not had equal time." She left to cries of "Thank you, Gianna!" and cheers.
YOUNG AND FIRED UP
There are many stories like hers behind SWU's effort to unionize 97 stores—and counting—into Workers United, a Service Employees (SEIU) affiliate. The coffee chain has nearly 9,000 company-run locations in the U.S., with 235,000 employees, and a long history of union-busting.
The workers leading these organizing drives across the U.S. are largely shift supervisors (whose job is to coordinate the day-to-day running of a store) in their 20s. Much of the workforce is that age too, and many workers are LGBTQ+, according to organizers.
Joselyn Chuquillanqui, a shift supervisor in Great Neck, New York, is typical among organizers in how much she loves her co-workers ("partners" in company parlance).
"Some of these people are my best friends, and I do truly care about everyone," she said. That's why it frustrates her when the company treats her and her co-workers poorly, like when it makes them come to work in the middle of a blizzard.
SWU members generally say they want to hold the chain to its stated values. "If Starbucks was really about all the things that they say they're about, Starbucks would be a really, really incredible place to work," said Aimes Shunk, who works at the Starbucks Reserve Roastery in New York City's meatpacking district.
The upscale Reserve Roasteries are Schultz's pet project; the one he frequents in Seattle has also filed to unionize.
LIST OF GRIEVANCES
I spoke with members of SWU's network in Long Island, New York City, Pittsburgh, central New Jersey, Buffalo, Ann Arbor, and Minneapolis.
A long list of common issues emerged: poor training, unsafe Covid protocols and other safety concerns, short staffing, reduced hours, pay discrepancies, inconsistently applied policies, arbitrary authority, unlivable wages—and now union-busting.
Starbucks made $4 billion in profits last fiscal year.
Another concern: racism at a company that brands itself as woke. Starbucks has repeatedly faced accusations of racism ranging from its role in fostering gentrification to an incident in which two Black Philadelphians were arrested while waiting for a friend, having not ordered anything.
SWU organizers say too few workers of color still get hired to higher positions or promoted. The company also initially banned Black Lives Matter buttons after the George Floyd murder.
And in February, Starbucks fired seven workers who were organizing their store in Memphis—supposedly for breaking rules that are seldom enforced, like not going behind the counter while off-shift. SWU members across the country have been highlighting their case and brainstorming solidarity tactics.
ROOTS IN BUFFALO
The union drive has its roots in upstate New York, where Workers United had been organizing local coffee shops like Ithaca's Gimme Coffee in 2017 and the Buffalo-based chain SPoT Coffee in 2019.
Those successes made unionization seem possible. Since baristas often pick up shifts at or move on to other stores, including at other chains, they have more of an industrial community than many other sectors do. And some had prior connections with Workers United staff that helped generate this campaign.
Buffalo Starbucks workers, including several who had helped organize SPoT Coffee, started talking about organizing early in 2020. They reached out to Workers United and gradually formed a committee of about 50 workers from almost all of the 20 stores in the area.
The union has been a bulwark of support. "So many times in union-busting tactics, they say 'They're here for your money,'" Reeve said, but she felt that Workers United had "nothing but [the] best interests in mind" of Buffalo Starbucks workers.
BARRAGE OF PRESSURE
After the first three stores filed for election last August, Starbucks brought down the union-busting hammer. Executives began to appear in the stores.
"[It] started off very simple—corporate coming in and asking 'What can we do for you?'" said Rachel Cohen, a shift supervisor whose store is part of a second Buffalo batch that filed in December.
"Within a week, there was an absolute onslaught of corporate people," Reeve said.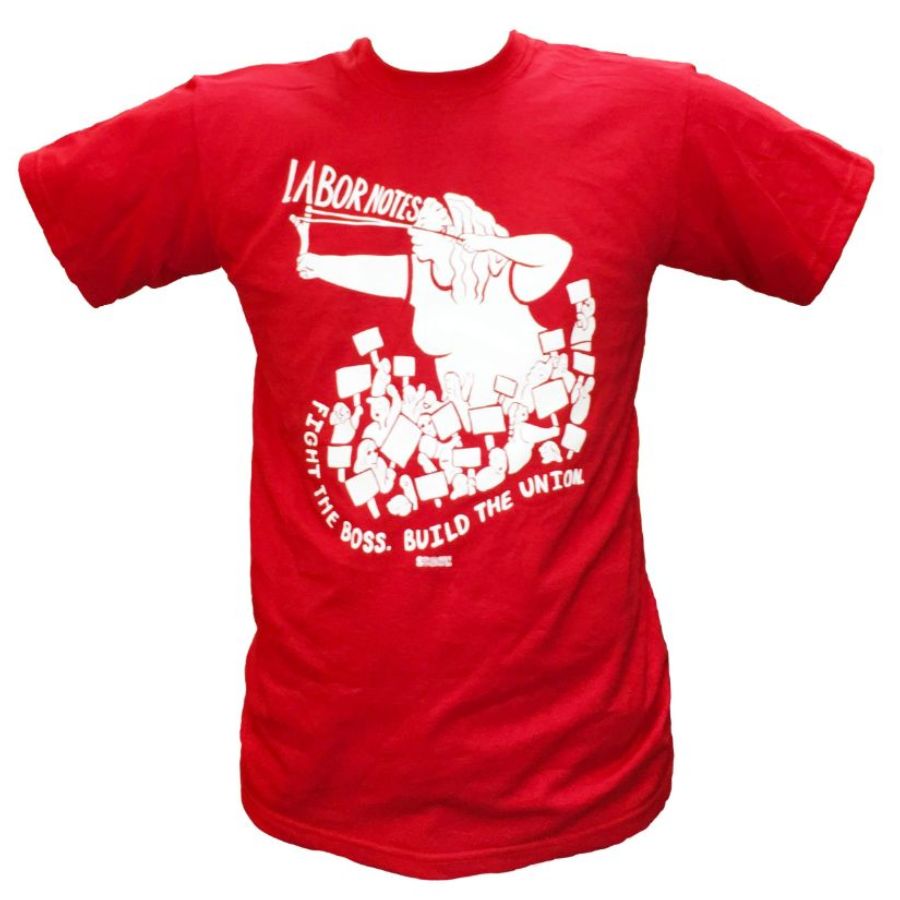 Williams, the executive for North America, hunkered down in Buffalo for months; so did others from the Seattle headquarters. Hundreds of managers were flown in from around the country—four or five of them to a store with 20-40 workers.
Managers all the way up to Williams would pull workers perceived as potentially vulnerable to anti-union talk off the floor for one-on-one or two-on-one brainwashing sessions. "Most of their tactics are purely psychological," said Reeve. "They'll bring in people that are sweeter than pie, trying to fix grievances, trying to sow divisions."
Managers would also put on the headsets that workers normally used to communicate—doing surveillance and interrupting the camaraderie.
Store managers spread misinformation and gave conflicting instructions. Some workers were told their health care could be taken away.
'LISTENING SESSIONS'
Starbucks began closing stores early so that management could conduct hours-long "listening sessions" with groups of workers, though sometimes these captive-audience meetings backfired.
"We had so many shift supervisors and baristas baring their souls in those meetings and just getting no help," Cohen said. "I definitely feel like corporate's lack of empathy and understanding drove partners to recognize that partners need to trust other partners."
Some anti-union messages rang hollow, like when an executive told workers they should be grateful for a Spotify Premium benefit.
Starbucks also tried standard anti-union tactics like contesting the choice of bargaining unit (arguing that it should be a whole district rather than an individual store, a gambit the company lost in Buffalo but is trying again at other stores around the country) and hiring or transferring workers to stores that were attempting to unionize.
Cohen's store had slightly under 30 workers at the end of last summer when they started signing cards; because of newly hired or transferred staff, 47 were eligible to vote in the election.
WIN INSPIRES COPYCATS
Ballots were counted December 9 for the first three Buffalo stores. Workers won outright at the Elmwood location—making it the only unionized company-operated Starbucks in the U.S.
Workers ultimately won at a second store too, after challenged ballots were resolved in January. At the third store, Reeve and her co-workers lost.
A fourth NLRB vote count at a Mesa, Arizona, location was scheduled for February 17—but it was delayed when the ballots were impounded as a results of Starbucks' legal tactics.
That first win, though, kicked off a groundswell around the country. "After Buffalo won, I walked into the break room," said Shunk in New York City, and "every single person was talking about how 'If they can do it, we can do it!'"
"We were like, 'We gotta get on this for sure,'" said Emily Mahoney, a shift supervisor in Minneapolis.
By December 9, only seven stores in total had filed for election since the campaign started, with only one outside Buffalo. Within four days, another two locations, in Boston, had filed. By January 21, the wave had reached 33 stores in 14 states.
It kept going up; 23 stores filed to unionize during the six days I spent reporting this article in mid-February. Today, a total of 97 locations in 26 states have filed to unionize, with new petitions being announced every day. (Update: within hours of this story being posted, Labor Notes learned the number of unionizing stores was up to 100. —Editors)
A SPREADING WAVE
Those just getting started are learning from their peers who are farther along. The core SWU group in Buffalo is flooded with requests from workers around the country for organizing help.
Sara Mughal, a shift supervisor at a store near Princeton, New Jersey, said her committee got organizing tips from Buffalo and advice from Chicago on how to resist the "listening sessions". She in turn is now assisting workers at other nearby stores, referred to her by the Buffalo crew and by Workers United.
Back at the newly unionized Elmwood store, six workers walked out January 5 on their first strike over Covid safety concerns as the omicron wave raged.
Within two weeks, Starbucks had changed its national policy to grant vaccinated workers a paid quarantine after exposure to a positive Covid case—"which was our primary demand," striker Jaz Brisack said.
The Elmwood workers have begun bargaining with Starbucks for their first contract. Brisack reported that during negotiations, the Starbucks corporate lawyer turned to Workers United's elected leader in upstate New York, Gary Bonadonna and said he assumed that the staffer could make decisions for the workers.
Bonadonna declined, and referred him to the workers' committee for answers. That says something about the nature of the collaboration between Workers United and SWU's rank-and-file led wave.
Update 2/18: this article has been corrected to reflect that Starbucks provides Spotify Premium to workers for free.
Update 2/19: a previous version of this article referred to Gary Bonadonna as a staffperson at Workers United; he is the elected leader of Workers United Upstate NY.
To support Starbucks Workers United, visit tinyurl.com/StarbucksSolidarity and follow them on Twitter at @SBWorkersUnited