Workers Shine a Spotlight on Employer Abuses in Music City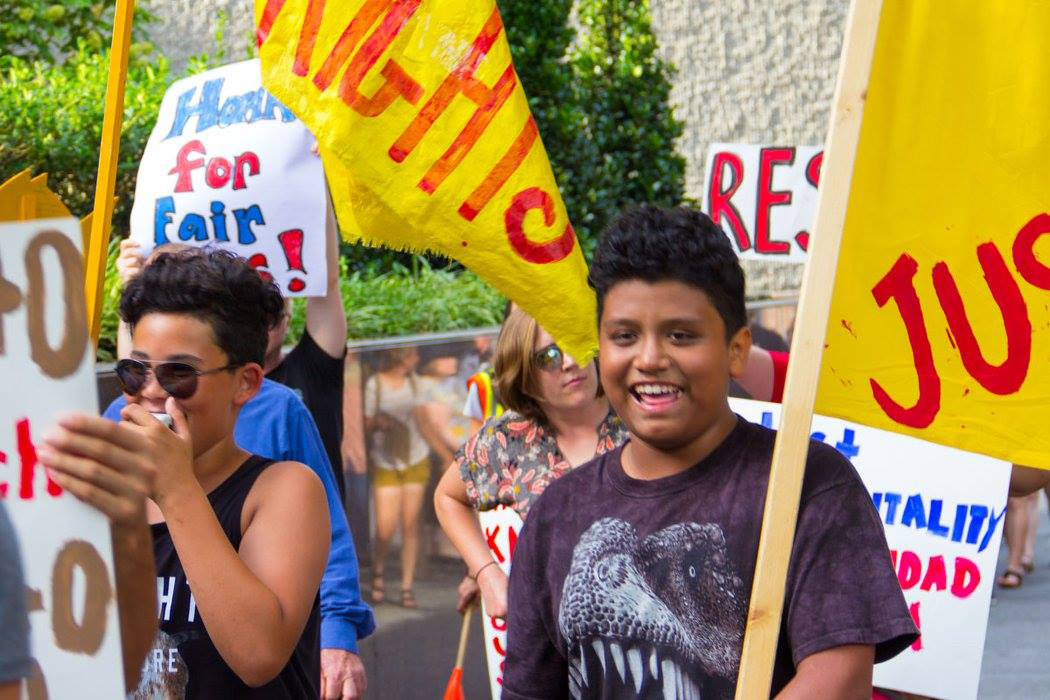 Marches by immigrant workers are not an everyday sight in Nashville, Tennessee. But 50 hotel workers and supporters took to the streets June 20 to make visible the conditions facing low-wage workers in this city.
With the support of the worker center Workers' Dignity, they marched through downtown and led delegations to management at six prominent hotels, handing in petitions calling on the hotels to adopt a Cleaning Workers' Bill of Rights.
"This is the first time we've done something like this," said Gerson Méndez, a leader in Workers' Dignity who has worked for multiple Nashville hotels doing housekeeping, laundry, and dishwashing. "But it won't be the last action if we don't get any responses."
Organizer Training in Nashville
Join Workers' Dignity members and other Nashville activists on Sunday, July 16, at 9:30 a.m. for an all-day, hands-on training based on the Labor Notes book Secrets of a Successful Organizer. This training is being offered in English and Spanish with simultaneous translation.
Learn proven strategies to identify leaders, develop a winning plan, and build your union or worksite organization in a right-to-work environment.
Space is limited. To sign up, email Chris at chris[at]labornotes[dot]org.
Not in Nashville? Other upcoming Tennessee trainings will be held in Memphis July 13 and Knoxville July 19. Or contact us to set up a Secrets of a Successful Organizer training for your union or worker center!
The city is undergoing a hotel boom, Méndez says, but hospitality workers—mainly Latinos and African Americans, along with some Arabic-speaking workers—are not seeing the benefits.
"We know many hotels are receiving millions of dollars [in subsidies] from the city government," he said. "But they are paying us miserable wages, sometimes even $7 an hour, and that's not enough to provide for our families." Tennessee does not have a state minimum wage, and preempts cities and counties from passing their own, so the federal minimum wage of $7.25 is in effect.
In a 2016 report, "Hotels Shouldn't Hurt," workers documented concerns over high rates of injuries of the job, discriminatory treatment, and systemic wage theft.
"People get in trouble if they have to take off work because they are sick," says Méndez. "Other times they'll say you need a doctor's note, but a lot of times it's hard for us to go to the doctor, because many of us don't have health insurance."
He himself was fired from one hotel job after he was sick one day.
BEATING WAGE THEFT
In contrast to many other cities, Nashville doesn't have a single unionized hotel.
Many hotels staff their cleaning jobs through temp agencies. "We've even heard stories of agencies threatening workers that if they go to the authorities to speak about accidents at work, the agencies will make it impossible for them to get work with an agency again," says Méndez.
Workers' Dignity was formed in 2010 and almost immediately began hearing from hospitality workers eager to organize. Its first campaign, against the Best Western Music Row and the Comfort Inn Downtown, helped seven workers win back $73,000 in unpaid wages and damages. The workers had been receiving wages as low as $3.63, and working 70-hour weeks without breaks.
Later that year, the center helped nine housekeepers who were cleaning for a DoubleTree hotel to organize a public campaign for back wages. Their paychecks from a subcontracted cleaning agency had been bouncing.
After a 100-person march outside the DoubleTree, the women won $13,000 in unpaid wages. They also forced the hotel to raise wages and benefits for 30 other workers.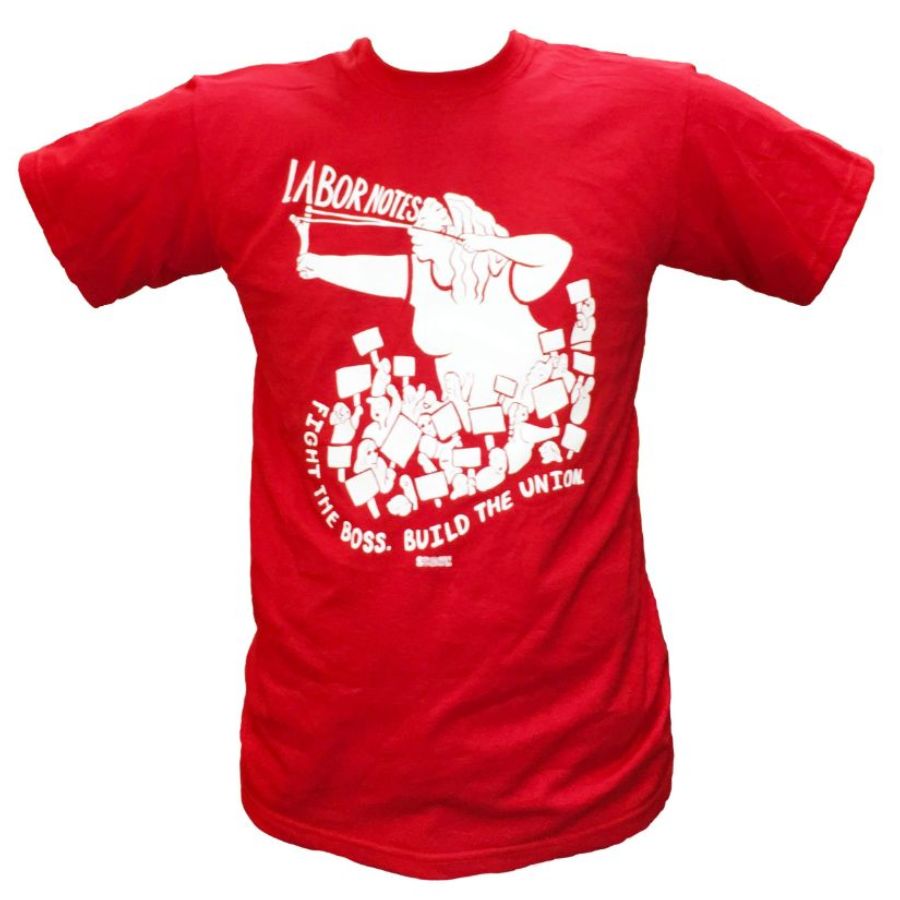 Workers' Dignity has since led campaigns at a handful of other Nashville hotels, backing up workplace direct action with community support. Its leadership training program helps hospitality workers learn how to map their workplaces, identify leaders, and organize action campaigns on workplace issues.
In the last year, eight different groups of hotel workers have successfully negotiated with their employers for wage increases or reduced room counts.
But the center is also developing strategies where members make demands of the hotel industry as a whole, with support from community allies.
"Before, these things were happening behind closed doors," says Méndez. "We want to make them visible, so that people know you are spending a lot of money for one night, but the workers are being paid very little."
In 2013 Workers' Dignity launched its Just Hospitality Campaign. An assembly of hospitality workers drafted the Cleaning Workers' Bill of Rights, which calls on Nashville hotels to pay a $15 minimum wage and provide paid sick and vacation days, health care benefits, seniority rights, health and safety protections and training, and protection against sexual harassment and discrimination.
It's part of a wider strategy to improve standards for low-wage jobs in the city, especially for projects receiving public subsidies or funding.
WILDCAT STRIKE
While the hospitality workers' march had been planned for months, Workers' Dignity often has to respond to organizing leads at a moment's notice. That's what happened when a group of construction workers approached the center in June.
They had been doing stucco work on a high-end apartment complex in a rapidly gentrifying Nashville neighborhood for three weeks and had yet to see a single paycheck.
"One day they would say, 'Monday we'll pay you,' then they would say Friday," says Mario Martínez, one of 65 people who had been working on the site. "Many workers pretty much had nothing to eat, so we decided, 'This is impossible.'"
Most of the workers had travelled from other Southern states to do the job. It's common for labor brokers to recruit workers from other states, says William Cardenas, a Laborers regional organizer. "They'll put together the labor force from around the country and act as a middleman for these other companies."
To show their collective strength, all the workers walked off the job on June 16. They returned to the job site the next day, but refused to work until they were paid.
"We were getting tired [of waiting]," says Martínez. "We said, 'We're not going to work. We're going to show them that we can stop.'"
Workers' Dignity planned a rally on two days' notice. Forty workers and supporters picketed outside the partially constructed building.
So far the company has only responded with more broken promises, but Martínez says workers were buoyed by the community support and their own action. Many have since had to move on to other job sites in other cities, but with support from Workers' Dignity and the Laborers they're exploring legal strategies to get their wages back.
'Nobody is going to keep working for fun," says Martínez. "In this country, with all the money, it can't be this way." He wants other workers to know they can come forward too: "If you are also a victim of companies like this, you have the same right to take action publicly and peacefully."
Quotes in this story have been translated from Spanish.