Volkswagen Workers Vote on Union, Works Council Scheme
A win for the United Auto Workers at Volkswagen looks likely this week, as 1,550 workers vote on union representation Wednesday through Friday. The UAW had previously gathered a majority of pro-union signatures and management has made its approval clear.
Last week at joint meetings of VW management and UAW leaders with workers, management said, in effect, "We want you to have a works council, the only way to have one is to have a union, and the only union you can vote for is the UAW." UAW Regional Director Gary Casteel then made a pitch.
But the vote takes place in a tense atmosphere in which Tennessee politicians, major media, and national anti-union groups are all urging a "no" vote. On Monday, State Senator Bo Watson of Chattanooga said a "yes" would lead the senate to turn down any additional subsidies to VW.
The National Right to Work Committee has helped anti-union workers to file charges trying unsuccessfully to block the vote, and the Center for Worker Freedom, a new project of right-wing gadfly Grover Norquist, has erected 13 billboards in the area.
Norquist's group is going further than simply claiming the UAW will destroy Volkswagen jobs as it supposedly destroyed Detroit. (One billboard shows a picturesquely crumbling Detroit plant that was shuttered 55 years ago.) The website calls attention to what it calls the union's liberal political stands, such as support for President Obama and for gun control. Obama won 39 percent of Tennessee's vote in 2012.
"UAW wants your guns," blares a headline. "As part of a larger strategy to change the political culture of the South, the UAW has already given large sums to politicians who favor strict gun control legislation, including in Tennessee and Alabama."
What's a Works Council?
It's not a "workers' council." The word "works" here means "factory" or "facility." In English we use the word in names like the Bath Iron Works, a big shipbuilding facility in Maine.
Works councils were established in Germany through a 1920 law, specifically as an alternative to the workers' councils that had sprung up in many factories after World War I. Workers attempted to take direct democratic control of the plants through the workers' councils, on their way to a revolution that would take over the government. That uprising was thwarted.
The works councils, then, were the German government's attempt at pacifying militant workers. There were mass demonstrations by workers who opposed the works councils law, charging it would hinder workers' independent organization. Forty-two were killed by police and a state of emergency was declared, but the law went into effect.
The works councils were abolished by the Nazis but reinstated after World War II under the military government of the United States and its allies.
ELECTED COUNCILS
Today, German works councils are elected by all non-management employees of an enterprise, blue-collar and white-collar. In an auto plant, the union, IG Metall, will put forward a slate of candidates, and most workers will vote for it. By law, the works council is independent of the union, but most members of the works council are union members, together with a few representatives of "confidential employees."
The council's explicit charge is to work for the interests of both workers and company. Members must keep "the peace in the establishment." They may not lead a strike. Their job is to find non-conflictual ways of dealing with new technologies, reorganization of jobs, and plant closings, and they bargain with management over these issues.
But worker representation is actually split into two parts. While the works council deals with shop floor issues, bargaining over wages is done at the industry level by the union, with, in the past, one standard wage pattern for an industry.
Since the 1980s, though, union standards have been weakened as works councils very often have accepted management's plans for lean production and permitted management to play off workers in different workplaces against each other.
Works councils' legal obligation to cooperate with the management of their own company was a solid foundation for such whipsawing, and works councils backed the opening of industry-wide contracts to allow company-specific concessions on wages and hours.
A WORKS COUNCIL AT GM
Wolfgang Schaumberg was a works council member in GM's Opel plant in Bochum, Germany, for 25 years. He was elected on a slate running in opposition to the official union slate.
He gives an example of how the works council worked alongside the union contract: The IG Metall national agreement of 1984 reduced the work week to 35 hours, to be achieved over the course of 11 years. How to set up the new time off was the task of the works council at each plant. In the Bochum plant in 1995, the majority of the works council, and GM management, wanted to keep working eight hours a day but take days off during the year. But opposition members on the works council organized a rank-and-file vote, which resulted in a work day of 7.5 hours, 37.5 a week, with the rest of the reduction in days off.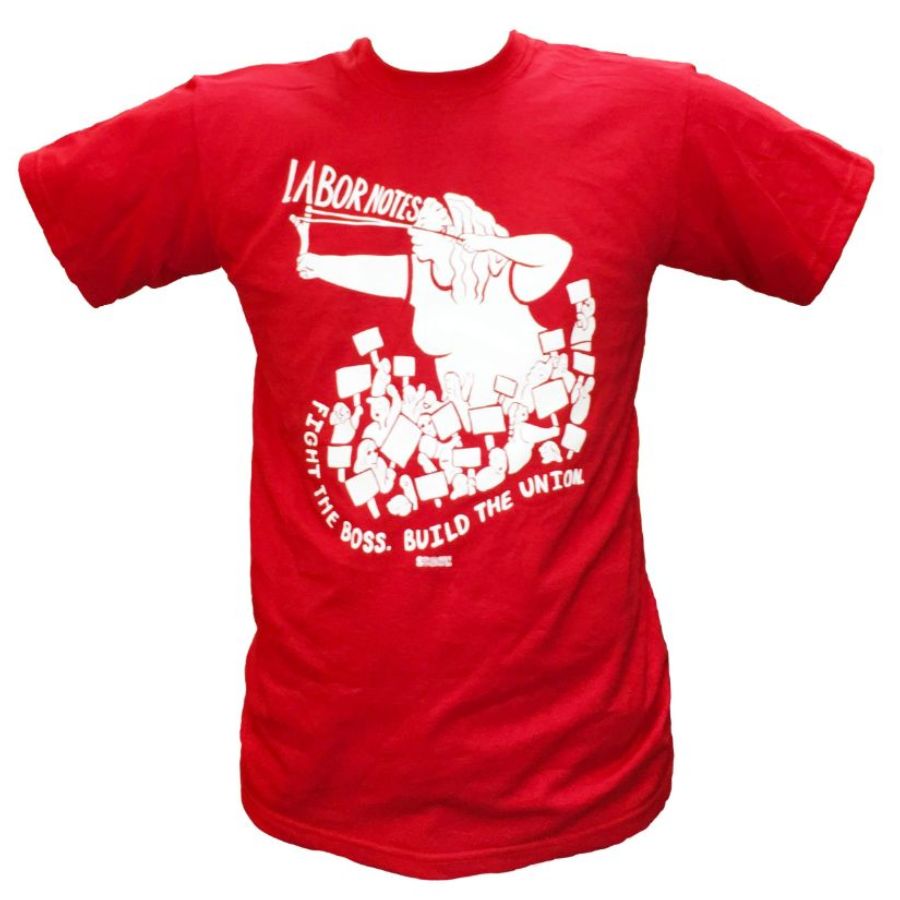 As head of the council's dismissals committee, it was Schaumberg's job to bargain with management to defend fired workers. His description of a typical day sounds much like that of a full-time shop floor union rep in the U.S.: meetings with management, talking with workers about what the works council can and cannot do.
While right-wing works council members made a priority of their charge to work for the good of the company, opposition members like Schaumberg would organize collective actions like coming together to the works council office to press their demands or grievances; "we often stayed in or in front of the office longer than the break time," he said.
Much like union shop floor reps, "it depends on their political position how works council members use their rights and their possibility to be free from work all the day," Schaumberg noted—and even a righteous member has to be careful not to get too cozy. "The job of works council members is dangerous: you get lots of privileges."
Both Norquist and the Wall Street Journal are angry about what they call management help for the UAW. Norquist's site complains:
"Sources tell the Center for Worker Freedom that United Auto Worker members are roaming at will through the halls of Volkswagen's Chattanooga plant this afternoon.
"The union troops are reportedly walking up and down the aisles wearing black shirts with the UAW logo emblazoned across them in a clear effort to intimidate the employees.
"The union has reportedly been given safety glasses by the company so that they can fully access the production lines."
Walking around in T-shirts, wearing safety glasses—this is a reign of terror?
Why Is Management On Board?
VW headquarters in Germany has acceded to the UAW because the company's Global Works Council, with representatives from factories around the world, has said U.S. workers should have a plant-level works council. At present the Tennessee factory is the only major VW plant without one.
Under German law, which requires works councils in many enterprises, a council's explicit charge is to work for the interests of both workers and company, finding non-conflictual ways of dealing with new technologies, reorganization of jobs, and plant closings. Works council members are elected by non-management employees and paid by management. (See box.)
But that job description goes against U.S. labor law, which says management may not "dominate" a labor organization nor "contribute financial or other support to it." A works council would be legally possible under U.S. law only if the workers involved also had their own independent representative: a union.
Ironically, the UAW's organizing tactics at VW call that independence into question, politically if not legally. The union has repeatedly stressed that its goal is a stronger company, with resulting job security. President Bob King says he wants "innovative labor-management relations that benefits the company, the entire workforce, shareholders and the community."
He consistently maintains that the union's combative past is behind it and now says the cooperative "works council model is in line with the UAW's successful partnerships with the domestic automakers and its vision of the 21st century union." Those partnerships led the UAW to become an early adopter of the two-tier wage model, at the Big Three in 2007, and to give up pensions for new hires in that contract.
Works Council 'Lite'
Pro-UAW workers at VW have said they want a works council in order to press the company to build a new SUV at their plant. They say that "voice" will aid them.
But any works council in Tennessee will be "lite"—it will not have the legal rights of works councils in Germany, where management is required to bargain with councils on some issues (not including wages, which, there and in the U.S., are the union's purview). Any works council structure VW management comes up with will be purely voluntary.
Around the world, workers' representation within VW's local works councils varies widely, from the big national metalworkers union IG Metall in Germany to the state-controlled union in China.
As to the SUV, VW says it will sell a mid-size SUV in the U.S. within two years, but won't say whether it will be built in the Tennessee plant or in its Mexican facility—which also has a works council. With a voice.