Making the Whole City Your Bargaining Committee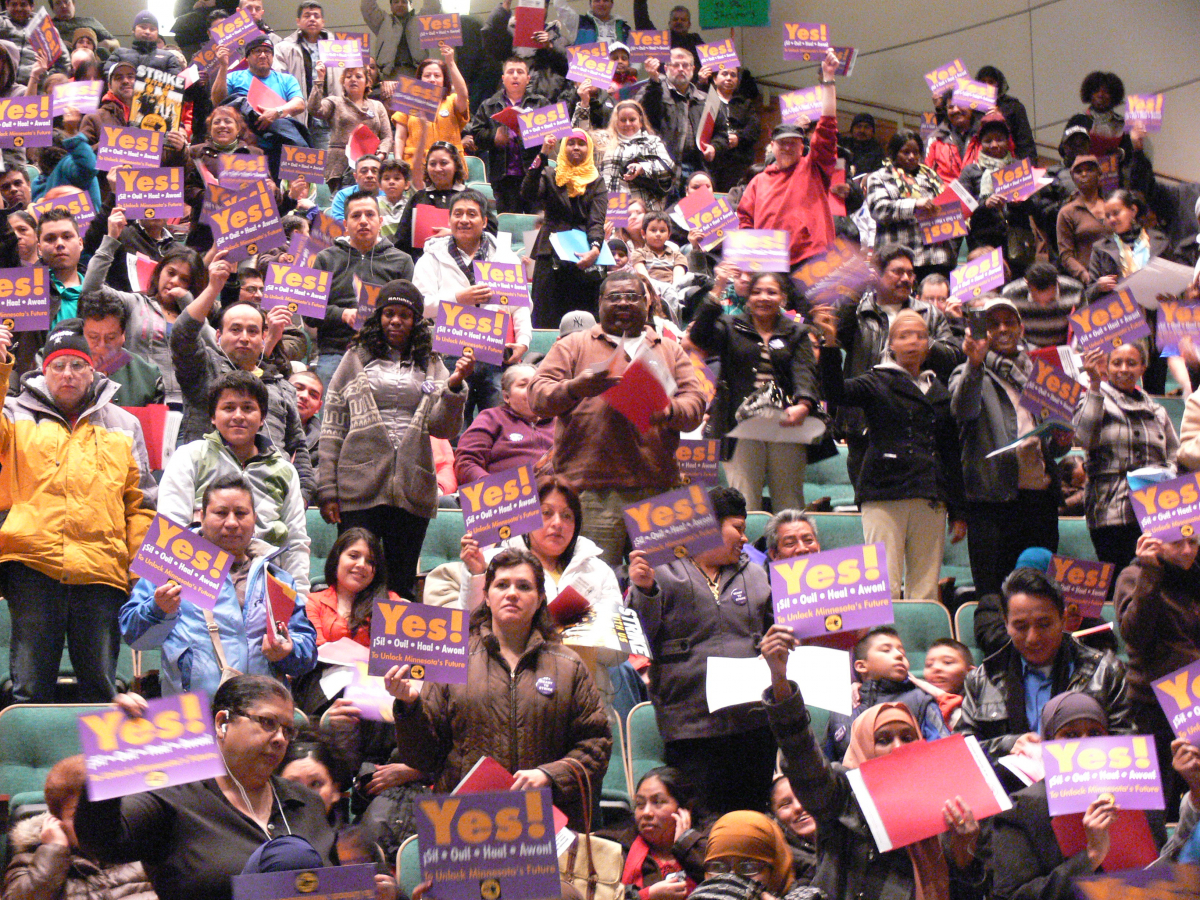 UPDATE, March 1: SEIU 26 security officers and janitors have reached tentative agreements that include wage increases, health insurance improvements, one additional sick day, and securing full-time jobs that the employers had threatened to make part-time, according to the union. Both groups will meet to ratify their three-year contracts March 2, at the close of the citywide week of action, which included a one-day strike by the security officers.
Fred Anthony II is in a unique position to observe the inequality in today's economy.
As a security officer at the Ecolab corporate headquarters in downtown St. Paul, he regularly rubs shoulders with CEO Douglas Baker, Jr.
"He seems like a good guy, and I know he appreciates the work I do," Anthony said.
"But he makes more than $10 million a year—that's nearly 400 times more than I make. Yet the [security] contractors are talking about the workers needing to make sacrifices."
Anthony's union, Service Employees Local 26, is bargaining a new, 6,000-worker contract with Twin Cities security and cleaning contractors. He spoke outside a business event where Baker was honored as "Executive of the Year."
This year the local is making its fight bigger than its own contract, joining with a host of organizations to tackle many kinds of inequality.
The union decided to create, in effect, "a much broader bargaining committee," explained Javier Morillo, president of SEIU Local 26, by "working with more people to bring the powerful to the table."
During a week of action called "Unlock Minnesota's Future," starting February 25, events on different days will take on foreclosures, discrimination in hiring, poor working conditions, even immigrants' inability to send money home.
And those actions, including a student strike, will coincide with a deadline for rolling unfair labor practice strikes set by janitors and security officers protesting their employers' failure to bargain in good faith.
The protests will train a spotlight on some of the Twin Cities' most important employers: Target, U.S. Bank, and Wells Fargo.
If all goes as planned, members of a wide range of partner organizations will show up to support each other—and the sheer number of actions will fuel public momentum for change.
NO STEPS BACKWARD
Union janitors and security officers had made progress in reducing inequality over the last 10 years. Now contractors demanding concessions are threatening to undermine all that.
In 2002, most janitors at downtown office buildings earned $8.40 an hour, worked part-time, and had no health insurance. Security officers averaged around $7.
After unionizing and striking twice, janitors today earn $13.42, and many work full-time with health insurance. Security officers, who pulled off an unprecedented one-day strike in 2007, saw their pay rise to match janitors'. Officers in suburban buildings organized in 2011 and are negotiating their first contract.
Employers want to turn back the clock, workers said, by eliminating most of the full-time jobs, freezing the pay of those remaining, and cutting part-time wages. Most would lose access to health insurance.
It's a familiar story for American workers. Less common is SEIU Local 26's approach: going beyond traditional bargaining and rallies to put forward a farsighted vision for working people—and attack corporate power on multiple fronts.
BRING THE POWERFUL TO THE TABLE
"Our problem as a union is that when we go into bargaining," Morillo said, Local 26 negotiators aren't "sitting across from those who truly hold power." They needed to look past the cleaning contractors to those who own the buildings and really control the local economy. And for that they needed allies.
The core of this movement is Minnesotans for a Fair Economy, an organization formed by SEIU in early 2011.
Morillo said MFE did not come together around one issue or piece of legislation. Its members share a concern about income inequality and corporate power in general.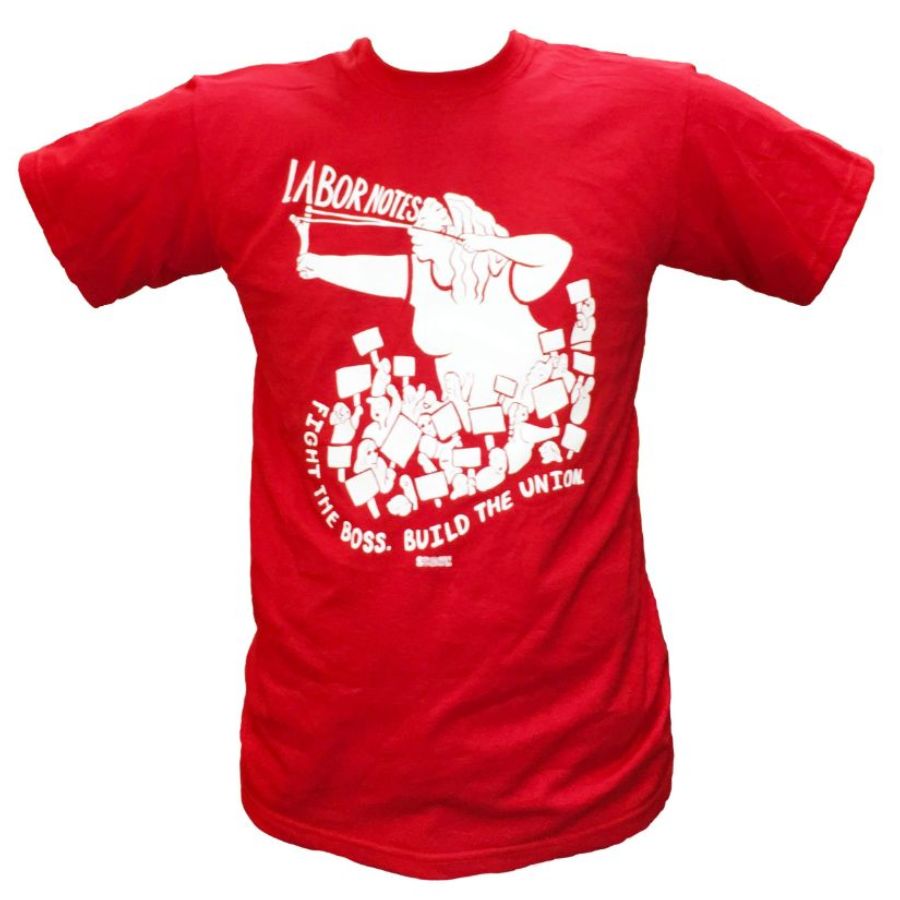 Partners include the United Food and Commercial Workers, community organizations, faith groups, and coalitions that work on legislation, such as Take Action Minnesota.
"The commitment was to align all of our existing campaigns under a shared analysis and shared resources," Morillo said, making the whole greater than the sum of its parts.
He cites the example of Neighborhoods Organizing for Change, a group working to close the achievement gap for low-income students in Minneapolis public schools.
MFE funded research that linked the foreclosure crisis—and subsequent decline in home ownership, property values, and tax revenues—with the loss of $150 million in funding for Minneapolis schools.
Neighborhoods Organizing for Change used the study to convince the school board to move $28 million out of Wells Fargo, because the bank was widely implicated in unlawful foreclosures, and put the money in community banks. Without MFE, the small nonprofit couldn't have funded such a study, Morillo noted.
One reason for this and other MFE victories, said Eric Fought, the group's communications director, is its decision to focus on key targets—notably Target Corp. and U.S. Bank, both headquartered in Minneapolis, and Wells Fargo, which has a big local presence.
These corporations own many of the buildings that the janitors and security officers clean and protect, they control the money for home mortgages and economic development, and they set the tone for hiring in the city.
SUMMIT FOR A FAIR ECONOMY
One of MFE's first events was a Summit for a Fair Economy where several hundred members of MFE participant groups analyzed the economic crisis.
MFE partners then put forth solutions such as the "Homeowner's Bill of Rights," which has been introduced at the Minnesota legislature. It would provide legal options for people facing foreclosure, including access to mediation and the right to pursue monetary damages when banks improperly service loans.
"We're not just raising awareness—we're working to find solutions," Fought said.
MFE also helped set up regular meetings with U.S. Bank to find a way for Twin Cities Somali immigrants to send money to loved ones in their native country.
MFE's work "creates trust among the organizations and also depends on trust," noted Morillo. Each group acts independently, but coordinates with the others.
MAJOR TEST
This approach will be tested as MFE organizations launch their most ambitious actions to date. The "Unlock Minnesota's Future" campaign week will unite an array of groups and issues and show the connections among them.
A day focusing on the foreclosure crisis will include a "people's hearing" on the Homeowner's Bill of Rights, a rally in support of a woman resisting foreclosure, and a protest at bank branches. Macalester College students plan a one-day strike to press their school to divest from Wells Fargo.
On another day, groups will protest Target's hiring policy regarding ex-felons, while workers who clean Target stores take action for safety and better working conditions. Somali businesses plan a one-hour shutdown to protest bank policies limiting money transfers.
And janitors and security officers will do their part to protest inequality: they've taken strike votes and could hit different buildings and employers with rolling walkouts. At each step, MFE will release research papers on key issues.
Such a complex plan is challenging, but Morillo said labor and its allies need to think big. He recalled that MFE was criticized, when it first formed, for its anti-corporate rhetoric.
"Then a few months later, Occupy happened," Morillo said, "and we didn't hear that criticism anymore."
Barb Kucera edits www.workdayminnesota.org, a website of worker news and resources based in Minneapolis.