Indiana Anti-Worker Bills Skid to a Halt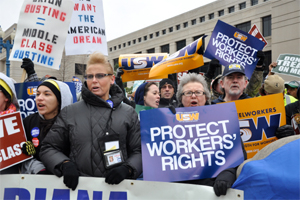 Hoosier unionists—bolstered by exiled Democratic members of the Indiana House—have brought a wagonload of anti-worker bills to a standstill. Crowds numbering from 1,000 to 10,000 have swarmed the Indianapolis statehouse every day for almost three weeks, leading Republicans to say they will shelve the right-to-work bill that started the tumult February 21.
"Even if we defeat right to work," said Sal Aguilar, assistant director of Steelworkers District 7, "we've gotta defeat the bill they've got against the teachers. Then there's a bill to hurt the trades." He said there's also a bill to prevent localities from setting higher minimum wages. "This is getting out of hand."
Some unionists thought dropping right to work was a ruse to tempt Democrats back to the state. If it was, the trick failed. The Democratic caucus, dug in at a hotel in Urbana, Illinois, is focused on blocking 11 bills under consideration.
Meanwhile, the protests have continued, with teachers, Steelworkers, state workers, laborers, food workers, Teamsters, electrical workers, bricklayers, and carpenters visible in the crowds, hanging banners in the rotunda and making music—so much the police restricted playing hours.
Recent events included a funeral procession for the middle class, and a mock trial of each proposed bill. After hearing the particulars, the crowd declared each one "guilty!"
ATTACKS TRADES, TEACHERS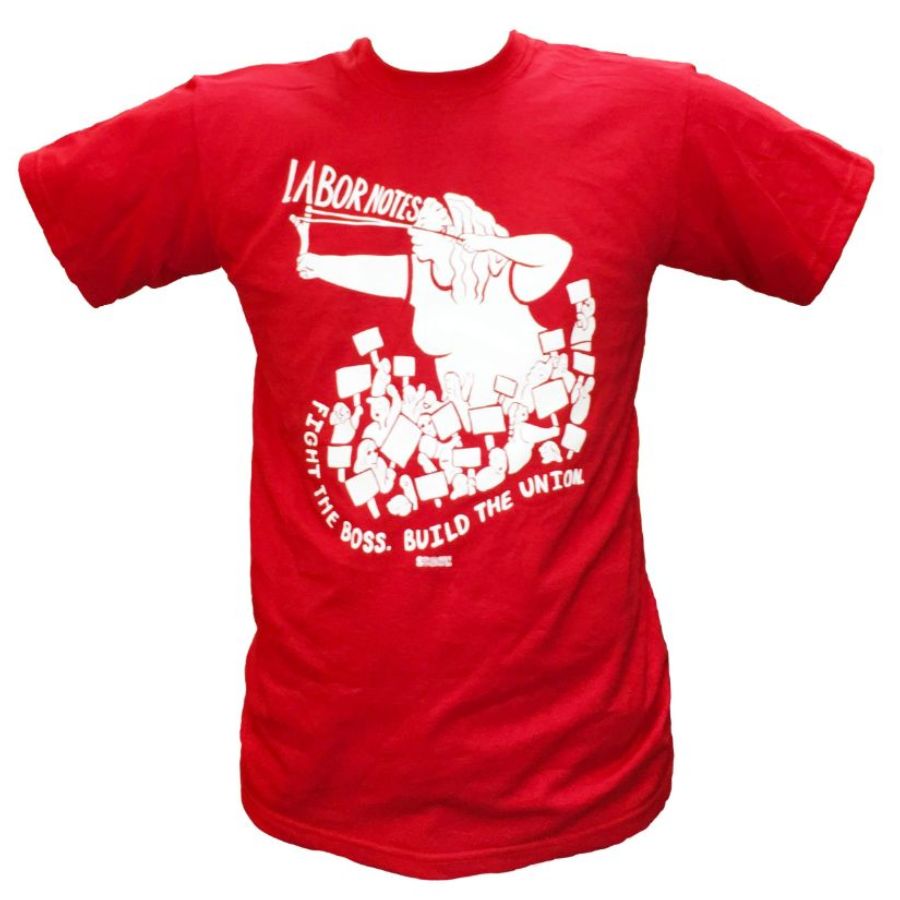 Particularly unpopular are bills pushed by Republican Governor Mitch Daniels to chop out wage floors and union protections in construction, and to channel public money to private schools through vouchers. Teachers would be prohibited from negotiating anything beyond pay and benefits and would lose due process in discipline and firings.
"Teachers' working conditions are a student's learning environment," said one sign.
Another bill would prevent future governors from negotiating with state worker unions, and would outlaw their strikes. State workers in Indiana have collective bargaining only if the governor approves. When Daniels took office in 2005, he cancelled all contracts.
Indiana's House requires a two-thirds quorum to move any bills, so Republicans can't dodge the Democratic walkout as they did in Wisconsin. The Indiana Democrats, who hold 40 seats out of 100, have some flexibility because not all of them need to be absent at any one time. Two are generally at the statehouse to make procedural motions, and one other has never joined his colleagues in Urbana.
After nearly three weeks of protests, 10,000 took time off work once again to gather in front of the Indianapolis state house on a blustery, icy March 10. The theme was the same as in Wisconsin: "Corporate forces are orchestrating attacks on people in state after state after state," Indiana AFL-CIO President Nancy Guyott told the crowd.