Hotel Workers Strike against Scab Staffing App and Anti-Black Racism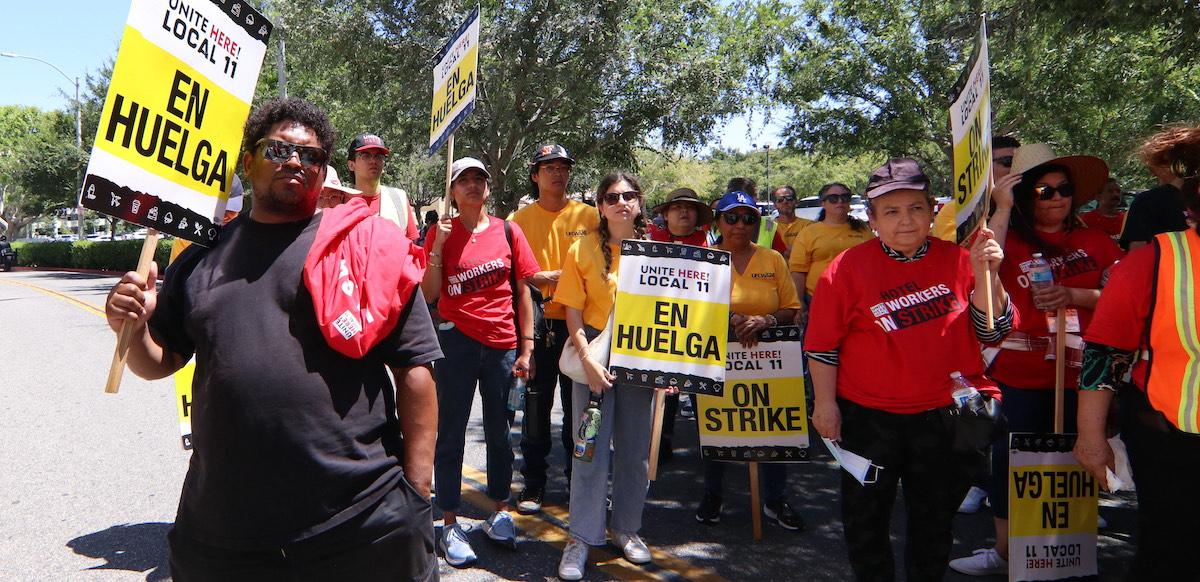 When Thomas Bradley showed up for his third shift at Laguna Cliffs Marriott Resort and Spa in Dana Point, California, on July 2 he encountered something new: a picket line.
The picket was part of a wave of strikes at Los Angeles-area hotels by members of UNITE HERE Local 11. Their contracts at 62 hotels expired June 30. The hotel workers' top demand is for pay that will allow them to secure housing in a market that is pricing them out.
Bradley, who had been a hotel union member years before, stopped to talk to the picketing workers and then joined them, exercising his right to strike under labor law.
But there was a problem. Bradley had been hired by the hotel through a temporary staffing app called Instawork. The app didn't have any mechanism to recognize that he was on strike, so it canceled his shifts not only at Laguna Cliffs, but also at other venues that were not on strike. He appealed, but the app mechanically rejected his appeal.
The union has identified at least six hotels using Instawork to hire scabs.
BLACK WORKERS NOT HIRED
Bradley is Black, as are several other workers the hotel hired during the strike using Instawork. "To use a platform like Instawork to use us as pawns, I think that was kind of messed up," Bradley said.
The striking workers, who are largely Latino, were also appalled once they learned about the app from Bradley. Their union has spent decades trying to get hotels to hire more Black workers, even putting into their contracts requirements that hotels recruit more Black workers.
Striking housekeeper Andrea Rodriguez summed up the situation: "This company brought in African American workers to break our strike, but once we came back in [3 days later] they let them go.
"We have open positions in housekeeping and they could have hired them permanently but they didn't," she said. "We didn't think it was fair."
STRIKE THE APP
To defend Bradley, who lost all his shifts, and to call out the discrimination against the other Black Instawork workers, Rodriguez and her co-workers decided to walk out again July 24.
The union filed unfair labor practice charges against the hotel's management company, Aimbridge. The union argues that because the app doesn't recognize Instawork workers' right to strike, the hotel is using an illegal management system.
The ULP also names Instawork and the Regents of the University of California, which owns Laguna Cliffs through a pension fund. Rooms there run from $800 to $2,000 a night.
Among other demands, the striking workers want the hotel to offer union jobs to the Instawork workers it dismissed—even though they crossed the picket line—and pay Bradley for the shifts the app cancelled because he went on strike. This time they stayed out for a week.
UNQUALIFIED?
Hotel managers have for decades claimed to the union that they can't find qualified Black workers. Local 11 Co-President Ada Briceño noted that although there were almost no Black workers employed at Laguna Cliffs, "all of a sudden they found seven Black workers for the strike.
"So [Bradley] is good enough to break the strike, but not good enough for them for health care, pension, for a sustainable job for himself and his loved ones," Briceño said.
Black workers were traditionally a large part of the Los Angeles hotel industry, but Local 11 reports that most of its Black membership now works in industrial food production and stadium jobs.
Instawork Got Instaworse
Los Angeles hotel worker Thomas Bradley has been using the temporary staffing app Instawork as his primary source of jobs. "It's attractive because of high base pay," he said, "and they also give you a chance to get a foot in the door, like most of these agencies."
But now, he said, "it's had so many updates that it's turned into a traditional job." The app now gives businesses more of an upper hand: "They can get rid of us anytime, no questions asked."
The app uses a rating system, but unlike Uber, where riders are doing the rating, in the case of Instawork, it's bosses rating you. Higher ratings give you access to more shifts and even pay premiums if you reach the highest level, the app claims.
Instawork workers trade stories and shifts in group chats using WhatsApp. According to the union's complaint, workers in one large chat discussed the hotel strikes and whether they had the right to refuse to work. Bradley's experience indicated to them that the app would illegally retaliate, deterring them from striking when other workers at a hotel walked out.
This violation of labor rights by automated management systems is the sort of situation NLRB General Counsel Jennifer Abruzzo addressed in a memo last year. She said that automated systems and surveillance can deter workers from exercising their rights—and if they do, the Board should presume that employers are in violation of the law.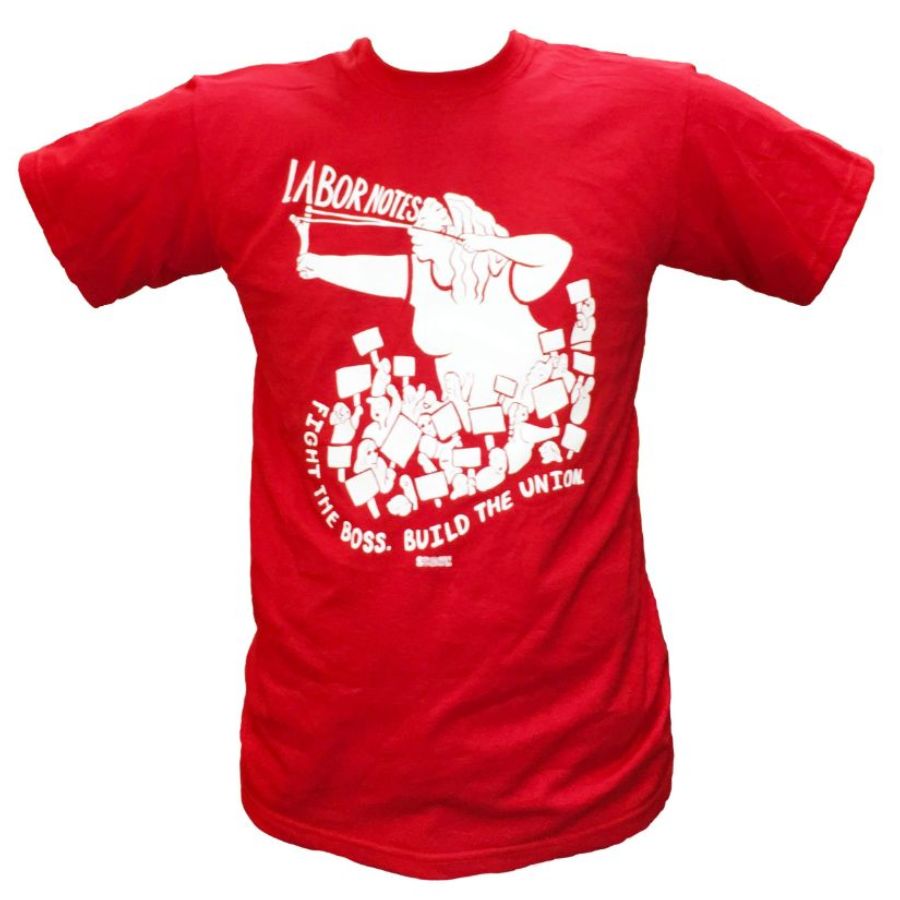 In the U.S. Senate, Bernie Sanders, Bob Fetterman and others have signed onto the "No Robot Bosses Act," introduced by Bob Casey of Pennsylvania. The bill would require a human to be involved in discipline and firing decisions.
At the very least, Instawork could inform workers of their right to strike and provide a way for them to indicate that they are exercising their rights (perhaps a big red "I'm on Strike!" button?) without penalizing them.
Instawork claims it has 277,000 workers in the Los Angeles area. This may be due to parasitical data practices. Local 11 Co-President Ada Briceño said that after she entered Bradley's phone number into her phone, she received a text, supposedly from him, suggesting she pick up shifts through Instawork. She knew it wasn't really from Bradley because they were together at the time, attending a California Board of Regents meeting about the Laguna Cliffs situation. "I just had to laugh," she said.
Bradley said he's been trying to get a permanent hotel job for more than a decade, and suggested that discrimination was the reason he was passed over. "I think I've proven myself, and it's still not enough," he said.
UNITE HERE has negotiated contract language to push hotels to hire Black workers, starting in Local 1 in Chicago in 2006, with similar language in contracts in Boston and Los Angeles.
"Often we're put against each other, right?" said Briceño. "So through all these years that we've been bargaining, we take the opportunity to educate our top leaders, folks that come to the negotiation, to understand the need to speak with one voice for the workers and the inclusion of Black workers."
The contracts say that the hotels and the union are required to work together to recruit Black workers; Local 11 also has a training fund with a priority on Black workers. The union trained over 600 Black workers for hotel work in the last year, Briceño said. The fund places workers in hotels where the union has affirmative action language committing hotels to hire them.
In the current negotiations, Briceño said, the union is proposing to standardize the best language about hiring Black workers to cover all 62 of the region's union hotel properties, with 15,000 members.
HOUSING CATASTROPHE
For Bradley, though, the worst was yet to come. He continued picking up hotel shifts until the strike wave hit the Anaheim Hilton, where he was scheduled to work. Again he joined the picket line.
This time, he tried writing to Instawork's help desk explaining why he wasn't coming in. He also informed hotel management. Despite these efforts, the app canceled all his upcoming shifts and suspended him, so he couldn't get any more work.
"I was looking forward to working those shifts, because I needed the money," he said. "My month was planned." But after the suspension his plans were "completely destroyed." He had been living in his car, but it was repossessed.
Bradley said living in his car made economic sense. The jobs he was getting from Instawork were so far away from where he lived that he was never at his apartment. He was traveling as far away as San Diego.
As housing costs have risen in Los Angeles, Bradley's housing situation is becoming more common, even for union hotel workers. In 2018, the union's bargaining surveys started to reflect that the housing crisis was hitting their members hard, making it their top concern.
The union surveyed members at one large hospitality employer and found that 1 in 10 had experienced homelessness in the last two years.
Rodriguez said her family of five lives in a small two-bedroom apartment that costs $2,300 a month for rent alone. "It's too expensive," she said in Spanish. "We can't make ends meet. My husband's a gardener, and it's not enough." She mentioned that they were in debt.
Housing prices are forcing workers to use apartments in shifts, or cram into the garages of family or friends, or move far inland to more affordable desert towns like Lancaster or Victorville, a two-hour drive. The commute is so long and expensive that some end up sleeping in their cars during the week, only seeing their families and homes on days off.
To deal with the rising costs, the union wants an immediate $5-an-hour wage hike and an additional $3 in each subsequent year of the contract. The hotel group's counteroffer is less than half that. Meanwhile the giant Westin Bonaventure in Los Angeles, with 600 union hotel workers, settled before the contract expired.
The union is also pushing the hotels to support a ballot measure to stop hotel construction from displacing workers, and to use public funds to house homeless people in vacant hotel rooms. Last year voters in the city of Los Angeles approved a 4 percent tax on properties that sell for over $5 million. The money, around $900 million annually, will go to affordable housing.
Bradley's suspension from Instawork mysteriously ended after reporters called the company. In late July, he was able to find a regular job at a union hotel. He has gone through orientation there, and is currently a probationary employee. But he cautioned that this doesn't mean discrimination isn't real. "It still exists," he said.
"I'm pointing fingers at the gig economy, I'm pointing fingers at their hiring practices, and I'm also pointing fingers at their policies—their policies need to change."