Los Deliveristas Speak: How Delivery Workers Are Organizing to Take On the Apps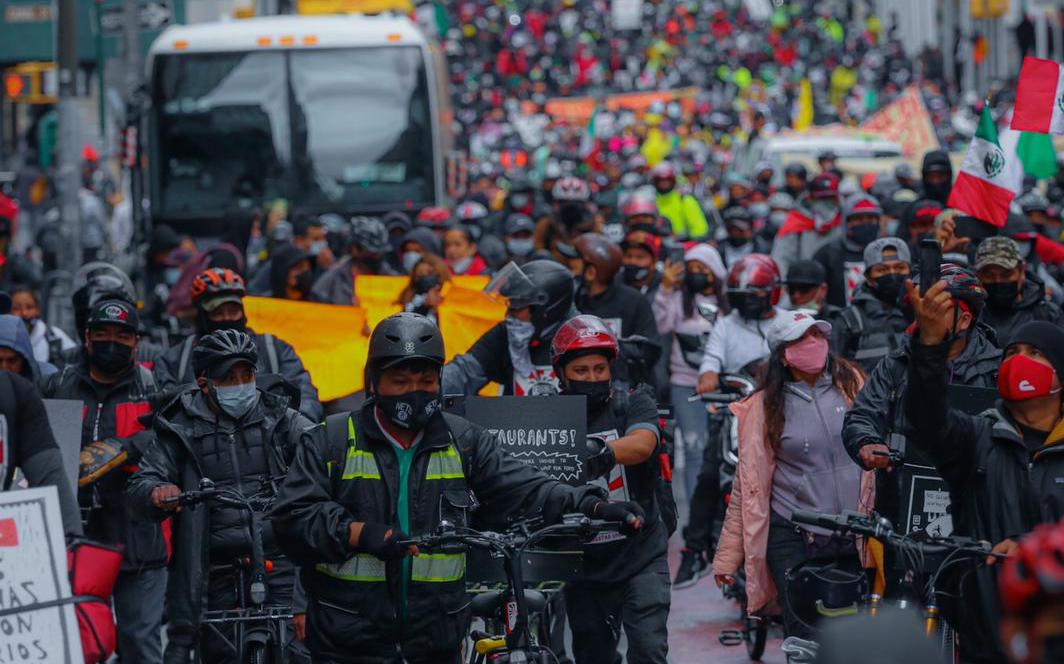 More than 2,000 food couriers snarled traffic in Times Square through pouring rain in protest April 21 demanding better working conditions and protection from violent assaults. The mass demonstration was organized by Los Deliveristas Unidos, a loose network of immigrant gig workers that was born in the strife of the pandemic last year through online chat groups on Facebook, WhatsApp, and Telegram. Since then, Los Deliveristas have coalesced into an organization with support from the Brooklyn-based Worker's Justice Project (WJP), a worker center that organizes immigrants in construction and service sector jobs. WJP has received backing from Service Employees Local 32BJ. Learn more about Los Deliveristas in our June cover story, "Can a Driver Uprising Make Food Apps Deliver?"
No sooner had their rain-whipped faces dried than gig companies moved to thwart them through legislative maneuvering. Last month, a bill backed by the New York State AFL-CIO, the Transport Workers Union (TWU), and the Machinists' Independent Drivers Guild attempted to kneecap the Deliveristas. TWU President John Samuelsen walked back his support for the bill after Los Deliveristas Unidos opposed the legislation."If they don't want this particular bill, we will support them and work with them to craft a bill [that] satisfies the workers," Samuelsen told The City.
The draft bill would have established a legal scheme for app-based workers to exercise certain collective bargaining rights without the labor protections afforded to employees. In return workers would forgo the rights to "picketing, strikes, slowdowns, or boycotts," as well as agreeing to "not disparage, defame, sully or compromise the goodwill, name, brand, or reputation of the network company."
The bill would have all but banned the April demonstration. Opposition was vociferous and support has faltered—killing the bill at least for this legislative session. Read more about it in "Draft Legislation in New York Would Put Gig Workers into Toothless 'Unions.'"
Shortly after the April mass demonstration, Labor Notes writer Luis Feliz Leon spoke to Deliverista worker leader Jonán Mancilla and WJP executive director Ligia Guallpa. The transcript has been lightly edited for length and clarity. Part of the interview was conducted in Spanish and has been translated.—Editors
Labor Notes: Jonán, can you tell me a little bit about where you work? Who are the members of Deliveristas Unidos, and what do they do?
Jonán Mancilla: I am from Mexico City. I've been here for 15 years. I started working as a delivery boy in a laundry and then I started working in a restaurant. I left it because the work was too heavy. I worked as a barback and I had to carry the kegs and cases of beer. It was a lot of hours and little money. Four years ago I started with the platforms [food delivery apps], on the recommendation of a relative.
What is a typical day like for you?
I get up at seven in the morning. I drop my son off at school. I go back home to get my things ready. At nine in the morning I enter the platform, leave at one in the afternoon, come to have lunch, have a tortilla or something and go back to the platform again at two in the afternoon and finish at eight, nine in the evening.
How is it? Is there a lot of traffic? You have to, I imagine, take food up to different buildings where they don't have working elevators. Tell me a little bit about that.
Yes, that's an everyday thing. You can have a bad day when you have to use the stairs all day long, or you can have a day when you don't use the stairs.
The problem is when you have to go to a building or to a public housing project where you know that your colleagues have already been assaulted and they send you there again.
How would you describe the work? Do you like it?
Yes, I like it, but with this pandemic, it is not as satisfactory as before. There is abuse from the companies in many aspects. One is the distances, another is the excess weight they make us carry, and another is the abuse with the payment. They demand things from you—for example, "put on gloves", "put on masks", "use antibacterial gel" [but they don't pay for those supplies]. You have to buy the bicycle. Then it is stolen, and you have to buy another one. The company doesn't take care of any of those things.
How did those experiences influence your decision to join Los Deliverista Unidos?
That caused us to unite. Thanks to the Worker's Justice Project (Proyecto Justicia Laboral), I found out that this march was going to take place [on October 15].
After the march, our ethnic groups became more united. There is a big group of Latinos, but there is also a group of Africans, Bangladeshis, Chinese, other groups of people uniting in one voice and fighting for us to have rights at least. The fact that everybody was suffering from the same thing—the abuse and everything I was telling you about earlier—that was very influential.
What are the rights that you want to obtain as workers?
Prevention measures against bicycle thefts. Protections against assaults and accidents. Access to restaurants' bathrooms, because that really sucks. A living wage besides the tips. Many people think that tips are a salary, and that is not a salary. [Income for food couriers averages between $300 to $800 weekly, according to The City.—Eds.]
The right to decent public places for protection from extreme weather. A lot of people have no idea what it's like to wait for their bag of food when it is below 10 [degrees], or below 15. Protection against tip theft and retaliation from the apps. That's pretty easy to explain: the apps put out messages warning, "Don't ask about tips and if you ask you can be blocked."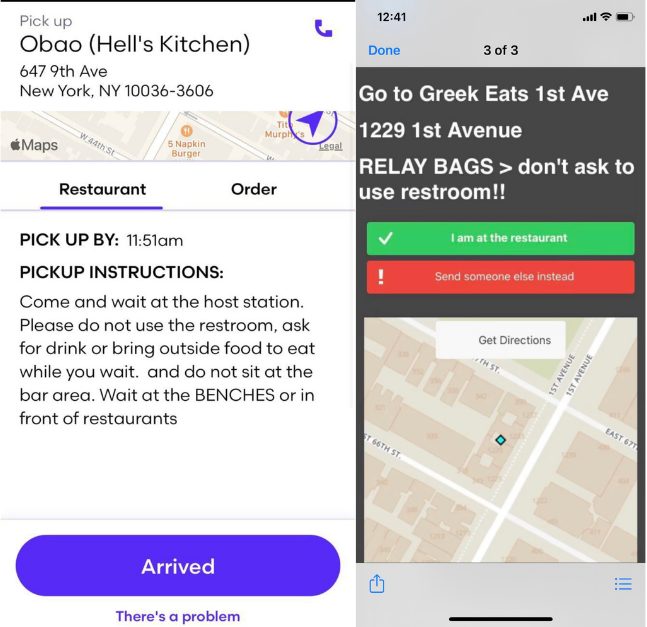 And the right to receive personal protective equipment. As I told you, they demand things from us, but they have never sent us anything. To receive compensation for accidents and to have paid sick days, which don't exist either. The right to organize, and why not have representation? That is the Los Deliveristas Unidos movement. We are asking to be allowed to organize so that we have rights.
And when you talk about representation, what do you mean? Union representation?
Yes, I mean that a union be formed. So that there is a union group like the Taxi Workers Alliance or like the construction workers. In other words, a delivery workers union so you can count on that backup, and you don't worry about anything happening to you. I am afraid that I will be assaulted, or that I will be robbed or something. But if there is a union—no, don't worry. That would be very nice.
You mentioned to me some of the most important issues around which you are organizing. Any successes so far that you want to mention?
Well, right now, thank God, we have the [state] senator, Jessica Ramos, who was very influential in getting us vaccinated. [Los Deliveristas demanded to be put on the priority list for the vaccinations, and Governor Andrew Cuomo acceded to their demands in February—Eds.] There is also [New York City councilor] Carlos Menchaca and other elected representatives who have wanted to help us. They are writing legislation. [After the April demonstration, the New York City Council introduced a package of five bills to address some of the demands. One bill fines restaurants that deny drivers bathroom access. Another establishes minimum pay per trip (as Uber and Lyft drivers have). Another allows drivers to set their own routes. –Eds.] Thanks to this Deliveristas Unidos community we have made ourselves heard and that has caught their attention.
Ligia Guallpa: And can you mention DoorDash? After [Deliveristas] virtually meeting with DoorDash, the Restaurant Association sent out a press release asking restaurants to allow access to the restrooms, and DoorDash felt pressured also to ask. I think DoorDash said that they've gotten 200 restaurants [to agree].
Mancilla: DoorDash reached out to us, we did not look for them. DoorDash reached out to us for a meeting, to say, "I am concerned about this issue because I have many delivery drivers and I would like to know what their complaints are. What is bothering them? What do they need?" And then, the issue of the restrooms was addressed, wasn't it? Because they had already sent a message to the restaurants. And they said that they had about 200 restaurants committed at that time, but I think there must have been more, thanks to that ruckus we made.
You protested and then DoorDash responded to your complaints? And said, "We hear you. We're going to grant you access to the restrooms." When did that happen?
In the first march [on October 15] there were over 800 delivery workers, I believe. I couldn't count them either, it was impossible. But DoorDash noticed. I mean, DoorDash is not blind. DoorDash said, "They're marching for a reason." They noticed the signs, that it was not only Relay, but also DoorDash, Uber, Grubhub—all the platforms. They were the only ones that took notice and were concerned about their company and said: "We are going to have a meeting so that they tell us what is bothering them."
So, basically you're talking about power in numbers. Right? The last protest in April had 2,000 people. So, how did you guys build that organizational power? 2017 was the last time the immigrant community, in particular, mobilized in this way. There was a day without immigrants after Trump was elected, but other than that there hasn't been such large mobilizations. So, can you talk to me a little bit about how you guys have built that collective power?
First of all, it is thanks to the Worker's Justice Project. Because I can tell you, "I created the [Facebook] page for Los Deliveristas Unidos," but without them we would not have done anything. They were the foundation—not only economically, but the support we receive from them is also moral: "Give it your best, guys! Let's do it! Don't let yourselves be defeated. These companies are nothing without you." They tell us that a lot. "Imagine if you didn't work there. Understand that without you, the companies wouldn't exist."
It is something that many people have understood, [but] many people are afraid to understand it. Or they are afraid to acknowledge it, because of retaliation.
First, we thought it would be easy with four of us [speaking about Worker's Justice Project organizers—Eds.]. But we realized we need a bigger team, which joined us in this march. I saw many people that I didn't know. We were thinking that there were going to be delivery workers, but we didn't think that people who don't deliver, but have a family member or an acquaintance who does, could march just to support the people. We didn't expect that.
Guallpa: After October 15, Jonán and other leaders started to talk to other delivery workers on the streets, to connect with other groups and to tell them, "Hey guys, you've gotta join! Here are the [WhatsApp and Telegram] chats, like the [Facebook] page." Going where they are working to talk to them every day, identifying the leaders. I hear Jonán say all the time—what's the name of the one with the Dominicans there, the one from the tigers?
Mancilla: Henry. Right?
Guallpa: He says, "Henry is the leader of this group." And he says, "Henry, you're going to lead this group of 20." It is something powerful. The organization supported by bringing resources [and] strategy, but I think the overall movement has been growing because of the leaders who are here now.
There are leaders in Queens. There is, for example, Isaias, who has a group of almost 80, 90 delivery workers who are everywhere mobilizing. Jonán created emergency chat groups, where they move quickly to assist each other. Either there's a march, or there's an action. And I think that the most powerful thing in this movement is that the network keeps growing every day. Right now, they are reaching out to Africans, to Bangladeshis.
They are asking us right now to have all the materials in [other languages]. [Many of the] Africans speak French. But the most powerful secret has been the leadership of leaders like Jonán, and they know that new leaders need to be groomed. They constantly say, "No. I'm not going be able to do this on my own."
Mancilla: That forced us to be more leaders, because that is what I was telling Luis, that all of a sudden we were not enough. I was telling Ligia: "I can't control this group, because there are so many of them." "Ok. Well, let's go talk to Henry. Let's talk to Manolo, and let them help you… I know that Sergio is very intelligent and that he leads the group down there."
This grew very fast. You can see that from October to February, not even a year. I never imagined that the page and the help groups would grow so fast. Well, I don't like those to grow because it implies that the city is not safe, right? But it is something that we have to recognize, that they have grown because insecurity has grown.
So many people have the confidence to write to us for any kind of problem. Whether it is with their application, whether it is with their employer, or with some platform. In fact, they write to us for any nonsense. "Hey, do you know where there is a bike shop here in this area?" And I'm like, "A bike shop?!" So, it's something that sometimes makes us laugh, but you know you're doing something, and you know you're doing good with the page.
I think you describe it in a way that might give the impression that it's easy, but there are a lot of people who would like to be where you are—to be able to identify leaders and build the trust of those leaders. Could you share with me some lessons you've learned in organizing and what tools the Worker's Justice Project has offered you to do the work?
Mancilla: Well, number one, the first thing I was taught in order to be a leader is not to say you can't. Never say you can't. And to have confidence in ourselves because if you don't have confidence in yourself, you're not going to get anywhere. That is something that maybe I had never told Ligia, but it is something that she has taught me a lot.
Her and Glendy [a lead organizer at Worker's Justice Project—Eds.], they are always pushing me. Not in a bad way, but they tell me: "Yes you can, yes you can. Don't tell me you can't." They go into the can-do mode and you can't get out of it. There is no such thing as being afraid either—because many of the delivery workers are afraid to talk. You approach them, and they are afraid of you. We had to learn to talk, and I also learned a lot with her, because I think she is more used to talking to people on the street.
When I arrived and [Ligia] said: "Talk to him, talk to him," I would say: "He won't answer me, I know him." "Talk to him, talk to him. You can do it, you can do it." That helped me a lot to have self-confidence, to be sociable. Just by starting to go out with them, you realize how they act. You say: "I want to be like Ligia," who has this leadership power, so natural that it doesn't even show. I said, "I want to be just as natural."
Guallpa: Also connecting with the groups, because there are different groups. The nice thing about this food delivery community is that, even if you see them alone, handling their food, they are always connected to a community. Even if it's because they live in the same neighborhood, they are family. For example, downstairs there is a little group called the Garrafones and they are a group of 20 Mexicans. There are the Tigres [streetwise crew, in Dominican slang—Eds.], the Dominicans who are always there on the corner.
Something that didn't happen is that they didn't communicate among the networks. For example, the Tigres don't talk to the Mexicans or the Garrafones. What separates the working community is always identity—where are you from? Ethnic groups.
But I think that in the delivery community everyone self-identifies, because everyone has had their bicycle stolen. Everybody has been denied the bathroom, so there's an immediate sense of solidarity. Right? And something that Jonán and Sergio [another worker leader] have done a lot is to be quick to respond, and that helps to build trust quickly with the workers.
For example, if someone's bicycle is stolen, they automatically post or send to the chats: "Can someone go to 112th Street right now, because there is an emergency?" Soon other workers show up to stand together against thieves. They're the eyes, and they act fast. I think they've gained the trust of their peers. They are talking to the other compañeros, "You can do it and you are the leader. You are going to liberate this group."
Mancilla: I think that these WhatsApp groups did something to break the ice between many ethnic groups. There was this saying, "Oh, he is from Guatemala, don't talk to him." Or "he's from Ecuador." And, "If he pretends he is Mexican, don't talk to him. Don't talk to those from Guatemala." Those groups broke the ice a lot.
Do you remember at Thanksgiving when we went to play soccer? And we were there, the Guatemalans, the Mexicans, I think there were Ecuadorians there too. It was great to see that there is no longer that ice, thanks to the pages and the groups that were formed, thanks to the march.
Among the Latino community there are definitely divisions and you've talked a little bit about how you were able to create solidarity, but also, you're working with other workers of different races and ethnic groups. Can you explain a little bit how you're doing that work? And what are the working conditions and the racial inequalities that you share?
Guallpa: What we are doing with the delivery workers from Africa and the Bangladeshis is the same thing that we were doing with the Latinos, which is to gain the trust of the networks. Glendy and I don't do food delivery, but the moment I feel that they give us the chance to open up, or they give us the chance to go visit them in their free time, then we go with Jonán, because we need them to see that he's another delivery guy.
And it's slowly building trust, because Africans have their networks as well. [But] when we go and talk and they listen to what the Latinos are doing, they identify automatically: "Well it's about time someone fought for that, and I want to be part of it." So, they started to give likes to the page.
We created fliers in French, so that's been the tool, but we don't speak French. So we are identifying partners who speak a little bit more English and who are the translators. There are some Africans who speak a little bit of Spanish because they are from a country in Africa where people speak Spanish [Equatorial Guinea].
So, that has been the way we have been growing. I'm the one doing the most outreach to the Bangladeshis in Brooklyn. I don't speak Bangladeshi, but we have connected with some leaders and there is also a page of Bangladeshis, who communicate about robberies and all that.
It's a process. It doesn't mean it's already perfect. I think that growing a more diverse movement takes time, and so does creating the foundation of values. Recently [we have talked about]—well, we have not talked about it constantly because everything has been going very fast—about inclusion, the language we use, how we make the [Los Deliveristas Unidos Facebook] page more inclusive because there are compañeros who speak [languages other than Spanish]...
Now, those who follow the site speak French. Some are already suggesting posting in English as well. So, little by little, for example, Jonán and others are trying to educate compañeros because sometimes it is talked about. When you talk about a problem, you talk based on color. How to remove the color as part of the problem, because in the end color does not matter. In the delivery industry people come in all colors and all flavors.
But it is a long process that is just beginning. As well as they have grown, they are in the first steps of building relationships with the new groups. And, for example, the most powerful thing that happened this time at the march [on April 21] was that one of the leaders of the West African networks wanted to speak.
Two delivery workers "representing the African Deliveristas" speaking now: "our work is vitally important because we keep NYers fed... we deliver food to busy workers, hospital workers, people in quarantine... This is a real job." pic.twitter.com/R0HjRm4mad

— claudia irizarry aponte (@clauirizarry) April 21, 2021
He said, "I want to be there. You can't leave me out of that program." And I think the most beautiful thing about that day [was when] he talked about how "we are tired, we are essential, we are the ones who distribute, we are the ones who fed the doctors, the sick, and we are the most screwed. And here I am. I'm a deliverista." And the fact that he said it in Spanish: "I am a deliverista. We are deliveristas." It's like acknowledgement, isn't it? That this movement is his too.
And he says, "When is the next one? Because I have to bring my brothers."
Mancilla: A lot of people got interested. They are like, "when is the next one? When is the next one? When is the next one?" I don't know if you saw, Ligia, a guy said, "why they did only one, if when George Floyd was killed, there were marches every day?" "Well, you're right. Why don't we do another one?" But it's not that easy.
Jonán, you mentioned the robberies. How are you all organizing around the security issues?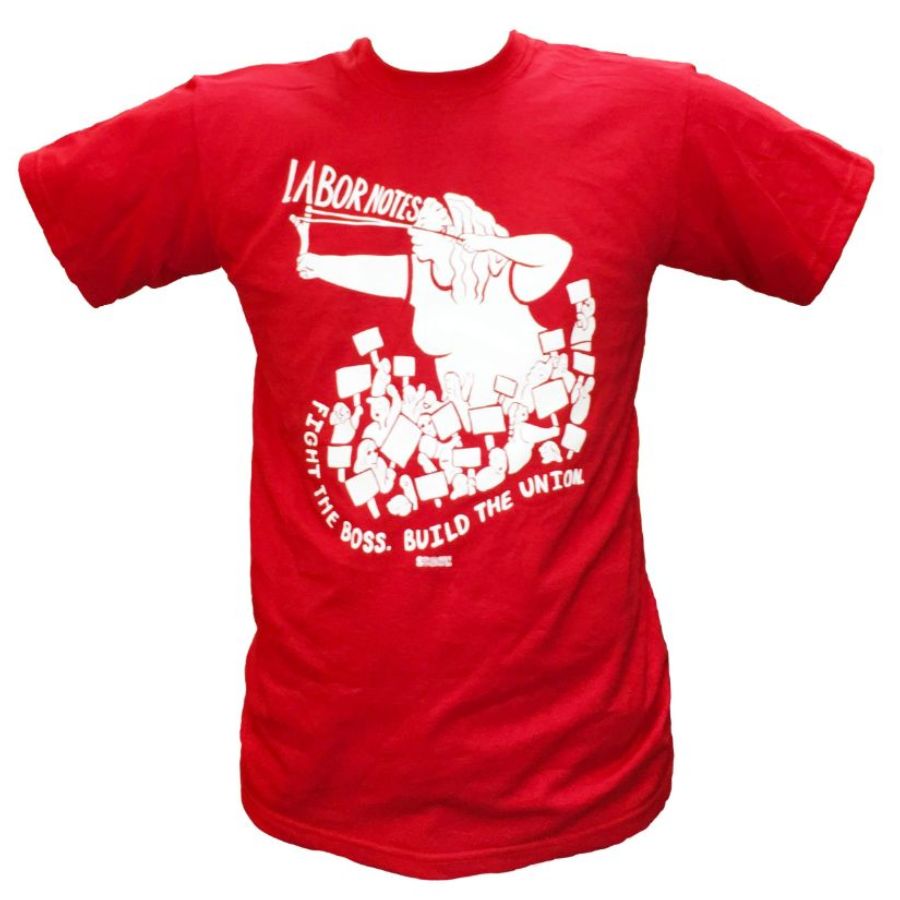 Mancilla: We have WhatsApp groups and other compañeros use Telegram, but there is also the Facebook page. Many people have come to trust it. Sometimes Ligia has to tell them, "You know what, call the police. [Oh,] you called the police already?" I don't know what kind of page they think we are. They think we are from the police. They see it so big that they say, "I better tell them. Let's see if somebody comes." I feel that the page is something very important. The WhatsApp groups, the Telegram, and the page more than anything have made it into an emergency call, a solution for them.
Of course, they are not necessarily self-defense groups. What is it then?
Mancilla: I don't know if I should call it that, but they do exist within the WhatsApp groups, because you send an emergency, as Ligia said today, "we need someone here. 148 and Amsterdam," and all of a sudden you are going to see five or 10 people getting there and they help you.
You also mentioned George Floyd earlier and all the protests that have taken place through the summer and to this day. So, there's a climate where a lot of people in the Latino community and the African-American community say that they fear police. How do you position yourselves in that debate? For example, street vendors often complain about how the police treat them. But then there are also other occasions where, if there is an attack, who do they call if the compañeros can't come—who comes?
Mancilla: At the beginning it was as if many people understood that they had to call the police, but later they realized that the police don't come. That led many to join the WhatsApp and Telegram groups, because they know they will come.
I don't know if you saw the last video with the Queens compañeros. They sent a message to please let the groups know that they needed help. And if you look at the video, the last one shows how the [drivers] start to arrive, because the police don't come—and if the [police] come they don't do anything.
My friend says they were kids, teenagers, and they told him he was going to take the bicycle and then they started to fight. One of the bicycle thieves was caught and he was the one who got beaten badly. When the police arrived, they took the beaten teen away and my friend says that they saw him free later. So, it is a reality that the police don't do anything. I don't know if they don't feel like it, if they don't like the paperwork, or because they are minors they can't do anything else. So, these self-defense groups, as you call them, emerged.
Guallpa: But what is funny is that the compañeros arrive faster than the police. For example, the chat messages, in less than five or 10 minutes, there are already five or 10, those who are nearby mobilize to get there faster. And they have helped compañeros when they have an accident to contact family members, or when a bicycle is stolen, if they are close by, they have rescued bicycles.
Mancilla: Yes, because the police do not come.
Guallpa: Or when they get stuck with a motorcycle. They've managed to react faster than the police. And the reason they are reacting like that is because, as Jonán said, the police are not doing anything. They are on their own, they only have themselves.
So, to wrap up the interview, Jonán, what are the next steps after last week's protest?
Mancilla: Well, I don't think we have finished the first steps yet. We have to keep on fighting because I don't feel that they have listened to us yet. We have some legislation, don't we, Ligia? We still have many things to do. If you notice, they tell us that we are essential, but they do not show it to us.
[Here the interview with Jonán Mancilla ends and the interview with Ligia Guallpa continues.]
Jonán mentioned all that you folks have done to support them. Can you take me back to where this campaign started and what kind of tools Worker's Justice provided to the delivery drivers to help them get organized?
Guallpa: For him it started on October 15, but for WJP actually it started much earlier, in May of last year. When Covid happened, the Worker's Justice Project became an emergency relief center for migrant workers and we had to turn our worker center serving Williamsburg, Sunset Park, and Bensonhurst into emergency relief centers where workers could pick up masks or ask for information. It was in April that we realized that Covid was going to be a long-term thing, and we saw many of our members going unemployed, being scared of Covid, not knowing if they should go back or not go back to work, also realizing that their co-workers were getting sick and they were not even notified whether they had Covid. We raised money to start doing cash relief, and we started seeing how most of our members started moving into food delivery work as an alternative.
In Bensonhurst we opened one of the worker centers to do food relief, and the people who were coming through our doors were actually the delivery workers. We started noticing that it was a whole different sector that nobody had been outreaching to, and in May, June, we started connecting with different networks.
We started connecting with different leaders that started telling us how they were doing this work and [about] access to bathrooms. They were sharing how they were carrying bottles of water to do their basic necessities, how they were treated by the restaurants, how they were pressured by the companies. I think one of the most important things for WJP is how fast and how quickly we started building trust with the different networks.
It was by May, June, July, September, we were having access to many of these networks; and also, understanding that this was not a specific issue workers were facing in Brooklyn, it was at a much bigger scale, and it was because most of these workers were not working as workers—they were treated as independent contractors. And doing this power analysis at the end of the day, it was because of these apps.
The apps were having full control of their lives. We're talking to the leaders about understanding the power— many of them were blaming the restaurants, but we were trying to help them understand that it's not just a restaurants' responsibility, but the app has full control of this. The apps are the ones who negotiate these contracts in this partnership with the restaurants.
The apps could have easily said to the restaurants, "Hey, we're going to enter into an agreement with you: we're going to provide you the service, but you have to provide bathrooms," and it was the apps who were actually not negotiating any conditions because they didn't care. They just wanted to get restaurants to pay the 30 percent fee, and didn't care about what conditions workers were facing.
One of the most powerful things was that in September, as we started connecting with different networks and talking through issues, every single worker was agitated. They were mad, they were angry, they were desperate because things were getting worse. I mean, if you think about September, it was already seven months of inhumanity; of so much unfair treatment that you have to go through that many said, "Enough." They were like, "Somebody has to hear us."
When we talked to the different networks and we were like, "We are ready, we're going to march," they initially thought, "We want to talk to the police, we're going to march to the police," and then we did a couple meetings.
We did something about strategy as well, like understanding who has the power to make things better, and we had conversations with the leaders that, you know, the company is responsible, has power to make changes, city council has power to make changes. The mayor of New York City has power, the restaurants have power; so, these are our main targets. The police is just one actor. They should do their jobs, but at the end of the day, they can't give you what you need.
And there was the first time that I said, "We have to target our city council members," and that's when we started training our leaders, we started doing the framework of how to message. I think that's something powerful, because they have the most powerful stories—they're essential workers, they're more like frontline workers. They've been delivering and keeping everybody fed and being treated without humanity.
Glendy and I will not only identify leaders and connect with the leaders in building trust but make sure that leaders really understand where their power is, and who has power to give them what they need, and that's exactly what we did.
Yes, you should start targeting the restaurants who should give you access to the bathroom, but at the end of the day it's the company who's the target. Right? It is the mayor, it is city council who has the power to put legislation to regulate the apps.
We started doing informally this power mapping and making sure they understand the dynamics of that industry, who has the power to give it to them, and also making sure that they can tell the story of their own conditions. We started building with them what's the narrative that they want to share, and building confidence. With Jonán, I feel like he's a natural leader, but a lot of the leaders live with a lot of fear. "What about, if I say something, I get disconnected? or what about, if I talk to other leaders, they might not trust me." So we've been helping Jonán build trust with other leaders and validating him in spaces that he's a leader, and mentoring them.
There is so much power in the city, and they know it. But owning it has been a whole process for them, to own the power that they have, and that they could exercise. And also, building power takes time.
I remember when we did the first march. The leaders were pissed off. Not everybody came in. We only had I think between 700 and 800 people. Not all the leaders got into the buy-in of doing this march. There was a lot of criticism among them, like, "What do we want out of this march?" And I think what inspired and motivated them was DoorDash after the march. We were publicly shaming DoorDash and DoorDash was like, "Okay, we need to talk to them, because obviously they're not talking good about the company and this is bad PR for us." They reached out to Los Deliveristas: "We want to talk to the workers."
Acknowledging these victories and how they're escalating motivates them and inspires them to say, "we can do this." Who brings a big powerful company to meet with a group of workers? That's powerful. Or who expects the Restaurant Association to put out a press release asking the restaurants to open the bathrooms?
Acknowledging the power that they have, I think it has leveraged the movement to understand that this is their time, that this is their movement. I also see how they're exhausted, of being like not only first responders as food delivery workers, but now also managing all these self-defense networks. I remember we were having a one-on-one meeting with Jonán, and he was like, "Ligia, I can only] manage so many people. Everybody's expecting me, that as a leader, I should respond." And that's when we'd sit down with him, that part of the role of a leader is to develop other leaders, and what kind of leader you want to start identifying.
It is not just the person that talks the most—you know, Latinoamerica is like, the leader is the one who talks better, who talks the most and who's louder. That is not a leader. You want to look for the one that has the followers, the one that is consistent, the one that you know is going to respond, the one that you know is committed to the movement.
The next phase is to diversify the movement. Bring more Africans, Bangladeshis. They took the first step by making sure that the agenda is open to other groups. Even though they have a struggle within, because they don't speak English. So they have said, "we can distribute the flyers, but you guys have to help me follow up." They might not talk but they go, "here's a flyer, just read it. In your language."
It sounds like a lot of the leadership development was done by modeling behavior through one-on-one conversations. Was there any curriculum that informed how you were power mapping, how you were helping Jonán and other leaders develop that credibility? Where do you get your lessons from?
To be honest, there is no formal training, A lot has been done one on one and with mentoring. Glendy talks to the leaders almost every single week, not only to check in with them, but we give them little homeworks. One of the most powerful things that I think organizers have to understand is that workers know the solutions better than the organizer. I talk every day to some of the leaders in Brooklyn, and they come up with these incredible ideas. Like, they came up with a sticker idea. They were saying that we had a need for something that self-identifies them as a group.
And he said, maybe stickers, to put on the bikes. And I said, how do you think the stickers will be used? And we started developing a strategy with them—like, maybe that's a way to also talk to them about who we are and what we're doing. They came up with the idea of giving out hardhats, because not all the delivery workers were wearing hard hats. And we consistently are asking, how do you think we can be building this strategy of hardhats?
What Glendy and I are doing is doing a lot of strategy, per borough and per neighborhood. What is needed for Harlem is not what sometimes is needed in Queens. The leaders know better what's the dynamic in the neighborhood, so a lot of what we do is like holding open strategy sessions with leaders. We do a lot of listening; we ask a lot of questions. We also mentor them. For instance, Jonán, sometimes he's afraid to go and talk to the bike shops, and we said, "Do you want us to go with you?" And he's like, "Yeah, yeah, yeah because I don't know." And then we asked him to do it and then he's like, "Okay." So it's like, "See, you can do it."
One of the things we want to do is bring all the leaders into one room to debrief what has worked and what hasn't worked. We're having these one-on-one conversations about what inclusivity means. Not only gender, but with other communities. That's a conversation we are having one on one, because sometimes workers themselves make comments that can be racist.
A lot of the work that we're doing is trust building, identifying leaders, mapping different neighborhoods where there is a high density of food delivery sites. We're mapping where workers congregate. We are doing a strategy-one-on-one as well with each of the leaders. We are helping them sustain a lot of these networks, helping them manage by including more people into it and helping them identify new leaders as well.
But I think one of the most powerful things is that this is a community that believe it or not has this natural level of solidarity. They're there for each other. I think that one of the things that Glendy and I have been able to do, including with Jonán and others, is build trust with the different groups. But also, unfortunately, conditions have become these most deadly jobs, which agitate workers to unite.
Every time they post something, they use this phrase: "Unidos somos más fuertes." [Together we are stronger.—Eds.] All the texts when they win something or they want to agitate others, they created a hashtag. And then Glendy and I thought, you know, every time they finish a sentence we are like, "Unidos somos más fuertes, chicos!"
Glendy and I cannot act so fast the way they are, there's no way. Yesterday, Gustavo [another worker leader] was like, "I'm going to need help, because there's some member leaders who came, brought groups, and they didn't get a T-shirt." And we just need to make sure that we collect their names or phone numbers because they want to grow their database, they know how important phone numbers and access to that is. So, I went to help him to collect all the phone numbers, and I was shocked because they created these stickers of Los Deliveristas Unidos. They created their own logo, how they want it to be, which is like a delivery worker with a big fist. Everybody came in, I thought they were coming for the T-shirts, but no. They're coming for the stickers. And when they took the stickers, they said give me three, no, no, no, give me four. I asked one of the workers, I said why do you guys want so many stickers? He's like, "I have a friend." And I said, "Yeah but, you know, it's a sticker, why do you need…?" He is like, "Because when we see this sticker, we know that we belong to each other. But not only that, I think the thieves are seeing these stickers, so they're getting scared. They think that we're part of the mafia." I was laughing. I was shocked, but at the same time I felt like, wow, people are acknowledging how powerful they are.
This is how they own their power. They want people to know, "We're not alone anymore. Watch us. We're coming after you."
Where does Los Deliveristas Unidos fit in the broader debate within the labor movement around fighting misclassification? You know, especially in the wake of Prop 22 in California, this seems to be like a poster child case of rampant misclassification.
This is much more than just fighting for basic rights for food delivery workers. The way I see it is, this is about defending the rights of all workers, whether or not they are food delivery workers. Because what they're fighting is not just the big multi billion-dollar companies like DoorDash, GrubHub. These companies are building a new economy where they're trying to erase decades of labor protections that historically the labor movement has won. Like minimum wage or workers comp, all these things were won because workers fought so hard for decades.
Tech companies are looking to rewrite every single labor law and redefine who's a worker and who's not a worker. They're building a whole new economy. They're using their power to define who gets protections and who doesn't. What happened in California, it showed how powerful these companies are, and they're looking into doing it in every single state.
They were able to make progress under Trump because Trump was more flexible about giving more power to the companies to expand the definition of independent contracting.
In New York, we know DoorDash and other companies are looking to do the exact same thing that they did in California. [The proposed New York bill fell apart in late May, thanks in large part to opposition from the Deliveristas—Eds.] And I don't think DoorDash and others are ready to confront Los Deliveristas Unidos. They were all profiting from the pandemic. They were making good money. Nobody was complaining, the city was happy; restaurants were complaining but they realized that, at the end of the day, they were also helping businesses, they were helping New Yorkers. And they weren't ready for workers to start raising their voices and building up so much power.
As soon as the October 15 march happened and workers started being vocal, and shaming [companies] publicly, the public [began] to realize, "Oh my god, the delivery worker that brought my food you're telling me that he couldn't eat? Or you are telling me that he's not paid? But I'm still paying this high fee to DoorDash?"
And also moving elected officials to start paying attention and making it public.
We are hoping that more labor unions will join this fight because Deliveristas Unidos are about to define the future of the labor movement. And you've heard it from Jonán, they want representation. And the fact that we see some—32BJ, one of the unions saying we're going to support you—it's huge! We're hoping that other unions will follow. Because this is a big fight. It's about protecting basic labor protections that the labor movement won for decades.
Amazon has its Delivery Service Providers network, which also hires subcontracted delivery drivers. They are opening up shop in Hell's Kitchen to have folks on e-bikes make deliveries. Are any Deliveristas part of that subcontracting arrangement?
Yeah, they are. One of the things they're doing is, whenever they give a sticker, to get the person's name and the phone number and ask, what app do you work for? Where do you deliver? And they are looking into expanding their WhatsApp groups because they also realized there is Amazon Flex—it's one of the, one of the most common things that workers are using, which is people with cars or bikes that pick-up food from grocery stores, Whole Foods, and others.
Have you folks done a breakdown of what apps most of the deliveristas work for?
We are working on the research now, doing a survey that hasn't been completed yet. We're working on that with Cornell. We're hoping that it will be completed at the end of May. I think it will give a huge understanding about where the industry is and which apps are the big actors.
In response to Amazon entering the bike delivery space, any thoughts? Amazon has been in the headlines because of the warehouse worker organizing campaign in Bessemer, Alabama. I'm curious, what is the potential for these struggles coalescing into a movement?
The movement is interconnected. Because at the end of the day, Deliveristas, Amazon workers are all fighting against corporate greed. I think the point of connection is to make sure that workers who are working for Amazon are also talking to workers who are doing food delivery. I think the big step right now is how we bring these worker leaders who are leading this amazing fight to talk to each other in real solidarity.
It's so critical to fight together, and it takes time. Unfortunately, time is what we don't have, because these companies are moving so fast. But the big job for unions and worker centers is to come together to understand and fight together, strategize together. This is why I think naturally 32 BJ said "Yes, we're fighting the big fast-food companies, you know, we're never gonna say no to the Deliveristas." We are asking for other unions to step it up as well.
I share your belief in the potential for the labor movement to unite as a social movement of working-class people, and a multiracial working-class movement that, no pun intended, delivers for working people.
This is something I think many people don't understand. Worker's Justice Project and other worker centers are part of a movement that truly understands that there is no labor movement without organizing the new workforce, which just happens to be immigrant in New York—which is the exact same way the labor unions got started back in the day, right? They got started by immigrants. Los Deliveristas were born by immigrants, and look, they organized a massive march! We believe it was more like 3,000 people, not 2,000 people, because we bought 2,000 T-shirts and all of them were gone.
What stands out to me about this is that that's the type of mass grassroots working organizing that unfortunately is all too rare these days, and we have not seen many big demos by immigrant workers in a long time. This is one of those moments where immigrant workers flex their muscle. So I want to ask for your last thoughts on that. How did these workers build up that kind of organizational power, and what's next?
That's a hard question, because everything is changing so fast. One of the true things that we believe as a worker center is that there's a lot of power when people organize. What Worker's Justice Project is doing right now is validating that power everywhere we go. We need to make sure workers understand that they have the power, and they just need to use it, and that we're going to be there to back them up all the way through.
And also, being honest that it's not easy to exercise your power. There's challenges. And it has to be diverse, not just led by one leader. Los Deliveristas Unidos has grown so fast because it is led by workers and leaders, and in every borough, in every corner, every neighborhood there is one. Our job is to build their trust, build their confidence, give them the tools and make sure that they understand that this is a much broader movement, that it takes time.
What's next? Right now, what they're looking for is to fight specific protections at the city level. They want the city to pass some local legislation that will make things better.
They're talking about building a much broader organization that can scale up. That takes more organizing and more base-building work, as well as deeper understanding and a stronger strategy—because they are not confronting, you know, un empleador cualquiera [just any employer—Eds.]. They are confronting multibillion-dollar tech companies that have not only a lot of economic power, but a lot of political power too. This is not a fight that can be won alone. We need to bring other people to fight together.