Ramping Up for May Day around the Country
We've written about May Day 2017 plans shaping up in L.A. and Seattle, in the Twin Cities, and nationally. Here's what's cooking in a few other places:
SPRINGDALE, ARKANSAS
Even though the U.S. was the first country to celebrate May Day, in honor of the Haymarket martyrs, demonstrations here are generally much smaller than in other countries. This changed in 2006, when millions of immigrant workers across the country took to the streets on May Day to protest anti-immigrant legislation.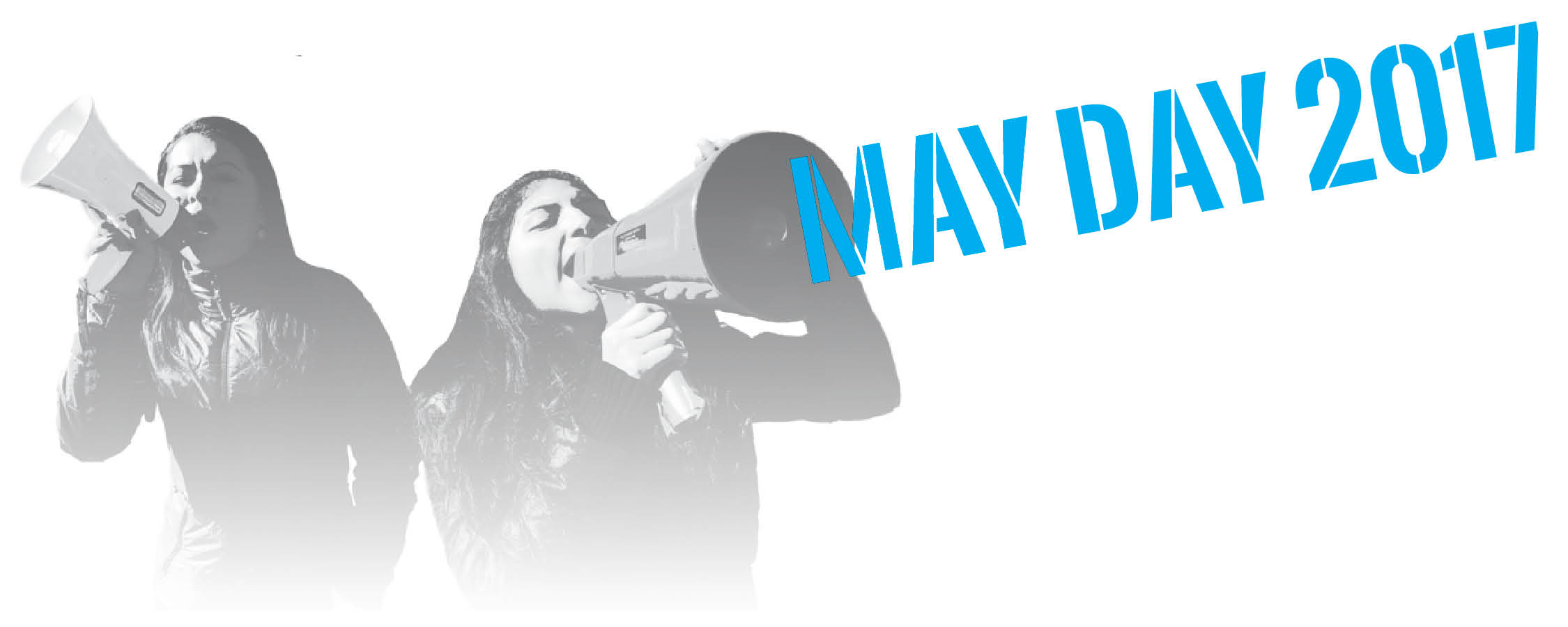 Members of the Northwest Arkansas Workers' Justice Center come from all over Latin America, with the majority from Mexico and El Salvador. El Primero de Mayo, as many of our members call it, is celebrated in most of their home countries, where marches and protests on this day are not unusual.
So it's no surprise that our members—a diverse group of workers employed in the poultry, restaurant, and construction industries—voted overwhelmingly to organize a May 1 march and strike. The center will kick off a long weekend of actions with a Workers' Memorial Day vigil on April 28 in remembrance of all the fallen workers this year.
Springdale, Arkansas, is called the poultry capital of the world because of the concentration of poultry processing plants in the area. Poultry workers are among the members who will walk off the job.
We're helping members write letters to their employers saying why they're striking, and we're encouraging them to bring up any working conditions they might have issues with. For members in the poultry industry, the top concerns are health and safety and line speed. The letters state that workers expect to return to work on May 2, and that any retaliation for participating in the strike is illegal.
Through our national and local alliances, we will also offer legal support to any members who are retaliated against for exercising their right to strike.
—Fernando Garcia
NASHVILLE, TENNESSEE
During February's "Day without Immigrants," there was no coordinated local action in Nashville, Tennessee—although enough workers went on strike that a local McDonald's was briefly shut down.
Resources
Looking for May Day events in your area, and other resources? Check out these websites:
This May Day, though, the Nashville worker center Workers' Dignity and other local groups are organizing a march to support strikers.
"With the election of Trump, we're seeing an increased fear in immigrant communities, especially around organizing on the job," says Workers' Dignity organizer Jack Willey. "Employers are using the political climate to threaten workers."
The center is holding workshops every Thursday to educate workers who want to strike on what their rights are and how to reduce the risk of retaliation. Most members—who are Mexican, Central American, and African American—work in hospitality, construction, and fast food.
Workers' Dignity is leading a May Day coalition that's calling for an end to deportations, a living wage, and a Cleaning Workers' Bill of Rights. But they're also demanding affordable housing, better public transit, and shifting funds from police agencies into housing and jobs.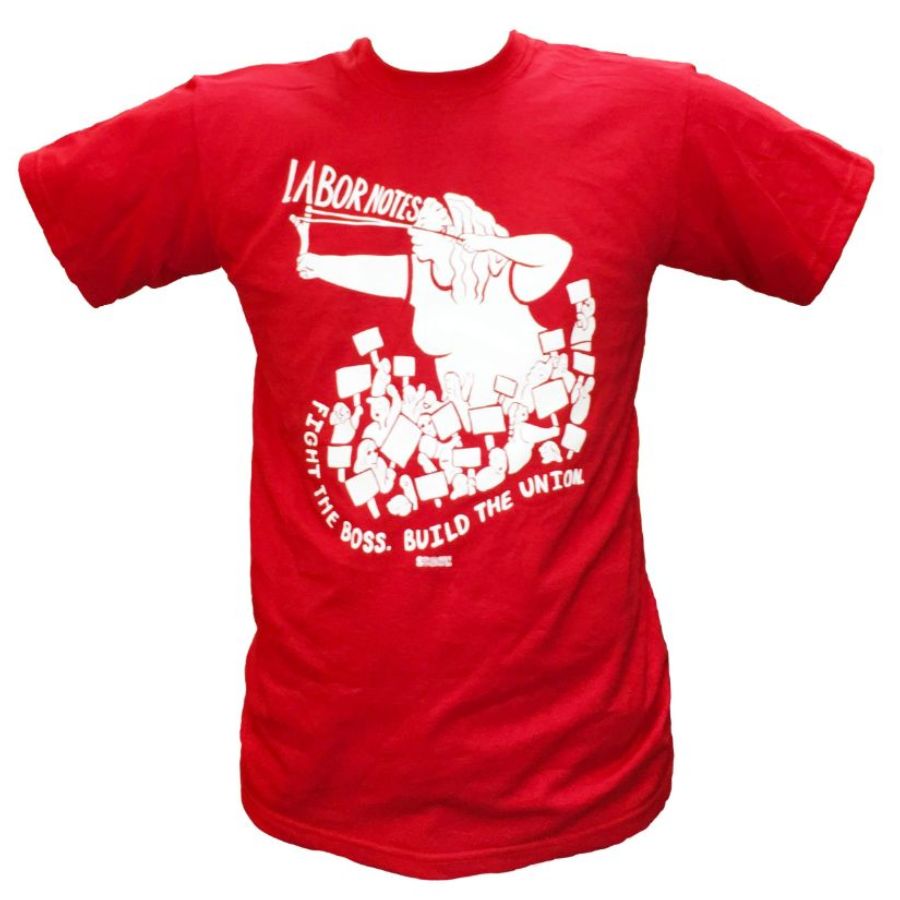 Many Nashville neighborhoods are over-policed. Local cops pull people over for the smallest infractions, says Willey. The May Day march will link local and national policies that target communities of color and working-class communities.
"If we can't create a city that is a sanctuary for all, we're not going to be able to organize on the job either," says Willey. "To push forward in our Just Hospitality campaign, housekeepers need to know that the community has their back."
—Sonia Singh
BURLINGTON, VERMONT
Fresh off a two-day picket line in front of Ben & Jerry's corporate headquarters, the worker center Migrant Justice is gearing up for a May Day action outside a scoop shop in Burlington, Vermont.
Dairy farmworkers are demanding that Ben & Jerry's implement the Milk with Dignity Program, as the ice cream chain promised two years ago. The program calls for Ben & Jerry's to adopt a worker-authored code of conduct that would ensure a dignified workplace and fair housing, and a worker education program and third-party monitoring to enforce the code. The march will lead into a rally at the Federal Building, lifting up local resistance to Trump's attacks.
Two Migrant Justice dairy worker activists, Enrique Balcazar and Zully Palacios, were recently freed from immigration detention, after hundreds of supporters signed petitions, marched in solidarity actions, and wrote letters calling for their release. Migrant Justice says that Immigration and Customs Enforcement has been specifically targeting farmworker leaders.
—Sonia Singh
MILWAUKEE, WISCONSIN
The immigrant rights organization Voces de la Frontera kick-started February 16's "Day without Immigrants" strike with a massive 30,000-person march in Milwaukee, Wisconsin. Now it's supporting other organizations to scale up their May 1 actions.
To plan for May Day, Voces co-hosted an April 1 national conference of workers, students, immigrant rights organizations, and unions. "The focus was to learn from each other," says Executive Director Christine Neumann-Ortiz. "We could hear from workers directly about their experiences organizing a Day without Immigrants, hear from small business owners that closed, and from students that participated in no-school actions."
Participants shared materials they're using to mobilize for May 1, and strategies they've used to deal with employer retaliation after walkouts. In many cases, after workers experienced retaliation, Voces was able to resolve it by sending community delegations to accompany workers to talk with their employers.
Some of the most vulnerable strikers are temp workers, says Neumann-Ortiz. On its website, Voces has posted sample letters that workers can send to their employers in advance of the strike date at vdlf.org/maydaytoolkit.
Voces is also using May 1 to mobilize against anti-immigrant legislation in Wisconsin. A statewide march at noon in Milwaukee will urge Governor Scott Walker to fire anti-immigrant County Sheriff David Clarke.
Organizations are also calling on Walker to support a bill to return driver's licenses to immigrants and to block proposed "anti-sanctuary" legislation. Last year activists defeated a similar bill that would have banned localities from declaring themselves "sanctuary cities" that welcome immigrants.
"It's important to use this national day of action to leverage local and state demands, whatever those are," says Neumann-Ortiz. "It's not just about what we don't want. It's also about saying what our community deserves."
—Sonia Singh