Palermo's Boycott Cutting Production as Workers Appeal Labor Board Ruling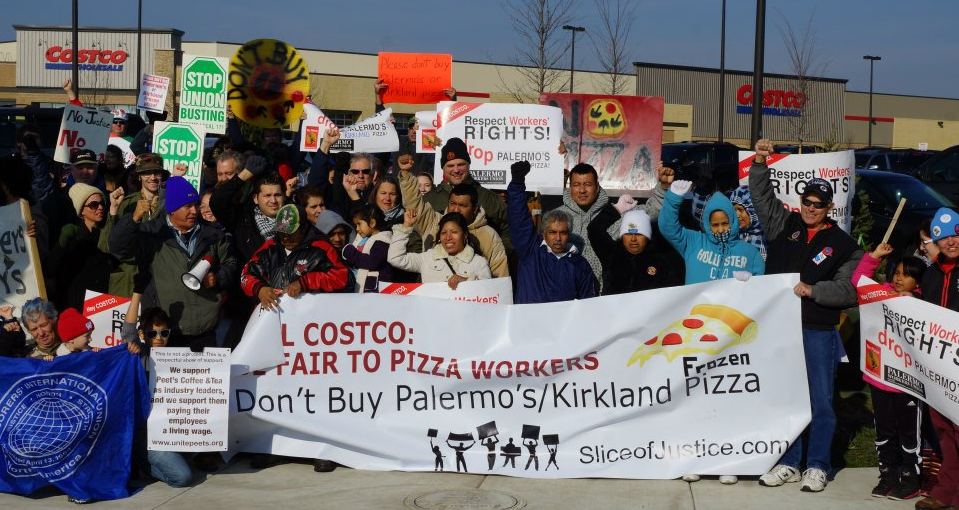 In a setback for immigrant worker organizing in Milwaukee, the regional National Labor Relations Board announced November 21 that the firing of 75 striking pizza factory workers was legal.
But the independent Palermo Workers Union is appealing to the federal NLRB, celebrating some wins in a mixed decision, and stepping up its national boycott of the company's pizza, which is sold under the Kirkland brand at Costco.
The workers went on strike June 1 after management refused to recognize their union. They were organizing to put the brakes on dangerously high production speeds—workers had suffered severed fingers—and work weeks of up to 90 hours.
Management claims it fired the workers because the company was being audited by Immigration and Customs Enforcement to verify their immigration status.
But ICE had already suspended the audit. A 2011 memorandum of understanding with the Department of Labor prevents ICE from using audits when a labor struggle is going on, and this was the first enforcement of that memorandum.
Instead of backing off on the demand to produce papers, Palermo's cut the usual 28-day verification deadline to 10 days. The company then fired 75 striking workers and replaced them. It later fired an additional nine workers, whom the NLRB has since found were illegally terminated.
The Palermo Workers Union filed an unfair labor practice over the firings, in what was seen as a test case for the new Labor Department policy—which is supposed to keep immigration enforcement from being used for union-busting.
Test Case
The union is now appealing the NLRB decision, asserting that the mass firings and Palermo's creation of a false ICE deadline are clear cases of manipulating an ICE audit to bust a union.
They hope a groundbreaking decision will be more likely at the federal level, particularly since there was no precedent for the regional NLRB to build on.
Next year is expected to be a year of major federal immigration reform. The results of the appeal are at least three to six months away, and the national climate could be more favorable by then for an immigrant-friendly decision.
The NLRB did cite Palermos' for intimidation, retaliation, threats, discrimination, and surveillance. The company agreed to settle, which means nine terminated employees can return to work with full back pay.
Palermo's violations include stating that employees would be fired for joining the union, maintaining lists of union supporters, making claims about the futility of unions, stating that terminated employees would not be rehired, refusing to rehire employees, and physically blocking exits when workers tried to join the strikers outside the factory.
Five of the nine were workers who had ended their participation in the strike and asked to return to work. The NLRB found that Palermo's unlawfully refused to rehire them. Similarly, BG Staffing, a temporary agency contracting with Palermo's, was found to have unlawfully fired two workers for supporting the union.
Laura Torres, striking worker and single mother of five, wants the board to reconsider the ruling on the mass firing. "I'm happy for my co-workers who are going back to work, but on the other hand, there are still many of us on the outside without a job," Torres said.
Boycott Up, Production Down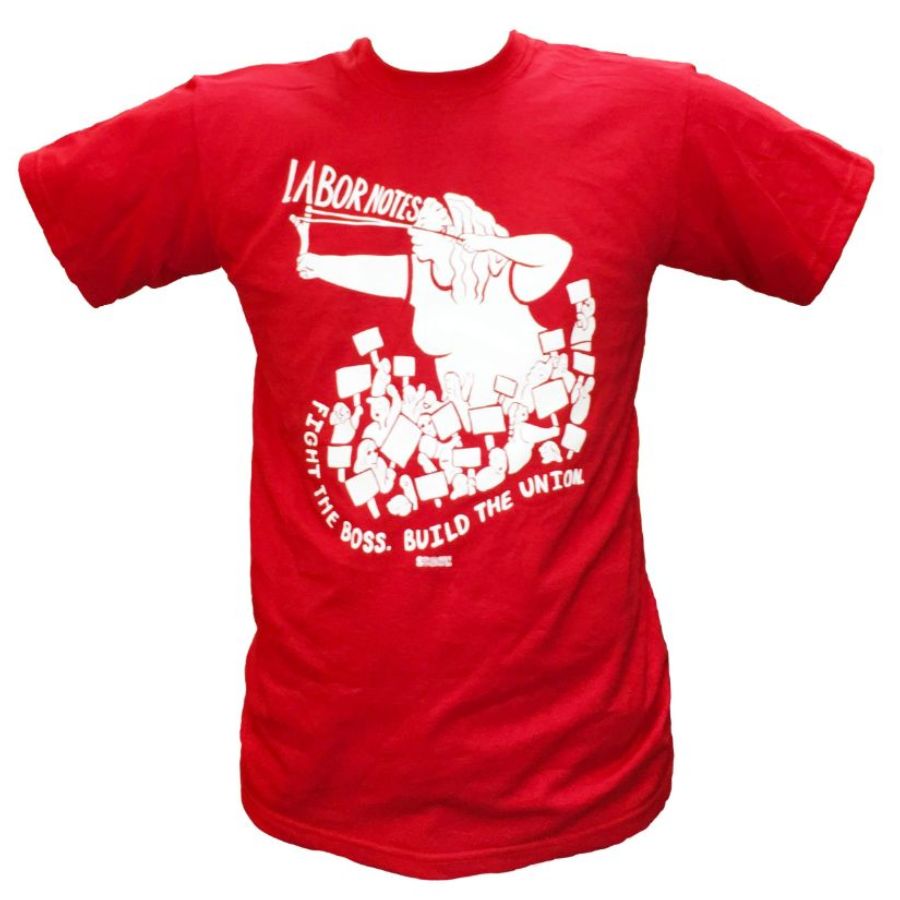 Regardless of the appeal's outcome, the Palermo Workers Union plans to expand its six-month boycott campaign, hoping to pressure the employer into voluntarily recognizing the union. Workers and allies are holding informational pickets at campuses and Costco locations in 25 cities.
Student and faculty groups at the Madison and Milwaukee campuses of the University of Wisconsin recently passed resolutions to support the boycott. At UW-Milwaukee, a Palermo's sign was removed from the student union after a student-led protest.
One target is grocery store conglomerate Roundy's. Roundy's retail chain is in danger of losing its right to put UW-Madison's Bucky Badger logo on the Palermo's pizzas it sells. In order to use the logo, Roundy's signed a contract with the university that includes a labor code of conduct. UW-Madison's Labor Licensing Policy Committee has asked the university chancellor to place a 30-day deadline on Roundy's to address its supplier's code of conduct violations—or end its contract with Palermo's.
After the defeats in 2011 and 2012, Wisconsin unionists have rallied around Palermo's workers.
"People have recognized that the political agenda we're up against is total annihilation, and we're not going to be able to win if we just rely on the electoral arena," said Dave Poklinkoski, president of Electrical Workers (IBEW) Local 2304. "And it's really important that we take our struggles to the workplace. As far as Palermo's, those kinds of activities are where we need to direct ourselves."
Groups like the South Central Federation of Labor have held holiday fundraisers in Madison and Milwaukee to raise money for the workers' strike fund. The federation gathered donations of food, clothing, and toys to help workers' families while they continue to strike and boycott.
The boycott seems to be working. According to a striker in contact with workers inside the plant, production is down by half. Whereas four production lines were in constant use before, only two are in operation now.
Another sign of the boycott's success is the slashed prices of Palermo's products in many locations.
Even while production is falling, workers inside the plant are benefiting from the union's pressure. The company has halted mandatory overtime and improved workplace safety with more frequent OSHA inspections.
Palermo's also gave across-the-board raises of up to $1 an hour—after the AFL-CIO reported the company had received $26 million from the city of Milwaukee with the promise of creating good jobs.
"Around the time just prior to when we got really upset and went on strike, they were trying to lower our wages," said Torres. "That backfired on them, because we left and caused this big problem that they now have to deal with, that's actually made them do the exact opposite, which is raise wages for the people on the inside."
But Torres believes the union must be recognized to maintain these gains. "Palermo's is doing that right now, while we're still here, while they still have to deal with us," she said, "but what's going to happen after that?"
Dawn Tefft is a Teachers union organizer in Wisconsin