Against the Tide, Michigan Graduate Employees Fight for a Union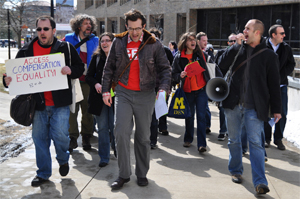 Research assistants at the University of Michigan are finding their battle to unionize caught up in the larger fight over public sector workers' right to bargain collectively.
More than a thousand graduate student research assistants signed cards in spring 2011 with the Graduate Employees' Organization.
When the research assistants, who work in lab and research facilities, filed for a union election to join GEO last year, a Koch-funded right-wing think tank challenged them in court.
The Michigan-based Mackinac Center for Public Policy seeks to end collective bargaining for public sector workers, and views the campus organizing campaign as a battleground. Every time the campaign takes a step toward an election, the Mackinac Center stalls the process by filing requests to intervene, arguing that an election would be unfair to the minority of students opposed to unionization. In fact, the center's first filing was made on behalf of a single student.
Michigan's attorney general is also working to undermine the union. His office has filed legal challenges claiming that research assistants and faculty opposed to unionization will not be adequately represented in the normal process of a union election.
So far, all motions from both the Mackinac Center and the attorney general have been found legally baseless, but they continue to file them to garner press and stall the election.
Graduate students who teach and assist professors at Michigan founded GEO in 1970 and won a first contract in 1975, making it one of the oldest certified graduate employee unions in the country.
Originally a part of GEO, the research assistants lost union representation in 1981 when the university successfully argued that they were only students and not workers.
Now the research assistants are on the verge of having the 1981 ruling that barred them from the union overturned. An administrative law judge began hearing testimony February 1 from research assistants about the nature of their work.
Given that they clearly do work that is not just for their dissertations but also part of adviser-led projects that bring in grant funding, it seems likely the judge will recognize what university administrators refuse to: Research assistants do work that is crucial to the operation of the university.
While research assistants currently receive many of the same benefits that GEO's contract provides, they have none of the job protections—including right to fair process in hiring and firing. Working conditions vary widely from lab to lab. Some international students, for example, have to negotiate individually for time off to travel to meet visa requirements. Leave time in general is negotiated on an individual basis, meaning that many are hesitant to ask for time for family needs.
Fired for Organizing
Research assistants also confront a university president who refuses to recognize them as workers and who allows faculty to intimidate and, in one well-documented case, retaliate against someone organizing for the union.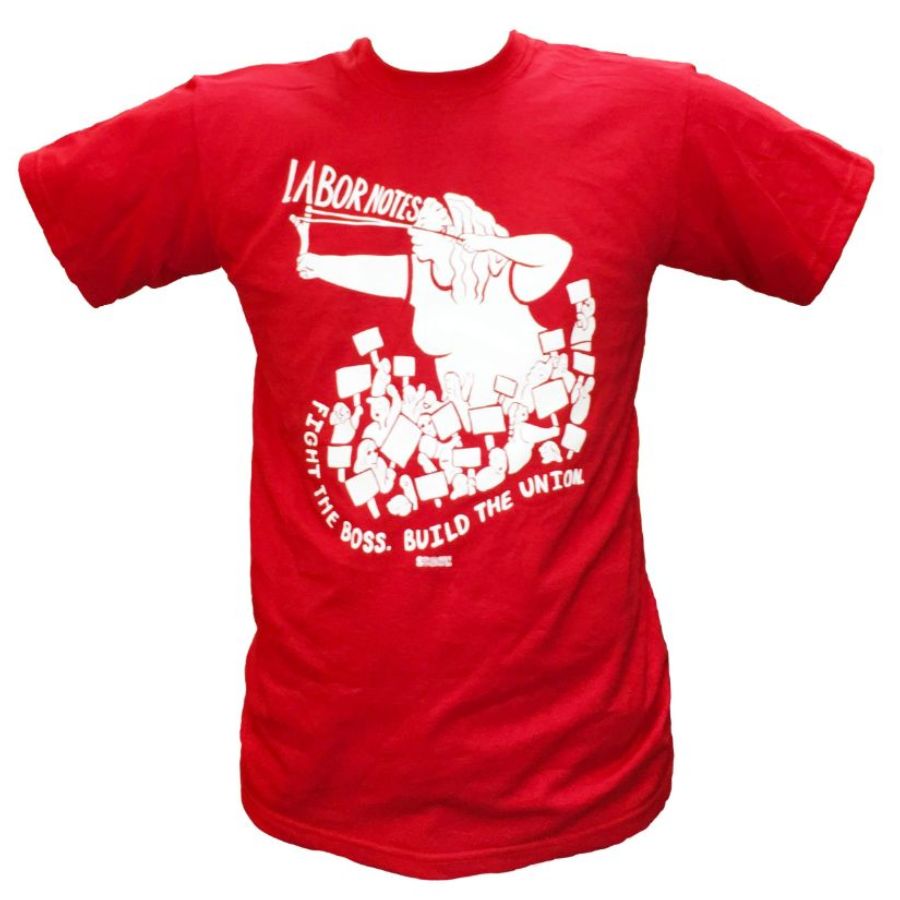 Jennifer Dibbern, a research assistant and PhD student in materials science and engineering, was fired from her lab position late last summer for her involvement with GEO.
Dibbern's adviser, Rachel Goldman, repeatedly voiced anti-union sentiment in mandatory meetings and told Dibbern she needed to "curtail outside activities" in order to demonstrate commitment to her research program—a directive given to no other members of Goldman's research group. Goldman did not follow department procedures for notification of a student facing academic dismissal.
Dibbern is a longtime GEO member and its third-ranking officer. Her attempts to resolve the dispute through the university's channels have been rejected. GEO is working with Dibbern to press the university to settle in a more timely fashion than an unfair labor practice charge or lawsuit would allow. Meanwhile, she is taking classes to pursue a PhD in political science/public policy at U of M.
Grad student workers have long been fighting to be recognized as workers with the right to organize. Those at public universities fall under state law and many have collective bargaining rights. But grads at private institutions were barred from unionizing by President Bush's National Labor Relations Board in 2004.
It was Jacob Lew, then vice president of New York University (and current chief of staff for President Obama), who used this ruling to decertify the grad student union at NYU, the only private institution grad union ever to win a first contract.
Grad workers at private colleges have not been idle, however, and are closer than ever to reversing the NLRB's 2004 decision. NYU grad workers filed a petition seeking an election two years ago and are waiting for a board decision. They rallied outside the NLRB last week, calling on the board to restore their rights.
No Subsidy for You
GEO is battling two unfavorable climates: the university's culture of cutting budgets for students while raising salaries of administrators, and a state government that gives tax cuts to large businesses while taking away public education funds.
Currently, a childcare subsidy of $2,250 for one child, $3,300 for two children, and $4,350 for three or more is available to grad employees only if their partner is enrolled at the university or works at least 20 hours a week outside the home. This excludes many international students, whose partners may not legally be able to work the required number of hours, and many students whose partners are unemployed.
GEO is seeking to end these requirements. During contract negotiations in 2011, grad employees voted to make a wage concession in order to create a $150,000 fund for expanding access to the childcare subsidy, but talks with the university on implementation have made little progress. Meanwhile, raises for administrators continue apace.
GEO's parents' caucus held a press conference January 23, complete with babies in arms, to call on the administration to quit its foot-dragging.
---
You can help GEO seek justice for Jennifer Dibbern, who was fired for organizing, by sending an email now to key administrators.
Liz DeLisle Rodrigues is GEO communications chair and a graduate student instructor in the English department. Jim McAsey is a GEO organizer.